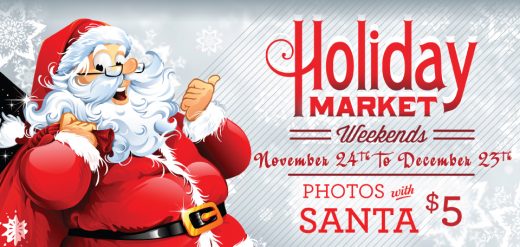 It's that time of year again, no, not the holiday season, I'm talking NBA trade season. Dec. 15th was the date that players signed in the summer of 2018 could be traded. We already saw our first move when the Wizards moved Kelly Oubre and Austin Rivers for Phoenix's Trevor Ariza. The Cavs are in full sale mode, and they've got an asset most everyone wants: 2019 cap space. The Cavs have $32.8 million in salary that expires this year, with J.R. Smith's 2018 salary guaranteed for only $3.9 million in 2019. There are quite a few trades that the Cavs could execute to help teams clear the decks for the biggest free agency summer since 2015. In return the Cavs will want Santa to bring them young players and/or draft picks. In addition, there are a couple longer term assets that other teams might be interested in that could hasten the rebuild.
Let's start out in the East where a couple teams might seriously consider compensating the Cavs for some book clearing action.
The New York Knicks would love to clear cap room for next summer with the likes of Kyrie Irving and Kevin Durant being available to play alongside a hopefully healthy Kristaps Porzingis. This trade gives the Knicks the ability to clear $15 million off next year's cap , and gives the Cavs a useful vet to at least soak up minutes at the wing in Rodney Hood's spot, and say a top four protected first rounder.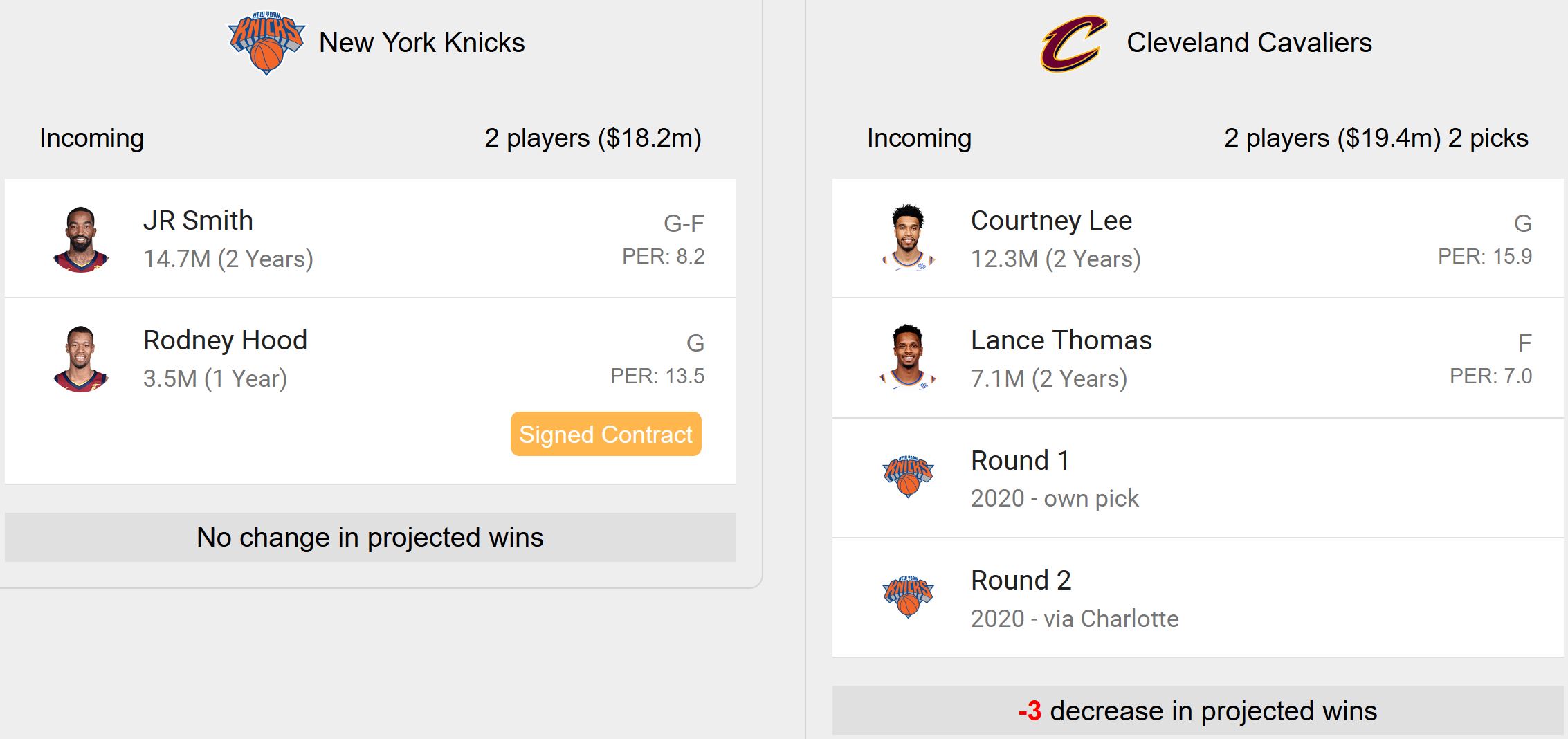 There are a couple of problems with this trade. First, New York is probably loathe to take back JR Smith in any capacity. Even though he'd probably be immediately bought out, J.R. is probably not willing to give up any money in that situation, which is the norm. Would J.R. want to sit out the whole rest of the season to prove that point? Hard to say. Second? Rodney Hood – as a player on a one year contract whose team has his bird rights – can veto any trade. Would Rodney want to go to a team with more wings where he'd possibly have a hard time breaking into the rotation? Third? Is this enough compensation for taking on $15 million in salary?
Yes, the Cavs could replace Smith with Alec Burks, but the numbers don't match up. Perhaps something like this would work. Don't worry about the restriction on Burks in a trade. That will go away before the trade deadline. What do you say? Frenchie Long Arms as a starting lockdown two guard?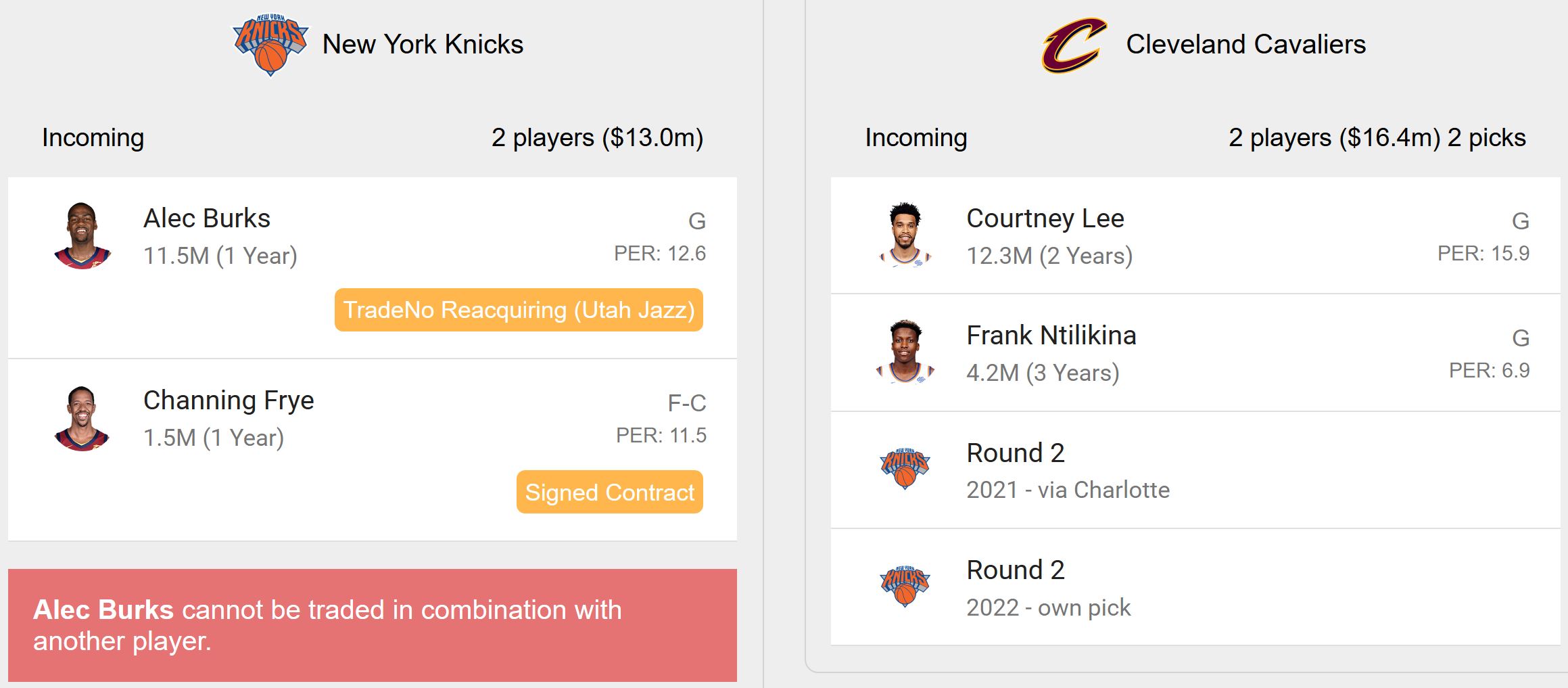 The Charlotte Hornets
The Hornets desperately want to keep Kemba Walker this coming offseason, and clearing the books to do it has to be top priority. Nic Batum sports possibly the NBA's worst contract right now, and it's going to take a lot of compensation for the Hornets to jettison him. Are two first rounders and Dwayne Bacon enough to take on almost $46 million in future salary? That's a tough sell for me. There better not be many protections on those picks.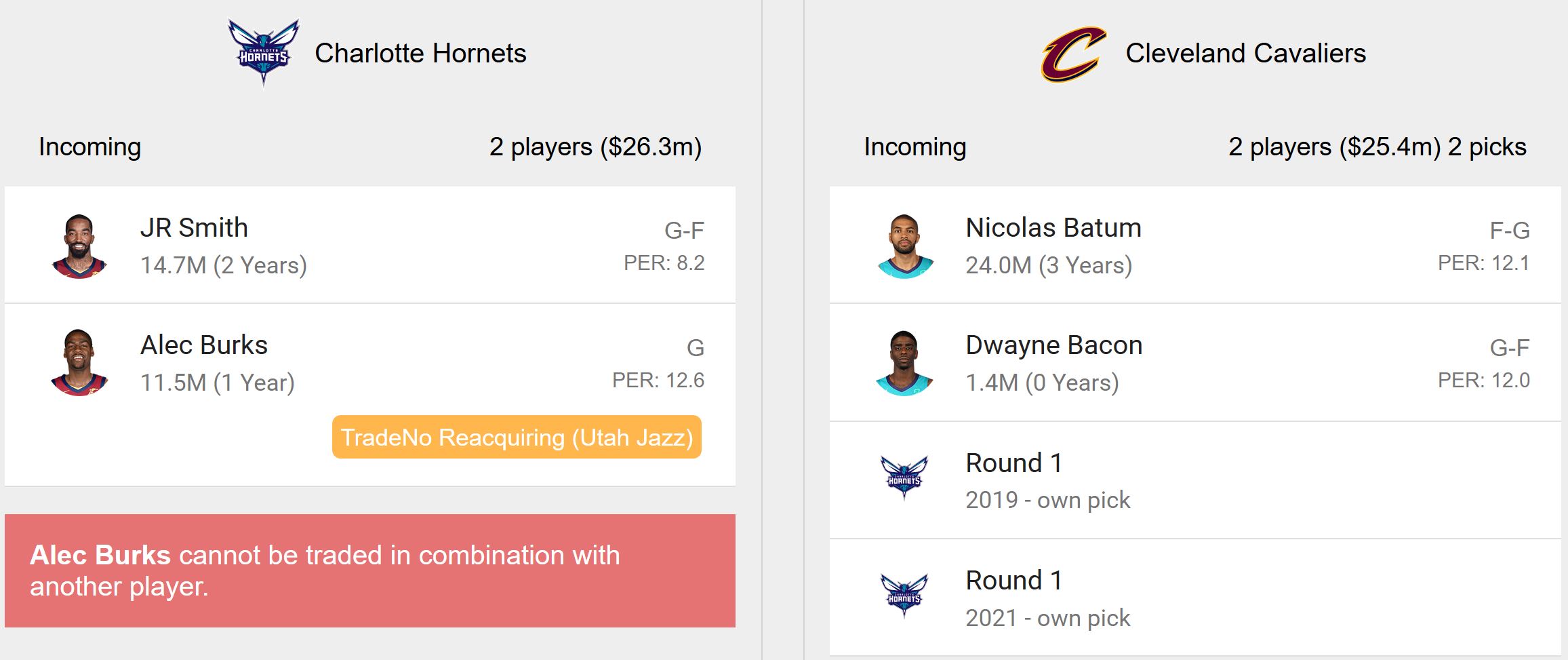 Complicating matters? The Hornets will probably be loathe to give up picks when they don't know the future status of Kemba.
The Orlando Magic
Let's bring back as many members of the 2016 as possible. Can we talk Sasha Kaun out of retirement? In this deal, Cleveland takes Timo off the Magic's hands in return for two of their many future draft picks, thus giving the Magic the cash to re-sign Vujevic, and maybe even a point guard. This might be a little steep for Orlando's blood, but I'm sure they could work something out.

The Miami Heat
No one in the NBA has a dopier set of contracts than the Miami Heat. The team that once pissed off LeBron in order to pay a little less tax by cutting Mike Miller is sporting a league leading $158 million dollar payroll this season. Dumb contracts? Let's talk three years, $39 million worth of Dion Waiters; two years, $38 million worth of Tyler Johnson; two years $52 million worth of Hasssan Whiteside and his overinflated ego; two years, $29 million for James "I have a career average of eight points" Johnson. I mean take your pick for your ridiculously overpaid Miami Heat players. The problem is that they have so many bad players, they might be better off just eating all the bad contracts instead of trading awayvtgeir future. Also, they have already moved a lot of future picks. Do they sacrifice the future for some more relief now?
Here's a blockbuster that could turn some heads. TT goes to Miami, and suddenly their defense gets much switchier. They save about $29 million in future salary. Nwaba and Wayne Ellington go to San Antonio,  Kevin Love and Larry Nance get a big 5 to play with, and the Cavs get Lonnie Walker, and draft picks… And Whiteside's ego.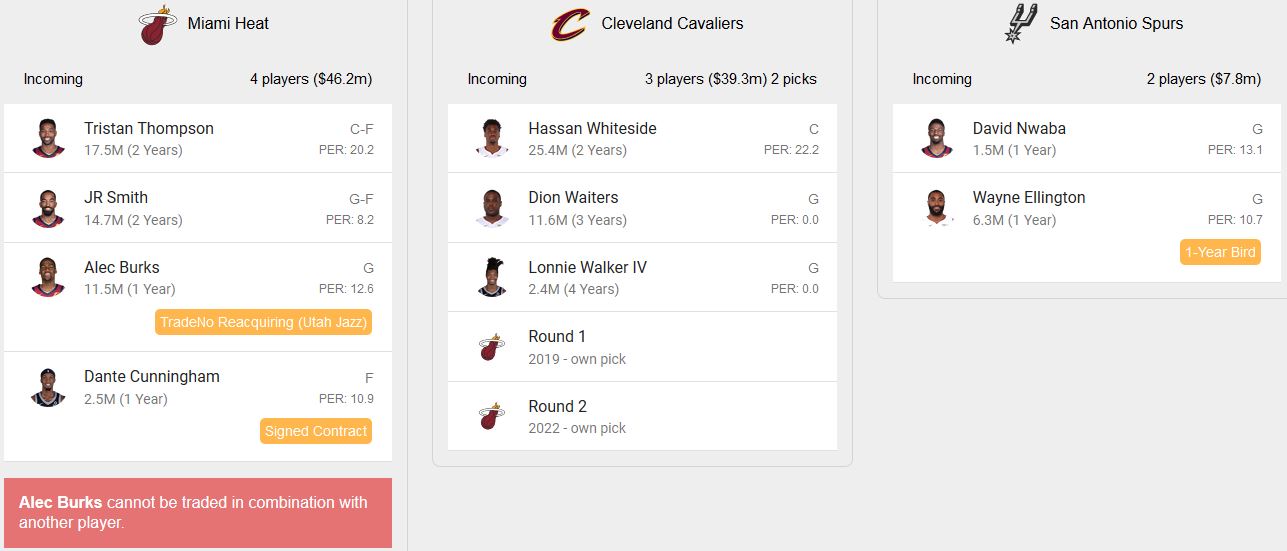 The Washington Wizards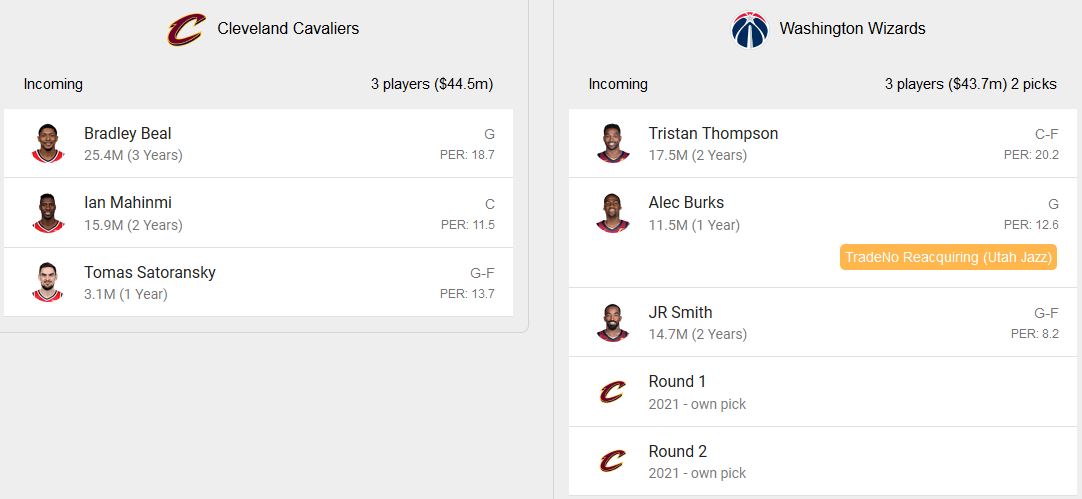 Here's my pie in the sky, "let's go get Bradley Beal and become an instant playoff team" deal. They eat Mahinmi's deal, give Washington a real center, and send two draft picks Washington's way. Let's be honest. It probably takes another first rounder, but due to the complications with the pick that Cleveland owes Atlanta it's hard to trade another first till 2023. It's probably not enough to get Beal.
More realistic? Cleveland Eats Mahinmi's and Howard's deals and gets some picks for their trouble. To get two firsts for TT would be more than they ever thought they might get at the beginning of the season. It's doubtful Cleveland does, but a first and a second might be a possibility. There's also a possibility of a straight salary dump for Mahinmi which would look similar. I'd love to get Tomas Satoranski back in any trade with Washington. Since he's been starting as of Dec. 1st, the Wizards are at least .500 and Sato's been posting good if not prolific shooting splits of 55%/41%/88% with 8/4/2 in 29 minutes a night, acquiring him is probably not a real possibility.

There's more permutations of the above, but you get the idea. Cleveland is a dumping ground for bad contracts, and in return their opponents send them draft picks: the NBA equivalent of gift cards for future players and transactions. Later this week, we take on the West.