Cleveland ran with the Sixers for three quarters, until Philadelphia decided they'd had enough of the Cavs' bench, and ripped off a 14-0 run in the early fourth en route to a 39-20 quarter to put a blowout on the Cavs. Philly's starters were an order of magnitude better than Cleveland's whose leader among the starters in plus/minus was Ante Zizic and his -16, Sexton, Hood, Osman, and Burks were -22 or worse.
The Cavs' bench was their saving grace and the only thing that kept this one close. They outpaced the Sixers' 50-38. David Nwaba was very effective +14 with nine points and and five rebounds in just 14.5 minutes. Matthew Dellavedova put up 13 with six dimes in 22 to go along with a +3 outing and a trio of Delly treys, while Larry Nance turned in another nice all around performance with 7/6/4 in just under 26 minutes, and was -7 in his floor time. Even Channing Frye added five minutes to keep Cleveland from running Nance into the ground. Channing got in the scoring column by with a three to close the first quarter, on a sweet Delly dime.
The wine and gold were led in scoring by Jordan Clarkson and Cedi Osman with 18 a piece. Osman in particular broke out of his offensive slump with an efficient  6-10 afternoon from the floor and 2-4 from downtown. Osman attacked in transition and Philly let him get to his right hand on drives, and he kept them honest with just enough left drives to get to the line, while not forcing the threeball. Still, Osman went -26 and Cedi was a part of the Cavs general rebounding woes Wilson Chandler and Ben Simmons combined for seven offensive rebounds.
It took Clarkson 16 shots to get his 18 but by sharing the floor with Delly, Larry, and David Nwaba, Clarkson was able to go just -7 in his time. His passing even seemed influenced by Delly's presence, as he dropped four dimes to go with a -7 in 28 minutes. The ball movement seemed positively infectious when these guys were in. As testament, the Cavs bench contributed 20 of the Cavs' 28 assists.
Philly was led by two guys the Cavs had absolutely no answer for: Joel Embiid and Ben Simmons. Simmons' waltzed through the lane with impunity over and over again on his way to a 22/11/14 triple double while going 7-10 at the basket. Embiid's 25/9/2 line led Philly in scoring, and no one seemed to be able to guard him in the post, and his jumper was good enough that Zizic and Nance couldn't lay off him.
The offense seemed to run through Embiid and Simmons pretty heavily, while the injured Jimmy Butler was more of a third option. Of course Butler's 19 points on 10 shots were highly efficient for a third option. The Sixer's starters were rounded out by JJ Redick, whose shooting gravity helped tilt the floor and led to his 14 point, +24 afternoon.
And it's not as if the 76ers' bench was bad. Landry Shamet, TJ McConnell, and Mike Muscala combined to shoot 14-19 for 32 points, and the Sixers shot 56% with only 10 turnovers.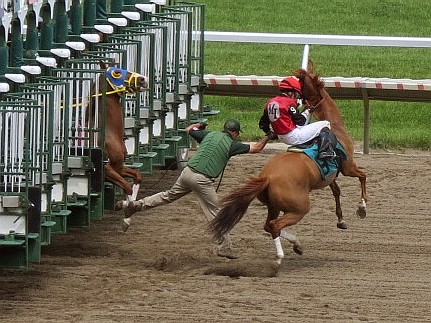 The Cavs' starters were especially bad at playing with any kind of defensive force, and the matchup problems the Sixers create were tough for the starters to counter. The Cavs' starters had a hard time in general, but Alec Burks was especially bad as he laid bricks from all over the court to go 2-10 with two turnovers and a game low -28. If Nwaba's healthy, then he probably ought to replace Burks in the starting lineup. It's easy to see why Alec fell out of the rotation in Utah. He doesn't seem to be able to hold up to extended minutes. He's posting 35%/31%/82% shooting splits in his Cavalier stint. At this point he just seems like an expiring contract.
My true annoyance was reserved for Collin Sexton who did very little after his eight point, one dime first quarter, and was 2-8 the rest of the game. At one galling point of the second quarter, the floor was spread, with just one guy under the bucket, and instead of attacking and scoring or drawing guys into the paint and kicking, Sexton just stepped into a 20-foot brick. On defense, Collin was like throwing a superball at a bigfoot: momentarily amusing, but ineffective.
OK, @matthewdelly. 👀 pic.twitter.com/CJ0Dj5zghV

— Cleveland Cavaliers (@cavs) December 16, 2018
His counterpart, Matthew Dellavedova, completely outplayed Youngbull, and was responsible for very strong closes to the first and third quarters. However, Delly and Co. were cuplable in the 14-0 run that started with nine seconds left in the third and pretty much put the game away, before the game was completely put away by Landry Shamet's three straight triples.
Delly is so much more forceful on offense and defense, but Jordan Clarkson can hijack any offense, which is part of what happened to start the fourth. The #TankStrong Cavs played Delly 23 minutes and Sexton 30 minutes, and limited the minutes of Nance and Nwaba too. Tanking is about occasional victories and entertaining losses, and when your better lineup gives up a 14-0 run to start the fourth, you've got no possibility for it being one of those occasional wins. Asking the bench on limited minutes to rescue the starters is not a recipe for success, unless you measure success as remaining in the bottom of the standings, dyin' for Zion.
I almost forgot this little nugget of symbolism: Channing Frye passing to Sexton… who happened to be standing up in his warm-ups on the bench.
Channing Frye with a nifty pass to a wide-open Collin Sexton … on the bench 😂 pic.twitter.com/RvTjbRAH8I

— NBA on ESPN (@ESPNNBA) December 16, 2018
Cleveland faces a tough road this week, with a back to back in Indy and Charlotte starting Tuesday, and a trip to Toronto Friday before a tankfight against the Bulls at the Q on Sunday. Hold your nose, root for silver linings, and go Cavs.