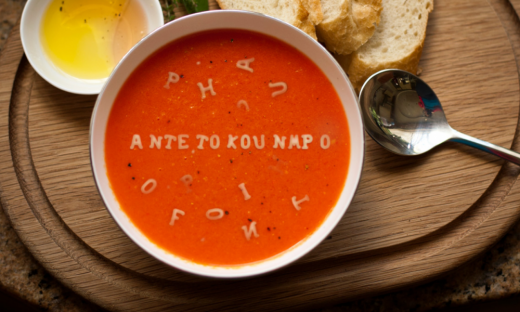 The Bucks put little respect on the Cavs' name tonight, opting to rest Khris Middleton and Malcolm Brogdon, much like they rested Giannis earlier this week in Milwaukee. Cleveland overcame a putrid first quarter to almost make Milwaukee pay for it, as the wine and Gold cut the Milwaukee lead which had been as much as 17 down to just five points with three minutes remaining. Alas, there was just too much Alphabet, as the man with my favorite moniker in the Association, Giannis Antetokounmpo, was nearly unstoppable in transition and around the basket, and ultimately made alphabet soup out of the Cavaliers.
Still this game was fun. Despite looking like a possible blowout, the Cavs fought back time and again to return to single digit deficits, and showed a lot of grit and determination to make the contest as close as it was. I'm going back to elementary school for this 'cap, because between names like Antetokounmpo, Dellavedova, Blossomgame, Connaughton, and DeVincenzo, these two squads had almost all the letters in the language.
A is for Antetokounmpo, of course. The Greek freak was monstrous in this one with a LeBron-esque 44/14/8, line with two blocks. Giannis was unstoppable in the paint, as he went 13-15 on point blank shots and 1-4 from mid-range to go along with 16-21 at the line. He just destroyed the Cavs, and their lack of anyone with any kind of bulk to body him meant Giannis had free reign inside. The refs did get a little whistle happy with him, and the Bucks got 28 free throws to the Cavs' 21, but Antetokounmpo was dunking and flexing all night, which was annoying.
Larry Drew came out with a bad game plan, starting Cedi at the four and Frye at the five, and Osman was on the receiving end of many a highlight. He just doesn't have the length or size to deal with Antetokounmpo. Larry Nance started on Giannis in the second half, but by then it was too late, and it's hard to ask the foul prone Nance to guard the Greek Freak for a whole game. One thing that hurt the Cavs was their poor discipline on double teams. Giannis more than once drew three guys, leaving multiple options to pass to wide open teammates over lilliputian Cavaliers. Giannis also found so many shooters in transition for Milwaukee.
The only thing that slowed the Alphabet down was foul trouble as he picked up five and more than once got sent to the pine earlier than he's used to. Still, he put up those eye-popping numbers in 37.5 minutes. Giannis played like an MVP. Here are some dunks.
B is for Bench. No, not Burks who had a competent, if unspectacular 12/9/1 night and led all starters with -5 in the plus/minus. The Cavs' Bench though was awesome. Larry Nance led the way with a game high +6 to go with a 14/10/6 line in 37 minutes. Nance and Delly are so good together, and the passing becomes infectious when they share the floor. Jordan Clarkson was the beneficiary of many of those passes as he led the Cavs with 23 points from all over the floor. Cleveland's bench outscored Milwaukee's 52-23, and especially made Thon Maker pay as he put up -13 in just ten minutes, to finish as the only Buck in minus column on the night.
C is for Collin Sexton, who was pretty darn crappy. He makes me unhappy… Sexton put up a 5/3/1 line in 24 minutes with 2-11 shooting, and a game low -18. Collin went scoreless in the first half and was a big part of the Cavs' woes in a 16 point first quarter. Someone asked me on the live thread what was wrong with him, and I said that the Bucks were just too physical with him. That's untrue. Collin just took bad shots and missed the good ones he did take. Sexton dribbled into pull-ups and floaters, and missed a few bunnies at the rim. He even yelled out a Dion-esque "and-1!" on an egregiously infuriating no glass miss.
Collin was 1-5 on mid range floater garbage, 0-2 from three (both good shots), and 1-4 at the rim. A couple were going against Giannis, which was a bad idea, a couple didn't go glass, and a couple just rimmed out. Only the first highlight below which shows nifty reverse that cut the game to five looked good. Collin just settles for a bad mid-ranger too often. Check out the second clip below were he misses an open Rodney Hood on the pick and pop to fart up rim clanging rock.
Collin was also stuck in cement boots on defense and repeatedly got blown by in transition by Bledsoe and DiVencenzo. He did nothing on roll men either and was mostly just a pylon. He also deferred on offense a ton, and seemed reluctant to run the point guard spot, often letting Delly, Burks, and Hood initiate the offense. Speaking of…
D is for Dellavedova who sparks epic poetry and comebacks with his heady point guard play and his infectious energy. Multiple times the Cavs were down double digits and Matty D helped bring them back. Delly notched 10/3/5, +3 line in 27 minutes and his floater looked much softer than Sexton's. Delly also consistently found shooters and cutters, and went 2-5 from downtown including a big one to start the fourth. He clearly relished playing his old team, and looks like the best point guard on his current team already.
E is for Eric Bledsoe, Milwaukee's starting point guard, who lived upped to Ben Werth's billing as having an untrustworthy three-ball. Bledsoe was 1-8 from downtown and probably should've abused Collin Sexton more by getting to the rim on the bounce. Eric still dropped 16/5/6 in 31 minutes. Maybe he felt sorry for the kid.
F is for Frye, as in Channing. The Cavs' elder statesman started this contest at the five, provided some much needed shooting in the starting lineup (2-3 from three), but could not keep up with Brook Lopez. Frye set the tone in the early third though, with a hard foul on the Greek Freak, which told the young giant, "you may score, but you'd best not punk us and mean mug all night." Of course Frye got a flagrant one out of the altercation, and I thought the call borderline at best. You be the judge. It's pretty weak sauce if you ask me.
G is for Gutless George Hill and his whopping eight points and four assists in his 59 minutes in Milwaukee. He was afraid to take a shot when he came to Cleveland too. George was 1-6 but did add six boards in 24 minutes. I wouldn't be surprised if his contract gets moved again.
H is for Hood who was outmuscled by the Bucks too, as he was -18 in his time on the floor. Rodney did have a solid shooting night with 19 on 7-14 from the field, but he was routinely abused on D. The rumor is Cleveland is shopping him and Burks.
I is for Ilyasova, EG's least favorite Buck. Ersan remains one of the NBA's most underrated players, and his shooting has gotten good enough that the Bucks actually run pindowns for him to get him threes at the breaks. Despite being 4-11 from the field, Ilyasova was 3-3 from deep, and one of the few bright spots in Milwaukee's 12-41 shooting from downtown Friday.
J is for Jordan, not Michael, but Clarkson. The unrepentant gunner went 23/5/4 in 32 minutes and seems to relish playing with Nance and Delly in a way that Dion Waiters once did with Andy and Matt. Jordan was just -1 on the night, and added two steals. Even his defense is better with Delly. The Cavs desperately needed JC's scoring in the second to get their offense on track, and even I didn't mind him taking a 1-on-3 foray into the right baseline which netted the Cavs some much needed points. Jordan was 2-8 from downtown, but all save one were in the flow of the offense. He just missed some good looks there. Had one or two of those had gone down this might have been a different game.
K is for killer instinct which the Bucks clearly possess. Time and again, the Cavs came back, and time and again the Bucks did impress.
L is for Lopez who launches without remorse. Brook was 3-10 deep, and has clearly been told, "If you're open, shoot." Brook is an easy target though to cut from the three line, and he was 4-5 inside to set up him for 19 points and +12 as the Bucks' second best scorer.
M for Mike, Budenholzer the coach, much better than the one of which Milwaukee's rid. I can't believe Giannis wasted years for that schmuck, Jason Kidd.
N is for Nance, Larry Jr. with 14 points the Minuteman from Richfield dropped six dimes, 10 boards, and three steals. He's the Jokic of North Coast. Watch how he dunks and he deals.
O is for Osman, Oy, and "Oh No." Which I say when Cedi takes a bad shot or decides to drive one three. Please Cedi try to do less. Play more defense, and run like a streak. You'll have more success. I know it's hard when you're stuck on the Freak.
P is for Power Forward, which the Cavs really need. Especially on nights like Friday when Cleveland can't keep anyone out of the paint.
Q is for Q, the single lettered arena. The fans were in full force, howling like Hyenas.
(Yep. That's right. I just wrote that.)
R is for Rebound, which is what power forwards are for. The Cavs were ok, keeping up 55-59, but Milwaukee was able to convert their o-boards, outscoring the Cavs 14-9 on second chance points.
S is for Snell, who's always killed the Cavs. He's the kind of solid role player that good teams have to have. His defense is tough, and his three is a salve.
T is for for Turnovers, the Cavs had 16. The Bucks just had nine. It was some kind of bad dream. Milwaukee turned them into 19 points – the Cavs just five – I need a joint.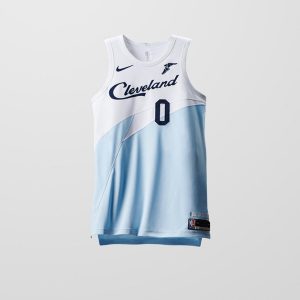 U is for Ugly, the Cavs new powder blue unis are. They should be gathered up henceforth and all burned in a car.
V is for Vincenso, Donte Di, from 'Nova. I'm really stretching this theme. He's no Dellavedova. (But he did have three nice drives).
W is for will, which brought the Cavs back from the dead. Watch Delly soar o'er scorer's table. I hope he didn't hurt Fred.
X is for X-Ray, which no one needed, thank God. The Cavs have enough wounded that we're talking G-Leaguers on the Pod.
Y is for Youngbull, who might need to sit. To the end of his nickname, my buddy Eric added a "shit."
Z is for Zizic, God's own widow's peak. The Cavs could've used his six fouls to try to stop the Freak.