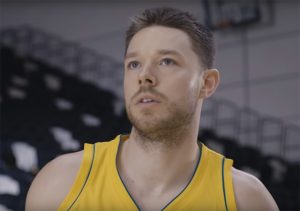 four point play….
1. Oh Delly, how I have missed you. During a season full of poor defensive rotations, ball hogging chucktitude, and generally ill-advised play, your return has been like a sip of Gatorade in the desert.
I know I'm thirsty and any hint of liquid would sooth my cracked lips, but sweet baby basketball, are those electrolytes?! 
Watching Mathew Dellavedova play basketball after almost a full season of the Jordan Clarkson experience is almost too much for my basketball soul. The contrast is just too great.
Fortunately, Jordan seems to understand how good Delly is for his own play. During the minutes that Mathew ran the offense with Jordan playing off ball, Clarkson was positively electric on the offensive end (let us not talk about the times he coughed up garbage).
With Larry Nance Jr and Delly destroying the strong-side defense via Pick and Roll, Jordan was free to attack one-on-one off the catch. We all know that Clarkson is a great one-on-one offensive player. It is just everything else at which he is terrible.
Larry Drew's second unit surrounded Jordan with three good to great defenders in Nance, Delly, and David Nwaba. Jaron Blossomgame also acquitted himself quite well on that end of the floor, communicating well with his post fronting and rotational tags.
As Mike Fratello (who made Austin seemingly nervous) pointed out, Clarkson still gave up buckets by not tagging roll men, or closing out with controlled feet. Drew's line-up the damage Jordan could do.
Essentially, Jordan is a far worse version of regular season Kyrie Irving circa 2015. We, at the blog, frequently pointed out how much better the Cavalier's offense was with Delly running the regular season show ahead of Kyrie. Multiply that sentiment exponentially as it pertains to Clarkson.
Delly also allows Collin Sexton to play a freer game. Poor Collin has played so many minutes with either Rodney Hood or Clarkson as his backcourt partner that it must be wonderful to have the possibility of a return pass.
2. In general, having Dellavedova on the roster promotes winning plays. It might even backfire against the Cavs' tanking plans if Delly plays too much and/or his style rubs off on the other players.
Purely from in entertainment standpoint, Delly's unleashing of the lob game should make fans happy. But, his overall impact could be monumental.
If the Cavs do somehow sneak back into the playoff picture (they are only six games out) a line-up of Delly, Nwaba, Cedi, Love, and Nance could be a very difficult crunchtime lineup for an opposing squad.
With Nance slowly earning three point respect around the league, that lineup would have multiple spacers and team shot creation. Defensively, it would be shockingly effective to folks who don't understand how good those players are mentally.
Collin, Delly, Nwaba, Cedi, and Nance/TT could be an ultra annoying team to play against. Collin still is more defensive bark than bite, but he is getting better. More than anything, can you imagine playing against those guys as a pleasant activity?
The fact that the Cavs traded for culture and history is a solid move from Gilbert and Altman (obviously, the pick was primary). Considering how weak the bottom of the East is, the Cavs could go from surefire Tank-a-Palooza to fringe playoff team.
3. Out West, 14 of the 15 teams are legitimately competing for a playoff spot. For example, the 13-15 Minnesota Timberwolves are currently in second to last place in the conference. Of course, where a team is currently seeded is hardly relevant with so much time left in the season.
Yes, the West is stacked with good teams. It would be easy to look at the overall depth out West and conclude that it is the far superior conference.
However, the top four teams in the Eastern Conference can legitimately boast title aspirations. The Indiana Pacers may be a step below the Raptors, Bucks, Sixers, and Celtics in terms of team ceiling, but they are every bit as scary in a playoff series as any team in the Western Conference not based in the Bay Area.
Meanwhile, only the Warriors and the team with LeBron seem to have a real shot at making the Finals. I love the Nuggets, but do we really think they could take down Golden State in a series?
As good as the Thunder have been on the defensive end, can you imagine Russell Westbrook turning down that contested jumper for the win in a bigtime game? I feel obligated to toss LeBron in the conversation as a threat because L.A. probably still has another move in them, but they are not yet a championship caliber squad.
4. Out East, it is another story. Kevin Durant recently stated following his team's loss to the Toronto Raptors that the Raptors are not a young, up-and-coming team. They are here.
After beating the Dubs sans Kawhi Leonard, the Raps must be fully appreciated by the league. Nick Nurse has unleashed an insanely deep roster of guys who can defend and shoot the deep ball. This is no longer a team that lives and dies by DeMar DeRozen's mid-range game.
Instead, they function around Pascal Siakam's entertaining all around skill-set, Danny Green's exceptional team defense and three-point spacing, Kyle Lowry's absolute masterwork as a lead guard, and the MVP level play from Kwahi Leonard.
These aren't the old Raptors. This season, Toronto hosts the best team in the NBA.
The Raps have been so good that the recent surge by the Boston Celtics has gone almost unnoticed. It is true Boston has benefited from a relatively soft schedule during their seven game winning streak.
Still, for a Celtics team that struggled mightily on the offensive end through the first quarter of the season, Brad Stevens must be thrilled to see the recent uptick in production. They were always going to be fine come playoff time. Their defense didn't slip even when they couldn't make a shot.
What will be most interesting is how the Philadelphia 76ers proceed before the trade deadline. I liked the long-term ceiling of the Sixers more before they traded for Jimmy Butler. I do, however recognise that for this particular season, having Butler on the squad makes a Finals trip more likely. They need another wing player on which they can rely.
Furkan Korkmaz has played well recently. He is obviously not the defender that Robert Covington is, but he might be a better shooter off the bounce. Covington is a good shooter, but struggled with his shot in the playoffs. Perhaps Korkmaz will be more consistent when it matters most.
What worries me post-trade, is the development of Ben Simmons. Simmons is simply far too useful on ball to be relegated to third or fourth option. Without the easy ball and man movement of Dario Saric and Covington, Simmons hasn't been as effective on or off ball.
If the Sixes are to maximize their talent, Simmons must be the primary ball-handler with great off-ball work from Jimmy Butler.
In Milwaukee, the Bucks have the talent to compete with anybody. I do question their shot consistency from deep. They finally have functionally good outside shooters after many seasons without players with range, but their shooters can be streaky in a way that is not great in a playoff situation.
Basically, I don't trust Eric Bledsoe's shot. I don't trust him as a primary decision maker either. The Bucks have the depth to play line-ups that don't feature Bledsoe if they care to. It will be very interesting to see how they go forward in tight situations if Bled stops performing well.
Regardless of my nitpicks, I would take any of those Eastern Conference teams in a series against any non Warriors team. The Sixers have a lower floor than the other Eastern elites, but I would still take them over teams like the Thunder and Nuggets.
The Sixers are emblematic of the East on the whole. High ceiling, low floor. Who knows who will show up June. I know this: if they somehow meet, the Raps won't be afraid of LeBron this time.