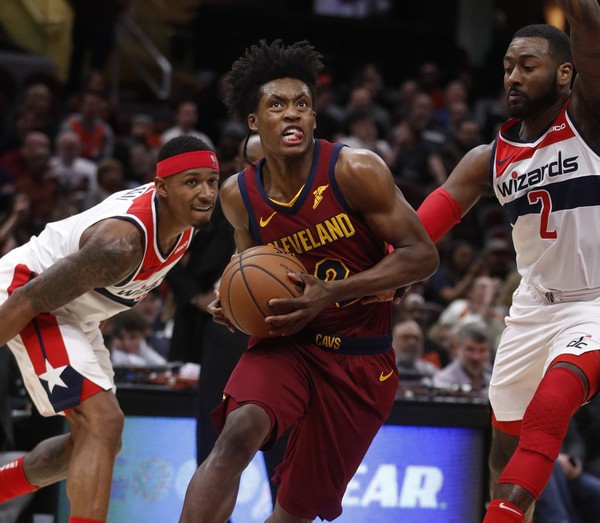 When I put up the Live Thread for this game I was quite optimistic. After all, the Cavs had been less than 24 hours away from trading for one of my all-time favorite Cavaliers in Matthew Dellavedova. By now, this isn't news. But more than the trade, I just sort of had an optimistic feeling waiting for the  game to begin. And boy was I not disappointed. Not only did Cleveland avenge an ugly early season loss against the Wiz but they did so in spectacular fashion, jumping out to a big lead right away. De facto team leader and rookie Collin Sexton would not relinquish that lead and would end with a 116-101 Cavaliers victory.
The first quarter started off well for Cleveland as they hit their first three shot attempts all around the rim. Cedi made a driving layup, followed up by another from Sexton, and finished off with one of TT's pet moves as he spun through the lane to flip up a baby hook. For the next six minutes of the game, the lead was back and forth with the Wizards taking, and holding, the lead on several occasions. However, just before the 4:00 minute mark, Jalen Jones, who was just signed to one of Cleveland's two-way contracts along with Jaron Blossomgame, hit a three to retake the lead at 23-22. Jones immediately followed that up with a second three and the Cavs would not relinquish the lead for the rest of the night.
Jalen Jones would finish the night with 12 points, 3 rebounds, a steal, and a block. He also went 4-4 from beyond the arc. Seriously, where did this guy come from? And it seems that finally, the rest of this Cleveland team embraced the three point shot. The results? After Jones's two makes, Sexton and Jordan Clarkson put in a couple of their own. Paired with a couple free throws and a couple of other high percentage shots (two layups) and you get a Cavaliers first quarter lead of 38-22, finishing on an 18-3 run. Cedi also had a pretty sweet finish himself in the quarter, throwing down this dunk early.
Lose sight of Cedi in transition, and this is what happens. 🔨#CavsWizards || #BeTheFight

WATCH: https://t.co/UTCJYQ5N2p pic.twitter.com/3PnWbBpE9N

— FOX Sports Ohio (@FOXSportsOH) December 9, 2018

The second quarter is where things really began to fall off for the Wizards. Washington managed a single, solitary free throw (from former Cavalier Jeff Green) for the first five minutes of the quarter. Tristan Thompson did most of the damage for Cleveland in the meantime. Did I really just say that TT did most of the damage for the Cavs? I did, ya. It's going to take some time getting used to saying that. T-Top would finish the night with 23 points, 19 rebounds, 5 assists, and 2 blocks. What a stat line. Thompson's play of late has been an absolute revelation.
With just under 7:00 to go in the quarter the Wizards called a time out and finally remembered how to score the basketball as Bradley Beal man a three pointer. By that time, the damage was done as Cleveland was up 49-29. The Cavs were just waltzing through the paint getting whatever they want. I don't defend John Wall as a rule, but clearly he was not right (apparently he's got a bit of a bone spur). The Cavaliers held Wall to just one point for the night and he was part of the reason why Cleveland was able to form a layup line even after the pregame warm-ups. The first half ended with the Cavaliers up 62-46.
The third quarter started off pretty slowly for the Wizards, again. Luckily, the same cannot be said for Cleveland, and more specifically, Cedi Osman. Midway through the third, Cedi briefly woke up, scoring 6 of his 12 total points. He hit a pair of threes on two straight possessions. Burks added a three of his own and Sexton got a couple from downtown as well. With Cleveland hitting at such a high clip and Washington unable to buy buckets, the lead was extended to 87-66.
Cleveland's legs started to finally go in the fourth quarter but not before they managed some more bombs from distance. The first three minutes of the quarter featured two three pointers from Larry Nance Jr., in a row, yes even Nance was in on the action in this one. Jones added his final two threes to the tally and that was all Cleveland would need as Washington never made it past the 101 points the Cavs had at the 9:00 minute mark. From there, Jeff Green and Kelly Oubre Jr. would close the gap a bit each hitting some shots and free throws to minimize the damage. The game didn't end before Sexton and Nance added the highlight of the night with the sweet alley-oop below. Cleveland finished with a 116-101 victory, getting pretty close to my prediction from the Live Thread might I add.
RAISE THE ROOF, @LARRYDN22! #BeTheFight pic.twitter.com/Pxw9RvX6IG

— Cleveland Cavaliers (@cavs) December 9, 2018
Some Notes:
1) So, remember when the Cavaliers didn't know what a three pointer looked like? It was very refreshing to see them remember what those shots look like. The Cavs finished the night shooting 48% from distance on 15-31 shots. Granted, the Wizards defense was absolutely pathetic, but let's not discourage the trend. It was nice to not watch a parade of mid-range shots.
2) I don't know what to say about Tristan Thompson. His stat line looks like an all-star's. 23 points, 19 rebounds, 5 assists, and 2 blocks is nothing to scoff at, even if the Wizards just didn't have it tonight. I tend to feel like this is mostly fool's gold, but TT isn't facing as many traditional centers anymore and it's clearly working in his favor. Now that he's in shape and working hard, he's back to being a menace on the boards, 7 of those 12 rebounds were of the offensive variety. He's also combining that with simple rolls to the hoop netting him a team-leading 54.2% field goal percentage. I'm starting to look forward to the lobs from Delly to not only TT but also Nance.
3) I was disappointed Preston didn't work out for the Cavs. I thought he had potential. But clearly Jones and Blossomgame were at least worth the looks by Cleveland. In addition to Jones's shooting, Blossomgame got the start and added 6 points and 6 rebounds of his own. Not bad for a spot start and a couple of end-of-the-bench guys. I'll take it. Check out this sweet put-back by him below:
4) I hardly mentioned Collin Sexton in the recap but he had himself a night as well. Without any resistance from Wall, the rookie guard went off for 29 points, a season high 6 assists, 3 rebounds, and 2 steals. He shot more threes than he usually does and managed to go 3-7 for the night. I'll take 43% shooting from three any night, Collin, keep it up.
The Cavaliers face off against the Milwaukee Bucks Monday night. Delly should not only be able to return to action but do it against the very team that traded him. I look forward to seeing the Aussie back in wine and gold. As always, Go Cavs!