Cleveland fought the Kyle Lowry-less Raptors and the officials Saturday in a game that saw Toronto take advantage of a Cleveland energy lull to go on a 21-3 run in less than six minutes of the mid third quarter. The Cleveland bench almost brought the team back, as they Cut a Toronto lead that had once been 21 to just six in the early fourth. The Claw (Kawhi Leonard) and Co. literally kept the Cavs at arm's length the rest of the quarter to hold on and win despite a noble effort from the Wine and Golders.
This was my first big beef with Larry Drew's coaching, as he was too timid and should have fought for his team's respect from the officials. Cleveland was at a disadvantage all night. The Raptors were allowed to push on every drive and screen, and the refs officiated Kawhi Leonard's reputation instead of his actual play. The officiating crew choked on their whistles on at least half a dozen uncalled offensive and defensive fouls by Leonard. Leonard finished 34/9/2 with a steal, a block, and +28 in 37 minutes. Yeah, he's awesome, but down the stretch, Kawhi looked like the Heisman trophy on every drive. He was allowed to use his off arm on almost every drive and post-up. Check out the hilarious example below where Collin Sexton gets whistled for being forearm shivered by the NBA's current leader in the MVP race.
Speaking of Collin Sexton, it's tough to fault coach Drew in this one. The edict has come down from Kilbert (or is it Corbert?) that Collin must play. But as I noted during the game, Youngbull looked like a junior high kid playing pickup at the Y with the guys in the over 21 league. Sexton was abused by the stronger and taller Raptors while the shorter Fred Vanvleet used his cagey old-man game to take advantage of the kid repeatedly.
Offensively, Sexton has hit a wall, especially against good teams. As West coast cav noted on the live thread, "the scouting is out on Sexton. Drew and staff need to start working some options for the kid. As soon as he gets the ball we all know what he's going to do." Toronto was content to challenge him physically enough to throw him off his game, and when Collin's mid-ranger isn't falling, he's literally giving the Cavs' nothing on offense. Toronto was content to concede that shot or take it away until it was an afterthought.
Sexton also defers and plays timid to a fault. I get that he doesn't want to make mistakes, but there's absolutely no point to his speed and quickness if he doesn't press an advantage. At one point, Sexton had blown by VanVleet and had the ball at the top of the key with only Ibaka between him and the basket. The problem? The kid has absolutely zero moves and was terrified. He hit the brakes and aborted the advantage. At the very least, he needed to go after Ibaka and Nash the baseline to draw two guys into the paint and hit a cutter or one of multiple shooters (sadly, I couldn't find video on this play). Or, go up with a floater, or get into Ibaka's body and put up a shot. There's several options here, but by calling "no joy," Sexton took advantage of none of them and doomed an offensive possession.
The kid also needs a spin move in the worst way to bounce off guys when they try to body him and his wiry frame. Unfortunately, his handle is too high and loose to do this without getting his pocket picked repeatedly. One of the things to like about Collin Sexton's game is the way he attacks defensive rebounds. Unfortunately, he needs to watch some Delly tape and retreat to the free throw line for d-boards when he's guarding above the break. The Cavs' surrendered multiple offensive rebounds because no one was in the in-between space Saturday. Collin hit a couple Js when Toronto was coasting on a big lead to make his percentage a respectable 5-12 to put up a 10/2/2, -15 line with three turnovers in 26 minutes, but he was mostly like a adolescent among men, which he still is.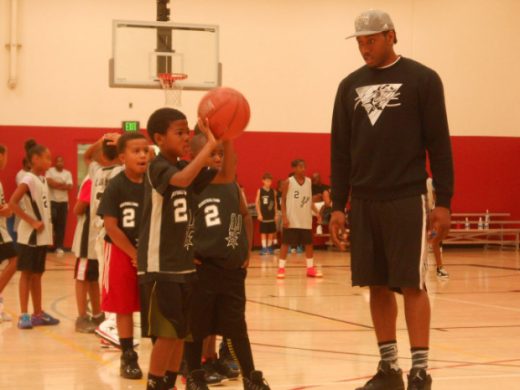 Sexton's starting back-court mate was George Hill, who returned to action after a couple weeks on the injury list, but only played 19 minutes. Hill dropped eight on five shots and was still feeling his way around the game. Still, his pace and his presence contributed to the Cavs good start on both sides of the ball. A full night of action might have made a big difference. The other perimeter starter, Rodney Hood, got shut down by Leonard and Danny Green as Hood went 4-10 for a 13/3/2 line with a couple steals, but a game low -21 in a game high 41 minutes. I have a hard time understanding what coach Drew was doing with Rodney. The Cavs more than once cleared out a while side of the floor to let Hood isolate against the Association's best perimeter defender, Leonard, with predictable Raptor-positive results. Hood needs to be the left handed Klay, not the left handed Melo.
Cleveland went for quickness over size with their starting four, Cedi Osman. Osman had another solid floor game: 13/6/3 including a couple spectacular passes, but was a cringe-worthy 1-7 from downtown. Cedi is taking the right shots (threes instead of long twos), but not making them. Inside the arc, commenter Leo noted, "Cedi thinks he's Lebron with his iso stuff and trying to do crazy passes and drives. He needs to cut that out and focus on his strengths which is spot up shooting and hustle." While I wouldn't go that far, commenter Jason's reply was fair: The Cavs were coming back in the fourth behind a red-hot Clarkson and Alex Burks. They both had better matchups and should've been initiating. Osman needs to get Korver-esque with his dedication to his shooting mechanics if he's going to take that many, and he needs to be doing more of this.
The recipient of that second dime, a cutting Tristan Thompson, was the Cavs' best starter Saturday night. Thompson led the Cavs in points, rebounds and assists with an 18/19/3 line with zero turnovers. TT was the Cavs' only positive starter with +2. Thompson's only flaw was a 6-15 shooting night, that came because he was repeatedly going up against Toronto's extreme length in the paint. They're just so damned long at every position: Ibaka has a DPOY award to his credit and has led the league in blocks more than one season, we all know about Kawhi, but newly minted power forward Pascal Siakam is posting .7 blocks per game with a huge wingspan, and starting two guard Danny Green has led NBA guards in blocks for the last few seasons. Toronto is ridiculously hard to score inside against, and TT's lack of "range" allowed Toronto to pack the paint all night. But while his opponent often went for the block instead of guarding him, it allowed Thompson seven o-boards including multiple tip-ins.
Thompson made up for that low field goal percentage by shooting a perfect 6-6 at the line. As was talked about on the broadcast he is getting much more arc under his shot and has a softer release. He can also hook with each hand. Thompson's offensive relevance is a major development, but against the NBA's best team, it's too easy to pack the paint against him. I get that the Cavs' don't want to take him away from the basket, but there are just no driving lanes when Thompson isn't ball-screening when he's on the floor, and Cleveland didn't do it enough when he was in there. When he's sharing the floor with Larry Nance against a disciplined NBA team? Forget it. You might as well consider the paint Fort Knox. You're not getting away with anything in there.
I was ecstatic at Channing Frye's 3.5 minutes of play in the early fourth because his presence alone opened up driving lanes, sadly Frye didn't get a shot, and just added two boards before Drew subbed him out (0 +/-). Frye's presence still helped Clarkson and Alex Burks get going in the early fourth. They both put up nine in the final frame and set up TT for tip-ins with their penetration. Burks in particular was effective throughout the night, leading the team with +7 and 13/6/0 in 24 minutes. Burks and Hill also meant no minutes (thankfully) for Andrew Harrison. Burks is a much better finisher and slasher than I thought, and is playing with some energy, having been freed from his role on Utah's deep pine. Check out these two fourth quarter finishes that were followed by a big three that cut the diff to seven with 3:30 left in the game.
When Jordan Clarkson's hot, you love him, and when he's not you hate him. While Jordan went for nine in the fourth (on eight shots) and 18/2/2 in 29 minutes, he was still 1-6 on the night from downtown, settling for off the bounce pull-ups instead of moving the ball. Hood played the entire fourth, and only got two shots. He was often camped out in the left corner, and was frequently ignored by Clarkson, Burks, and Cedi. Cleveland has got to do a better job of moving the ball to the weak side.
Burks' ability to be the emergency point guard and Hill's recovery mean we've thankfully seen the last of Harrison for a while. Yet, despite all the Cavs' guards, the best Cav at running the break might be Larry Nance. Nance's speed, size, passing ability, and bone crushing knees and elbows make defenders loath to try to steal or take a charge in the open court, and he's probably the best Cav at centering the ball and reading all his options. Larry only finished with a single dime in the game, a pretty two-man-game set-up to Clarkson for an above the break trey late, but Larry struggled with a 3/3/1 line and -7 in 22 minutes. Larry has just got to starting letting the J fly till he gets a rhythm. We know he can make them, so it's all rhythm. Until he does, the paint will be a fortress. Nance was also the target of a couple of Kawhi's push-offs that annoyed Larry to no end. Larry and Tristan did set some bone jarring screens throughout the night. So that was fun.
Man the Raptors are good. Until the Dubs get Curry back, this squad has the best starting lineup in the association. To think they looked this good without 10 assist per game Kyle Lowry was something. 2-5 they can switch everything defensively, and I don't want any part of any player guarding me not named Kyle or Fred. The fact that the Cavs didn't take advantage of the slight VanVleet who started for Lowry was really annoying. Cleveland seemed to look to get wings involved in the p/r against him, but TT's perpetual paint presence made the doubles and switches easy, and the Cavs didn't run enough ball screen with Larry or TT to get them in the post against the the little guys. Also, the Raps ran zone with Ibaka camping in the paint for portions of the game. The Cavs don't have the shooters (or the passing ability) to make teams pay for that strategy right now. Sexton did have this nice pass against the zone late in the second.
The fact that the Raptors got Danny Green, Leonard, and a brand new Pascal Siakam is what has really turned the Raptors from a good team to a great team. Siakam is a witch in the half-court, with a 35% three-ball that has to be respected, the length to post anyone who isn't a center, and a face-up game that usually results in a spin-move floater/hook that's impossible to block unless you're a 7-footer. Add 2.6 dimes a game, and an ability to grab o-boards, and it's sick that this team has him. Some credit probably has to go to former Cavs' director of player development (who Kilbert was too cheap to pay), Phil Handy, who's now an assistant for Raps' hwad coach Nick Nurse. Pascal finished with 14/5/5 on 11 shots.
Danny Green (15/9/0, +24), also, could not be more perfect for Toronto. I already mentioned the blocks, but this squad gives him so much space. He was 3-5 from distance on the night. One of the NBA's all-time-great three point shooters, Green's a hair under 46% on the season from downtown. He also boards, plays solid D, and can get his own shot just often enough that he can go back door on you, or drive by a rogue closeout. Think a longer, more athletic Kyle Korver.
Add Fred VanVleet (14/3/4, +14), one of the NBA's best backup point guards, Jonas Valanciunas, Delon Wright, and CJ Miles, and this Toronto team is deep and can come at you from the perimeter or the interior. I picked Indy in the preseason, but that was when I thought we weren't getting a fully rejuvenated Kawhi Leonard. Now that Leonard is back, this team could legitimately challenge the Warriors in the finals. They'll have a very hard time getting there, but that Bucks/Raps ECF is gonna be fun. Kudos to Massai Uriji and Nick Nurse for putting this squad together. Meanwhile Cleveland is content to build value for guys like Burks, Hill, Thompson, and Hood. Games like this will do that.
But if the Cavs want respect, they can't let a team like this "son" them. They've got to get a little mean and fight back. They can't let defenders run through them for steals or constantly put up with uncalled fouls without getting mad. An elbow or a tech is warranted on occasion. Just make sure it's the guys with the big contracts paying for them.