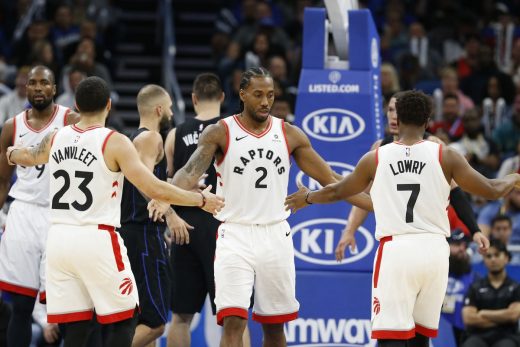 It's a tall order for the Cavs, tonight. Cleveland looks to bounce back from a moribund loss to Boston while the Raptors are coming off an overtime victory against the defending NBA champion Warriors. Yeah, the Raps look the best team in the Association right now, with Kawhi gunning for his first NBA MVP, Kyle Lowry leading all players in assists, and Paskal Siakam locking down most improved player award. Oh, and put Nick Nurse on the shortlist for coach of the year.
The Raps have two All-Star locks in Lowry and Leonard and Serge Ibaka is having his best season in years. If the Cavs have any hope, their bench will have to outplay Toronto's sometimes lackluster subs led by Danny Green and Fred VanVleet. Unfortunately, VanVleet has a history as a Cavs killer.
On the injury report, Ante Zizic is doubtful with a knee injury, George Hill is questionable, and Dekker, Nwaba, and Hill are still out. Only Norman Powell still seems hurt for Toronto. This one's gonna be all about little victories. Can Collin Sexton look better than he did in Boston? Can Alex Burks continue his positive play? Can the Cavs keep from adding anyone to the injury list? Honestly, I'm just hoping we have to don't rename the town to Kawhiveland.