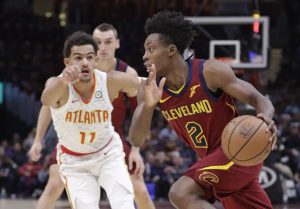 four point play….
1. The last two weeks of Cavaliers' basketball has certainly been far more enjoyable than the previous two. With Larry Drew at the helm, the Cavs have slowly worked out some rotation questions and, gasp, even a blurry identity.
While Ty Lue simply babbled about pushing pace, Drew's team has been for more selective in pushing the ball make or miss. The players aren't blindly running into an "offense" just for the sake of moving. The players even seem to understand that one must still play defense half of the time, regardless of possession frequency!
Of course, George Hill's injury, J.R. Smith's imposed exodus, and now the trade of Kyle Korver have contributed to whatever lineup clarification we have seen from Drew. Limiting options can sometimes help decision making. That whole seven item menu and all. Still, the basic ideology has been the real factor.
Drew, whether it has been via necessity or not, has finally allowed Tristan Thompson and Larry Nance Jr. to play substantial minutes together. Both TT and Lance lobbied Lue about the possibility, but it was a complete no-go before Drew took over.
In a league that is going small, I suppose I can understand Lue's reticence to lean on that lineup. I understand it. I just didn't agree with it, especially when that meant limiting Nance's minutes.
With both of the Cavs' under-sized, but hyperactive "Centers" playing together, the Cavs have rebounded the ball much better, and even protected the rim from time to time.
Nance's growth has as a facilitator has been the main factor in maintaining a viable offense with both centers on the floor. While Nance has been the best Cavalier defender since he arrived to Cleveland, Lue never trusted him over Tristan on either end.
Drew has solved that problem by simply playing them together. With Nance running the offense from the elbow via ball-screens and dribble hand-offs, his offensive rebounding numbers have taken a slight dip. Tristan has benefited, however, since one more opposing big is being pulled out of the paint as Nance handles.
Though it is true that opposing teams are content to let Nance fire from deep, the opposition can't sink too far into the paint against Nance's screen action without giving up wide open threes to guys like Rodney Hood, or until the trade, Kyle Korver.
That outside action, real basketball action!, has freed Tristan do kill it on the offensive glass like he has his whole life. A now healthy Tristan has rebounded at a highest clip of his career so far during this young season. Having another guy in Nance who is willing to boxout, and set things up from a big position on offense, helps Tristan in that regard.
2. Against smaller lineups, I am happy that Drew has freed David Nwaba from the pine. The Cavs have been desperate for his overall floor game all season, and yet he wasn't given rotation minutes until only recently.
It is no coincidence that Nwaba's increased workload has correlated with better overall team play. Nwaba plays tough, smart basketball, is a ball-mover with a good understanding of floor geometry, and has the physical tools to hang with the NBA's elite wings.
If the Cavs were truly aiming for the playoffs earlier in the season, it was insane that Nwaba wasn't playing rotation minutes. Ya know, similar to how it was completely irrational to sit Osman during the playoffs.
David's shot has a tendency to get flat at times. He almost invariably misses short rather than left or right. Any shooting coach would much rather tackle arch issues than spin issues. I can see a clear path for David to become a consistent 40-plus percent three point shooter in the near future.
Add that to his decent handle and overall floor game and you have the player that we all wished Alonzo Gee could become. Here's hoping Nwaba's shoulder doesn't set him too far back right as he was breaking out.
3. As perhaps the biggest Collin Sexton sceptic out there, I have to make sure I give the young man his props for some positive early developments.
Over the past two weeks, Sexton has essentially stuck to a left-handed dribble drive game that relies on a great hesitation dribble and subsequent explosion to the cup.
Collin's footwork going left is currently much stronger than it is going right. Going to his right hand, Collin invariably picks up his dribble just outside of the paint before taking his predictably timed two steps. Defenders read it easily for the block or hard contest.
Going left, Sexton isn't so locked into a normal pattern. His drive line is more direct, dribble more compact, and his stretch finish to the rim allows him to put the ball almost immediately on the glass limiting block opportunities.
What is even more noteworthy is that Collin has begun to "Nash it" with that left-handed drive, keeping his dribble alive to live another day.
It is easier for most right-handed players to crossover to the left before stepping back into a pull-up jumper. As we have talked about for years, it is the reason LeBron shoots a better percentage from the left wing than the right. Good shooters keep their shooting targets directed at the rim (great shooters find a way to get their shoulders there regardless). That is easier to do from the left side of the floor for righties.
For Collin, it has translated into more screen rejections when the Pick and Roll is initiated from the left side, and more snaking to the center of the floor post screen when initiated from the right side.
The kid is desperate to go left and/or pull-up. It has been far more effective than his self-sabotaged right-handed dribble drives, so we should breathe a sigh of relief.
Still, at some point soon, the league will have enough video on him to force him right. If I am an opposing coach, I take away his immediate pull-up opportunity by switching all PnR action that start on the right side. I make Collin try to drive all the way to the hoop with his right against length.
When the play starts on the left, I force him to use the pick going to the center of the floor without swtiching.
Sexton must be ready for these adjustments. The league learns quickly. Hopefully for Cavs fans, so will Collin.
4. Speaking of learning, it seems Rodney Hood has learned that one gets three points if one stays behind that arched line! It is a happy development for all.
It may be simply that Rodney Hood is a garbage time player incapable of playing well when there are any stakes. Is his improved play only the result of the Cavs already being nominally eliminated from the Playoff hunt?
I would love to think that that is not the case. In a happier, more hopeful world, Hood has gotten the green light to shoot whenever he wants from deep. I want to live in a world in which Hood's unblockable pull-up jumper is launched from 24 feet instead of 18 finding twine with regularity.
I honestly don't know. Like countless GMs, I see Hood's skill-set and and feathery flashes with headshaking frustration. Dude, why can't you play hard all the time? How do you forget how to play team ball half the time and then make perfect rotations and ball swings the other half. Oh Rodney, you are quite the tease.
Quickie:
Watching the Cavs and Browns has become less of a chore. It seems in spite of conventional wisdom, Haslam and Gilbert made the right decisions with their coaching firings.
Take that national media.
Count me as one who has absolutely no problem with how Baker Mayfield has handled himself as a Brown. Are the national media actually watching his full interviews or just cherry-picking sentences?
It seems clear to me that the majority of the team is pleased to be rid of Hue Jackson and his "I'm in this chair" stupidity. Todd Haley's grumpy demeanor and archaic play calling certainly aren't missed either.
Kitchins and Mayfield have tried their best to respect the departed coaches, but at some point they have to be honest. They are simply better now.
That Mayfield hasn't truly detailed what happened internally is a sign of his maturity and leadership. Meanwhile, talking heads only want to talk about his crotch grab. Sigh. Look at facts to build an opinion, not the other way around.
The Browns finally have their franchise QB.