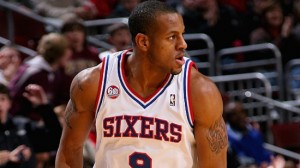 Iguodala has been linked to the Orlando Magic in a deal built around Hedo Turkoglu and Jameer Nelson, although sources near the 76ers say that's the least attractive offer they have received.
Iguodala was linked to the Golden State Warriors in a straight up transaction involving Monta Ellis and just yesterday word surfaced of a deal with the Clippers involving Chris Kaman.
The 76ers have had their share of suitors, with Cleveland offering to absorb Iguodala's $13.5 million salary using their $14.5 million Traded Player Exception.
Andre Iguodala terrifies me. Like, "1000 Word Column Pleading Not to Trade for Him" terrifies me.