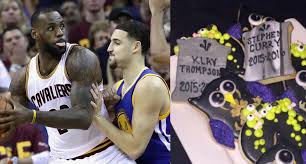 The Warriors return to face the Cavs for the first time since time sweeping them in the 2018 Finals. A lot has changed. The Cavs are without LeBron James. Kevin Love has missed most of the season due to injuries. They probably won't make the playoffs.
And, the Warriors are no longer the clear cut favorites to win it all. The league has beefed up, especially in the West where three teams are above Golden State. In the East, the Raptors have shown that with Kawhi Leonard they can slow any team with a switch everything defense.
One thing has stayed the same though. The Warriors are still the most petty team in the league. Earlier this week, Klay Thompson came out and made a ridiculous statement after Anthony Slater of The Athletic reminded him of the tombstone cookies LeBron James had at a 2016 halloween party with his name and Stephen Curry's on them.
"That was funny. Look how that turned out. Psssh. Bums. That was crazy. I forgot about that. Well, look at what pettiness gets you. Gets you 1-8 in the Finals. Idiots."
The Warriors have dealt with some drama this season. Durant and Draymond Green have gone at it and the team hasn't played as well as they are used to playing. They're 4-6 in their last ten. They've lost two of their past three. Tonight, they are without Draymond Green, their defensive lynch pin. They're also without starting center Damian Jones. The Cavs are missing David Nwaba, Kevin Love, Ante Zizic, and Sam Dekker.
Three Things to Watch
1. The Warriors aren't an amazing rebounding team and they will be starting Kevin Looney at center, he's a power forward traditionally. The Cavs need to go hard for offensive boards and get every possible shot up that they can. Tristan Thompson can wreak some havoc if he plays well.
2. Despite winning against the Nets two days ago, the Cavs gave up 4o 3s. They absolutely cannot do that this evening or the game will get ugly and it will happen quick. Curry, Klay, and Durant all love hitting open 3s. The Cavs need to protect the ball to prevent 3s off turnovers, and they must run guys off the 3-line.
3.Get tough. The Warriors probably want to punk the Cavs. We used to give them good games and we came back from being down 3-1 against them. Collin Sexton should go at Curry and get under his feet when he shoots. Tristan should elbow anybody who gets near him in the paint. Cedi needs to tackle Klay. I'm advocating for some heart tonight. I don't want the Cavs to be on Warriors highlight reels for the next month.
I don't think the Cavs have the talent to beat the Warriors, and they certainly don't have an offensive or defensive system to do so yet. They can at least make it competitive for a few quarters; and, if they can't do that, they can be physical enough to avoid getting laughed at. Warriors 114-94.
Anyone going to the game tonight, please start a "3-1" chant. No team can ever take that comeback and championship away from us.