The Cavs kept it close for a half before the Thunder clamped down on defense and owned the paint in the third quarter to outscore them 26-15. Cleveland finished the night shooting just 39.3% from the field, while the Thunder shot 47.7% and  controlled the paint scoring 56 points there compared to Cleveland's 32. The Thunder were a pain in the paint.
Cedi Osman provided the Cavs with a steady hand this evening putting up 14 points, pulling down 10 boards, and dishing out six assists. Jordan Clarkson led them in scoring with 25 points and Collin Sexton had his first double-double with 21 points, 10 rebounds, and three assists.
Russell Westbrook recorded a triple-double for the Thunder with 23 points, 19 boards, and 15 assists and Jerami Grant had a breakout game with 21 points.
This game was essentially a tale of two halves. Check out the shot charts to have a little bit of a guiding narrative to this outing.
FIRST HALF: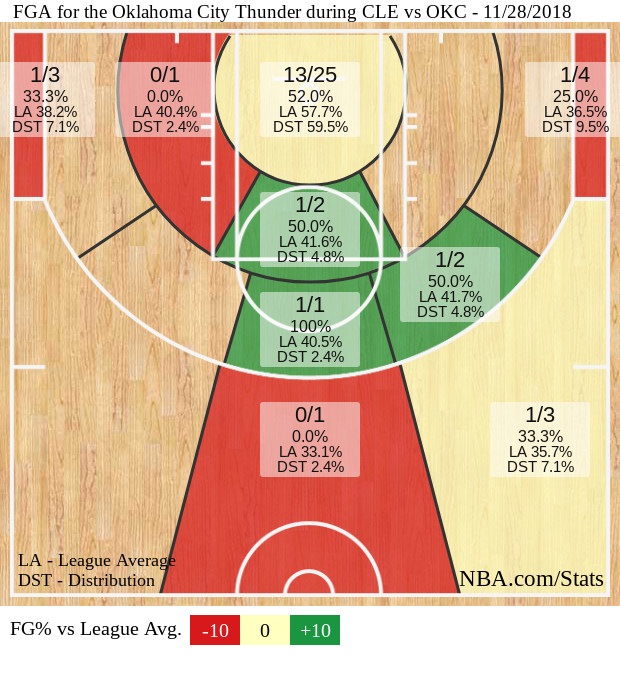 SECOND HALF: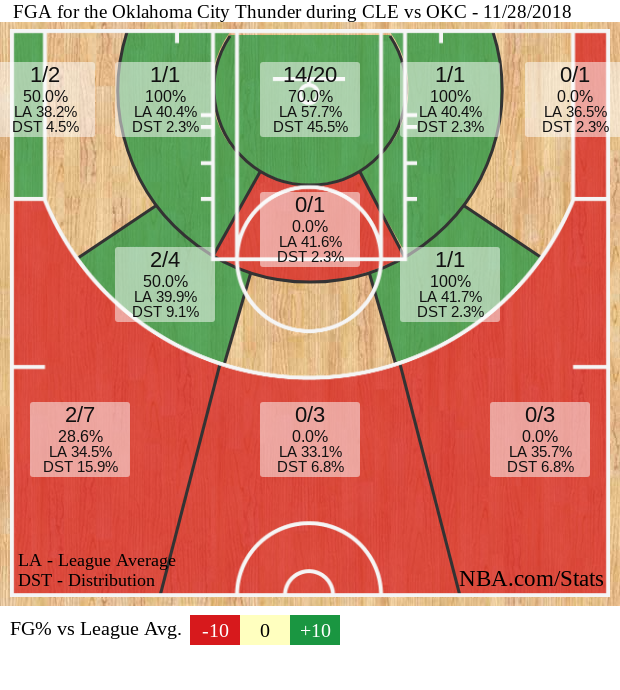 The Cavs started the first quarter with some good ball movement, but between Rodney Hood dribbling randomly without purpose,  and the Thunder swatting three shots, the points were hard to come by. Cedi Osman helped out though putting up seven points including a beautiful drive to the rack off a Sexton pass.
#TheFirstCedi is always fighting.

[#CavsThunder on @FOXSportsOH]#BeTheFight pic.twitter.com/y6p8dc4Rwu

— Cleveland Cavaliers (@cavs) November 29, 2018
The Thunder couldn't score very easily either though because they turned the ball over five times. Cleveland managed to grab a lead when Jordan Clarkson checked in and got molten lava hot getting 10 points on 4-5 shooting in under five minutes. He canned a mid-ranger and then hit his next 3-pointer to complete a Cavs near end of the quarter 11 point run. And, Clarkson's lone miss was put back in by Larry Nance Jr. to put the Cavs up 28-21 after one.
The Cavs opened up the second quarter trapping and Nance was able to deflect the first pass of the action. The defensive intensity continued as Andrew Harrison took a charge from Timothe Luwawu-Cabarrot a few seconds later. Unfortunately, that intensity just didn't continue. Offensively, the Cavs needed more Clarkson. He put up a quick seven to push the lead to 11.
Ball movement. Patience.

It's all paying off for @JordanClarksons, who is up to 13 points off the bench.

[#CavsThunder on @FOXSportsOH] pic.twitter.com/kV5EQLFpSz

— Cleveland Cavaliers (@cavs) November 29, 2018
The Thunder started to come alive offensively after a few minutes, which was fine initially. Westbrook blasted up a 3-ball, and Cedi  responded right away with a beautiful backdoor cut where Nance hit him. Immediately after that Nance found Cedi in 3-land after Cedi faked a cut and turned back.
Then the matching on shots stopped. The Thunder went on a 17-4 run. It was largely the result of the Cavs not hitting shots, and the Thunder just getting way too much penetration. Just two of the their shots came from the mid-range. Everything else was a 3-pointer or at the rack.
Clarkson put up a 3-pointer to tie the game going into the half, 47-47.
The third quarter is where it fell apart for the Cavs. It looked bad right away when Tristan Thompson opened up taking a long goofy brick of a push shot from a roll to the rack. They settled time and time again for mid-range jumpers, when the 3s they were getting in the quarter were good looks that just weren't falling. And, just to give more of an idea about the general suckery that went on, Andrew Harrison had a backcourt violation when he passed the ball to a trailing Nance. Even the shots the Cavs got at the rim were hopeless.
The Thunder had near flawless shot selection, and they went 2-3 on their shots that weren't at the rim or beyond the arc. Westrbrook set the tone with his steadfast refusal to pick up his dribble. Sexton should learn from him. Russ refuses to stop his dribble when he brings the ball up the court until he's got someone reeling back and he can make a pass or score.
The Thunder entered the fourth quarter up, 73-62. Cleveland couldn't make any dent into the Thunder's lead during the final frame, but Sexton put up nine and dueled with Westbrook a little bit trading mid-range jumpers.  Other than that, not much interesting happened in the later minutes.
Gripes
1. This game was a loss and the Cavs lost it in one singular way. They couldn't stop the Thunder from penetrating. The Thunder don't shoot 3s well and the Cavs didn't make them take enough tonight. They went 6-27. That's awful.
2. Instead, they just scored 56 points in the paint. That's 24 more than Cleveland.
3. These things happen though. Westbrook is an animal and he knows how to get deep into the paint. He had 15 assists, and if you watch him, a lot of them are solely the result of him posting on a guard. He gets into these great spots because he keeps his dribble all the way into the post area. He doesn't rely on someone tossing him an entry pass.
4. As we all know, when guys get deep on the Cavs, help will be sent and rotations will have to be made. That's when the mistakes and easy shots happen against Cleveland.
5. Tristan Thompson was literally no help down low tonight. He was a step slow; he put up four points and grabbed only two boards. He also got swatted multiple times because of his inability to not have to gather himself and show the ball as soon as he touches it. The Cavs got blocked 11 times!
6. Rodney Hood was also a no-show tonight. Offensively, he stalled the team out far too much. He would receive a pass with the Thunder scrambled and just stand there or dribble a few steps before launching up an ill-advised shot. He had 12 points and four assists. His defense was particularly bad. He bit on nearly everything tonight.
7. Larry Drew is going to get some of my wrath here. He needs to play his guys a little less. I understand that the team is super short right now, but he should have given Harrison and Ante Zizic more time. Sexton looked gas during his half-time interview. He played nearly 38 minutes, which is too much for a rookie.
8. Drew also needs to get these guys moving more efficiently and consistently on offense. Early on tonight, the team was moving and setting a ton of off-ball stuff, but just couldn't get free. There's a few reasons why. The Thunder are a decent defense, but the bigger reason was just guys setting sloppy screens and not cutting with dedication. It seemed like it was guys going through the motions at times. When the offense works though, it looks good, and it's clear that Drew does have the team moving in the right direction.
Hypes
1. Look at this play:
That's a simple play, but this is a new development for the Cavs. This is not something we would have seen under Tyronn Lue. It features Hood curling around a Nance screen after starting at the baseline, while Cedi flirts with a TT screen before finding Hood. That simple movement made the Thunder defense have to play honest.
2. The Cavs also didn't turn the ball over a ton tonight. They had just 12 and it only led to 13 points. The Thunder average over 20 points a night from turnovers typically.
3. Sexton struggled shooting the ball, but his dedication to rebounding is admirable and it helps the team. He had 10 boards. He also showed great perseverance when things didn't go his way. He never gave up on plays. Look below:
4. Jordan Clarkson continues putting up Kobe esque lines. He got 25 points but it took 22 shots and he had just two assists. Nonetheless, he provided the Cavs with several sparks this game that kept things from getting too out of hand.
5. Larry Nance had another alright game with 10 boards, seven points, and two assists. His assists continue to impress.
6. The Cavs are playing Boston on Friday.