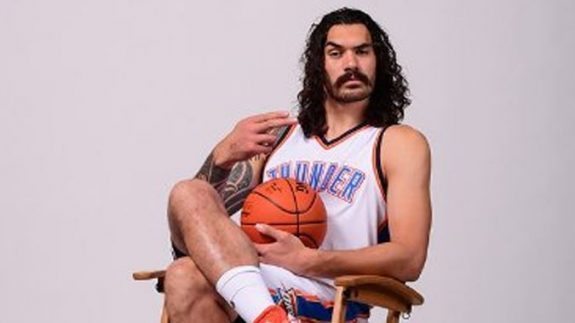 The Cavs are away tonight to take on the Thunder. Cleveland played the Thunder tough last time battling back from a 16 point half-time deficit only to lose. OKC was without Russell Westbrook that night, and Dennis Schroeder torched the arena for 28 points.
This game Russ is back, but Cavs coach Tyronn Lue isn't. How much that matters, I don't know.
The Thunder are coming off a tough loss to the Nuggets after Russ went 1-12 from deep. He apparently stayed and practiced for two hours after that game. That was Saturday. I can only hope Russ practiced Sunday, Monday, and Tuesday as well. He's currently shooting just 18% from 3-point land. That's a shot the Cavs want him to take confidently because it will help ease Collin Sexton's defensive burden.
What To Watch
Welcome to the League Sexton. After having two straight games with more than 20 points scored on above .500 shooting, the Minnesota Wolves threw a party for the Young Bull on Monday evening. They limited him to 11 on 5-19 shooting. They actively planned to stop him, and Sexton sputtered. Still, the rookie tossed four assists and grabbed seven boards. Sexton is making a tiny name for himself and teams will now include him in their game plans. He is going to need to look to do a little bit of everything early on this game to keep the Thunder guessing. If he can make a living without needing to score right away, his shot will open up later in the game.
The Cavs need to limit turnovers. The Thunder will make them pay if they don't. They are number one in the league with 21.7 points a night from miscues.
Finally, the Cavs need to stop penetration and let the Thunder shoot themselves out of the game and thus in the foot. They are currently hitting 31.1% of their 3s and jacking up a middle of the pack 31.8 a night. It's not wise to give up a bunch of 3s, but Larry Drew should trust the averages this game. It's also never a good thing when Russ, Paul George, and Steven Adams are by the rack, that's where they can do some damage.
If Steven Adams were to have curly hair again, he'd look like a jacked Weird Al Yankovic, right? That question is the result of looking for a picture to go along with this thread and finding the above one. If the Thunder win, that observation sorta softens the blow.
The Cavs are making strides and I give that to them, but tonight might get rough. Westbrook seems quite angry after the Thunder's loss to the Nuggets. Sexton may get the brunt of that anger. It'll still be close though. Thunder win, 111-103.
UPDATE
A Woj Bomb dropped a little bit ago. Farewell La Flama Blanca!
Utah will send two future second-round picks to the Cavs for Korver, league sources tell ESPN. https://t.co/lismhVt0JH

— Adrian Wojnarowski (@wojespn) November 28, 2018
Sources: The Jazz are sending a 2020 second-round pick and a 2021 second-round pick via the Wizards. https://t.co/qheV5oY3QS

— Adrian Wojnarowski (@wojespn) November 28, 2018
Utah is also sending Alec Burks to Cavaliers in the deal, league source tells ESPN.

— Adrian Wojnarowski (@wojespn) November 28, 2018