I'll never forget the night the Cleveland Cavaliers traded for JR Smith. It was January 5, 2015, and my wife and I had taken the kids to my parents' house for dinner and to watch the Cavs play the Philadelphia 76ers. The Wine & Gold and been struggling while LeBron James rested some nagging injuries, and despite the fact that Kyrie Irving was also out for that night's game, I was looking forward to watching them work things out against a Sixers team that was among the worst in the NBA. With Irving out, Dion Waiters was getting the start against his hometown team, or at least he was supposed to.
Waiters didn't start that night, and word soon spread that he was about to be traded, along with fellow Cavaliers Lou Amundson and Alex Kirk (remember them?). For a while , we didn't know who they would be traded to, or for. When it came out that the Knicks were involved, I guessed that Iman Shumpert would be heading this way. At the time, he was thought of as the kind of 3-and-D player the Cavaliers desperately needed in their starting lineup. When Smith was the first name reported, I thought to myself that the Cavaliers had traded for an older version of Waiters with even more attitude issues, as well as an extensive history of problems off the court that I didn't want the Cavaliers to have to deal with. When Shumpert and the Knicks' first-round pick were announced as parts of the deal, I became more optimistic, but was hesitant to embrace Smith, a player who I perceived as selfish and a team cancer.
Once Smith joined the Cavaliers, I began to see another side to him, a side that won over many Cleveland fans, including myself. On the court, Smith was just as much of a shoot-first player as Waiters, but his threes were naturally more valuable than the mid-range shots Waiters took. He also held the ball or dribbled far less than Waiters had (or less than Smith himself ever did with the Knicks or Nuggets). Smith's superior size and new commitment to defense made him far more valuable than Waiters on that end as well. He quickly took over at the team's starting shooting guard and never looked back. Even when he was suspended for two games in the playoffs for hitting Jae Crowder during the final game of the Cavaliers' sweep of the Boston Celtics, fans defended him, livid as they were over Kelly Olynyk' injuring Kevin Love earlier in the game, and saw Smith's shot at Crowder as part of appropriate retaliation. When Smith struggled against the Warriors in the 2015 NBA Finals, we understood, knowing that the injuries to Love and Kyrie Irving had pressed Smith into a role as the second offensive option for which he was ill-prepared.
Coming into the 2015-16 season, Smith was scheduled to come off the bench, but an injury to Shumpert in the preseason caused Smith to resume his role as the starting shooting guard. He shot an excellent 40% from deep on 6.6 attempts per game, and his outside shooting made him the perfect compliment to the Cavaliers' Big Three of LeBron James, Irving, and Love. After struggling in the NBA Finals the year before, Smith came up big in 2016, scoring eight points in the first three minutes of the third quarter of Game Seven just as the Warriors looked like they were beginning to pull away. Between that, and his defense allowing  James just enough time to block Andre Iguodala in what may go down as the greatest play of the King's career, and there is no doubt that the Cleveland Cavaliers wouldn't have won the 2016 NBA Championship without JR Smith.
As Smith proved himself on the court, we also saw him change his life off the court, the late night party animal from the Knicks was nowhere to be found. Smith married Jewel Harris, the mother of one of his two daughters, and began to settle down as a family man. We saw that JR is a man with tremendous compassion for others, a man who wants to give to his community, and a man who always wears his heart on his sleeve, in good times and bad.
Looking back, that championship was in many ways the beginning of the end for JR Smith and the Cleveland Cavaliers. Smith felt that he had earned a long-term financial commitment from the Cavaliers for big money, and the team, likely looking at Smith's history, was hesitant to give him that commitment. While Smith eventually signed four-year deal for $57 million, he missed much of training camp before doing so. Smith has typically started seasons slowly, and the lack of training camp set him even further behind. Add in Smith losing much of the season to a broken thumb, and the completely understandable and heartbreaking stress that came from his third daughter being born several months premature, and the 2016-17 regular season was essentially a lost one for Smith. While he played well enough in the playoffs that year, Smith would never again attain his heights of the 2016 championship season with the Cavaliers.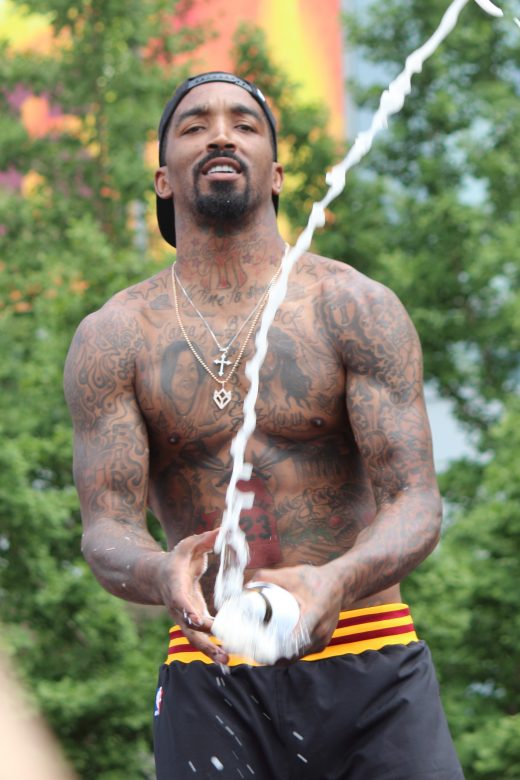 [Editor's Note: I asked Mike to include this pic, because it represents what endeared so many of us to JR after the Cavs' won in 2016: his unabashed joy, his humanity, his raw emotion, his love for his team and his family, and his lifelong battle vs t-shirts. I've been waiting for two years for find an excuse to post this pic from the 2016 parade. I'll always consider ot among my best, even if my thumb grazes the lower left hand corner. I guess this is my last chance.]
Things got worse last season. Smith pouted when Dwyane Wade joined the Cavaliers, and was given the starting shooting guard spot. Even though Smith returned to the starting lineup after three games, he was never able to get out of his funk. David Griffin has often said that Smith is a player who needs the carrot of a new contract in front of him to play well, and he simply didn't have that anymore. His focus waned. Soup was thrown. Smith went on a bit of a Labrador Retriever assisted hot streak at the end of the season to get his shooting percentages up to mediocre levels, but he clearly was no longer a starting-caliber NBA player. Then came Game 1 of the 2018 Finals, and what can be seen as the final nail in the coffin of the second LeBron James era of Cavalier basketball.
Coming into this season, there was justified concern as to how Smith would fit on a Cavs team that would be mediocre at best, terrible at worst. History had shown that Smith was able to be a good solider when playing on a good team with strong veterans, and often went astray if his team struggled. As we know now, that latter has come to fruition, and the Cavaliers had announced that Smith will no longer be with the team as they look to trade him.
In a world of social media and constant reporting, we are given more information about the behind the scenes workings of our favorite sports teams than ever before. Because of this, we feel that we not only have enough knowledge to assign blame when things are not going well, but to assign degrees of blame to all parties involved. Nothing can be further from the truth. For all that is reported, we only know the tip of the iceberg about what is going on with the Cavaliers. Furthermore, while they have great reporters covering them, the information they have is given to them by people who want to further their own agendas. Some people have blamed the Cavaliers for allegedly misleading the veterans about their plans for the season. Others have blamed Smith for not playing the part of the good solider. The truth is likely in the middle.
The Cavaliers certainly surprised their veterans when Koby Altman and Tyronn Lue told them that the team was going young after just two games, but that doesn't mean that the organization didn't originally want to contend for a playoff spot. Maybe they didn't, but maybe Altman and Dan Gilbert simply overrated the team they had. It's possible they saw what they had in the preseason and the first two games of the regular season, and came to terms with what this team was.
Regardless, once Love went down with his toe injury, the Cavs were going to be bad. Very bad. What's more, while veterans like Korver, Love, and Frye could understandably feel misled, Smith probably shouldn't have. He was told before training camp that playing time would be hard for him to come by. Smith also hasn't done anything to show he could help the team win, or that he deserves playing time at all. He missed the preseason with an injury, and has been outplayed by literally every other perimeter player on the roster. If the Cavs were really trying to lose games as Smith has suggested, there would be one strategy that would help them above all others, playing JR Smith heavy minutes.
Once LeBron James left for the Los Angeles Lakers, the odds of things ending well between JR Smith and the Cavaliers became extremely unlikely. Now, Smith has been exiled from the team, and yet another link to that championship team is gone. Still, no matter what happens next, nothing can take that glorious night of June 19, 2016 away. Because of that, JR Smith will always be a part of us.