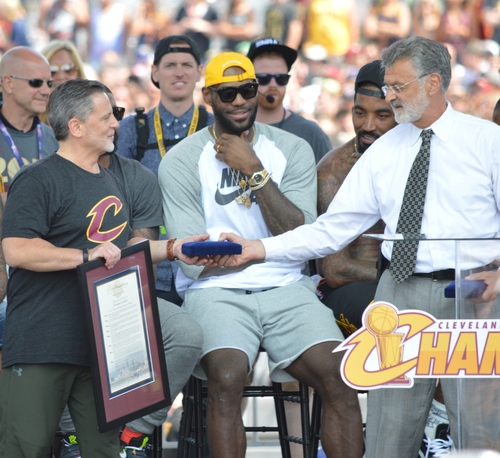 None of my fallacious predictions bother me, but I am haunted by the articles I never wrote. In late November 2016, I hemmed and hawed on writing about LeBron James, Phil Jackson, and The King's indigence over the Zen Master's "posse" comments. My premise was to be that LeBron's issue with Phil's diction represented a larger problem: that LeBron's and the left of center NBA's quibbling over word choice echoed the American political left's infighting, strategic failures, and complete inability to comprehend and prioritize real world problems. "Grow a thicker skin, and stop fighting with innocuous old men," would have been my stance. "It will soon seem silly, since actual fascists will be working the White House come January."
Would I have put up a picture of Steve Bannon? Probably not. Bannon was just a name, not a face, then. Even now, I wonder if I'd have had the guts to use the term "Nazis." I ultimately eschewed "speaking truth to power:" partially out of laziness, partially out of a desire to keep my political views out of a basketball site. I wish I'd have had the stones to take that stand.
J.R. Smith took a stand Monday night. It got Swish banished to (Joakim) Noah's Ark: the boat carrying all the guys still under contract with their team but no longer allowed to interact with org. What did J.R. say to get himself the Andrew Bynum treatment?
I've been on teams where we've won 18 games and the development stage was to try to win at any cost…

It wasn't just for my development or the next person. The goal was always to win… I don't think the goal [now] is to win. The goal isn't to go out there and try to get as many wins as you can. I think the goal is to develop and lose to get lottery picks. I think that was always the plan.
Jason Lloyd of The Athletic published that quote, and the next day, ESPN reported that, "JR Smith and the Cleveland Cavaliers have mutually agreed for him to leave the team as both sides work to facilitate a trade." In truth, JR's sentiment was echoed by George Hill who was not banished.
I think it recalibrated before Game 1 was even played. In the summer, it felt like politically you have to say we can still do these things because you want everyone to buy in to being here. Once everybody is here, I don't know. The directions change.
I've been wrong about many things: the Kevin Love trade, #NeverTradeAndy, "Jamario Moon can be a player…" I once thought Jordan Adams would among the elite of the 2014 draft. I even thought trading for J.R. Smith was a really bad idea.
I mean J.R.'s past is checkered as a pro. But if he was the pill we had to swallow to get Shump, I was all for it…J.R. turned out to be a mostly fantastic addition and among our most beloved Cavaliers of the Championship run. We'll remember Swish's dual treys to open the second half of Game 7 of the '16 finals long before we'll remember J.R.'s failure to put up a shot or call time out in the closing seconds of regulation in Game 1 of the '18 finals. And who hasn't wanted to throw soup at Damon Jones? So yeah, I was wrong about J.R. He deserved better than to end his time as a Cavalier like this.
Maybe it was a collection of everything that got Smith sent to the showers permanently. Maybe they wanted him gone before he started acting like Andrew Bynum in practice. Maybe it was the fact that despite his desires to compete, he was playing like complete garbage, only playing decently in three of the 11 games he's played in so far with a 44 TS%. If we're being honest, JR's been one of the Cavs' worst players, on the NBA's worst team. Maybe J.R. can't deal with the reality of how far his skills have slipped. He has spent far too much time this year trying to do way too much.
I've never been as wrong about anything as I was about this year's Cavs squad. They're a disaster. I think I predicted them to win 45 games. Right now they're on pace to win about nine. And maybe that's why expectations changed "before Game 1" as George Hill put it. Maybe the coaches and the front office realized how bad this team was going to be and pivoted.
Predictions are hard. Especially when you love something. There's a fine line between loyal defiance and tilting at windmills like a madman. As much as I'd like to take credit for never losing faith when the Cavs were down 3-1 in 2016, I stuck to my guns the following year when they were down 3-0. I'll admit to having more doubts the second time around, and no faith at all in 2018. I saw LeBron bailing on Game 4 from 60 miles away.
Fail fast the business development philosophy says. James cut his losses and started iterating towards LeBron 4.0 in the middle of Game 4. Maybe the Cavs are doing the same here. Having made some historically inept decisions in the last eighteen months, I tend to not give the Cavs the benefit doubt when it comes to business decisions though. Neither does James, apparently.
In the middle of this chaos, LeBron James returns to town tonight, two days after James' PR machine dropped a revelation on The Athletic's Joe Vardon about the Kyrie Irving trade, and James' phone call with Koby Altman minutes before Uncle Drew became a Celtic.
James was adamant on the call — do not trade Irving, especially to the Celtics. By the end of the call, according to four separate accounts of people present for the conversation, Altman told James the trade would not occur.

Minutes later, on Aug. 22, 2017, word broke that the Cavs agreed in principle to send Irving to Boston for Isaiah Thomas, Jae Crowder, Ante Zizic and Brooklyn's 2018 first-round pick.
The article goes on to lay the blame for the collapse at the feet of Dan Gilbert who LeBron felt was, "taking a more active role in basketball decisions and was in effect trying to pivot away from an organizational structure centered on James." But what that article ignores were the constant undercurrents of James' rumored exodus to Los Angeles, that put fear in the heart of Dan Gilbert.
The problem, of course, was that the Kyrie trade was "The beginning of the end," as James noted for Vardon – not because Kyrie was moved, but because the Cavs had not one – not two – but three chances to pull the plug on one of the dumbest trades in the history of pro sports. Chance one would've been laughing, hanging up, and saying "no" no when trader Danny suggested it. Chance two came when James reportedly begged them not to do the deal, and chance three came when Isaiah Thomas' hip injury turned out to be debilitating. That the Cavs refused to bail out then or hold out for better compensation on  was truly damning.
Of all the superstars traded in the last two years, Dan Gilbert's haul for Kyrie Irving was the worst. Sure, we panned the Pacers' acquisition of Oladipo and Sabonis, but it turned out to be a masterstroke. Gilbert turned Irving into Ante Zizic, Larry Nance, George Hill, Jordan Clarkson, Rodney Hood, Collin Sexton, and a future second. Of those guys, only Larry, George, and Collin seem like they could be even average NBA players by most analytic models.
Why are Dan Gilbert and Koby Altman so damned bad at making predictions? I mean I know why I whiffed on this season: love and hope. But the numbers were staring us all in the face: Clarkson and Hood are historically bad and playing major minutes. Tristan Thompson has been below average for a couple years now. J.R. Smith was already declining rapidly last season. Collin Sexton is a rookie, and rookies, especially young ones, stink at winning. George Hill, Larry Nance, Cedi Osman, Kevin Love, Kyle Korver, David Nwaba, and Channing Frye were going to have to play great for the Cavs to be great.
But those players' wills have been sapped. Why? Because they sound they've been lied to by an org that "pivoted" three games into the season and fired Ty Lue for simultaneously not winning and not playing Collin Sexton enough. Oy. Why does this org that reportedly spends a good chunk of change on analytics, take those analytics and throw them in the trash before making decisions? Why could a bunch of bloggers see that the trade was a disaster the moment it happened, and Dan Gilbert and Co. couldn't? Why are the Cavs so bad at failing fast? Ego and mendacity.
All the best liars are narcissists who lie to themselves more than anyone. Why? Because the best liars believe that every turd that rolls off their tongue is a gold nugget, and if they believe their own BS, everyone else will. They're in love with their own narrative. Dan Gilbert loves short point guards because he's a short guy too. Maybe that's why Longo still has a job.
Heck. Even Kevin Love is guilty. I mean he's being slightly disengenuous when he says he didn't want to be a part of a rebuild. He far more likely didn't want to turn down $120 million, since he's a notoriously injury prone. Mendacity goes all the way down.
Pat Riley called the problems with sustained success in the NBA, "The Disease of More." It certainly seemed as if Dan Gilbert suffered from that more than anyone in Cleveland's finals' run. He wanted more credit than just being the guy that wrote the (outsized) checks. You folks on the comment board said it best today.
They appear to have truly believed this team they assembled could compete for the playoffs. Gilbert is blinded by his desire to be able to win without Lebron. He cant' do it, because he doesn't know what he's doing, and his faith in himself has led to mistake after mistake. I wish Lebron had retired a Cav, but Gilbert chased him out with his arrogance that he's the smartest guy in the room. – JoeyB

My biggest concern with Zion, if the Cavs were to get him, is that this franchise would ruin him. All Gilbert would have to do is hire competent people and let them do their jobs, but he's utterly incapable of doing this. – MikeO
And I as many do have a hard time blaming Koby Altman. It can't be easy to be a sycophant. But being a yes-man is literally the job description for being a Cavaliers' GM right now. But there are only 30 GM jobs in the NBA right now. I know I'd have a hard time turning it down. I know my ego would let me believe that I could charm Mr. Gilbert into the right decisions. The easiest guy to sell is a salesman.
But as many have noted and as we sit and wait for LeBron James to be re-re-re-introduced to Cleveland, the King's to blame too. In fearing James' departure, Dan Gilbert made it a self-fulfilling prophecy. But as was the case with Phil Jackson, all James had to do was  "Grow a thicker skin, and stop fighting with innocuous old men." Instead the Cavs lost their real coach (LeBron), their psuedo coach (Lue), and their real GM (LeBron) and their pseudo GM (Griffin) in the space of two years. And of course, the bigger problem is that Gilbert was never innocuous.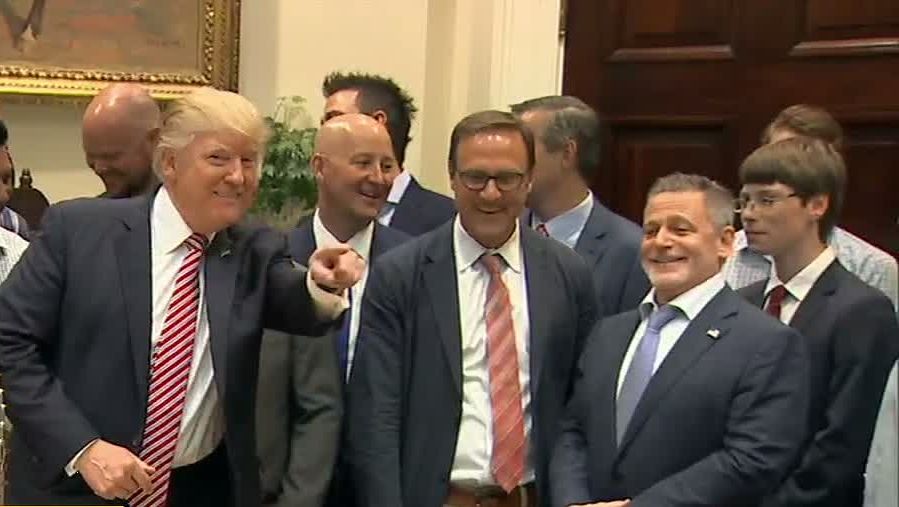 It's easy to take James for granted. I know I have. But as he has the Lakers at 9-7 and looking like a much more dynamic team of late, my dream season of the Cavs finishing with a better record than the Lakers seems laughable now. The Cavs could certainly use his skills as a coach, GM, and especially as a player. I'll miss his influence on this area more than anything, though. It stings to have watched him turn a generation of fans into Cavalier maniacs and then leave.
James wouldn't, couldn't, and probably shouldn't have lowered himself to ingratiate himself to Gilbert enough to make Dan feel like like he was any more than the money man, and when they differed so noticeably politically two years ago . Gilbert threw his weight and money behind our current president, and James threw his behind Hillary Clinton's. The differences, as with so many in this country, were probably too stark to ignore. It's practically a movie script: a power struggle that caused both Titans to fall, even if just a few steps in the relative scheme of things.
So I'll amend my predictions. The Cavs will stink this year, and unless they get incredibly lucky or Dan Gilbert finds someone who knows what he's doing to run this team, they will for the foreseeable future. Let's hope until then, we can all find little moments of joy and nostalgia as tonight's game will bring, to keep us entertained. And maybe LeBron James will channel his inner prophet and lure Anthony Davis and Kevin Durant to LA as is the scuttlebutt. Until then, we'll all be watching college rosters, and playing with the trade machine as amateur prophets and prognosticators, waiting for the next revelation.