Collin Sexton has looked better since being slotted into the starting lineup. He's putting up 18.8 points and shooting 70% from deep. He's able to get buckets and appears to be trying on defense,even if it's not showing up in the results. Statistically, according to NBA.com, anyone who has him guarding them is shooting 7.6% better than their average.
Keeping in theme with my last Wood Shop, I'm going to stay positive. Outside of pretty above average 3-point shooting, Sexton also has a mature mid-range game.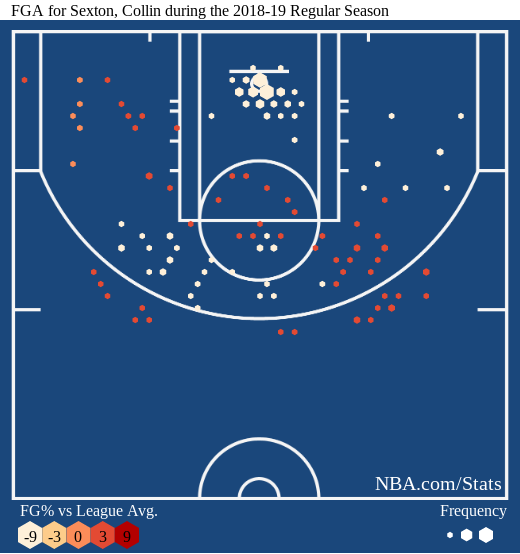 He takes most of his shots from there, and for the most part is above-average. If you believe Cavs' announcer Austin Carr, this is the best shot in the entire game and isn't covered because no one in the league realizes that. Don't consider the fact that it isn't worth 3-points and isn't as easy as a layup.
With a rookie though, you take the positives you can get. And, teams may start to actually come out on him in the mid-range if he continues to show he will consistently hit that shot. That will help open up his dribble game a little more.
I must digress now or this piece will be very short. I decided I wanted to write about Sexton earlier this week and feel guilty about having to do this, but I'm stopping with the positive stuff at this point. I'm baiting and switching you.
Let's get into the Sexton stuff that has people wondering about him as a prospect. He turns the rock over like the it's magnetic and the other team has magnets in their hands. He's turning the ball over 2.4 times a game, which is about equal to his 2.3 assists per game.
Some of his turnovers are simply from sloppy dribbling. He brings the ball up high, and he doesn't keep his knees bent. He makes his first step before getting into a low attack position.
Sometimes, he pushes the ball straight ahead without having it make contact with the floor. Or, does what is commonly called passing the ball, just to the other team.
He puts himself in dumb situations. Below, Sexton's defender opens up and allows him to drive baseline without any resistance. Sexton sees the opening and goes. That's all he sees though. His defender was merely feeding him into a big man defender so he would be trapped.
Collin will learn in time that if something is easy offensively in the NBA, there's probably a reason for it.
He also needs to learn how to keep his head up. Sexton has a great first step, but will often put his eyes on the floor instead of reading what's going on. In the next play, watch as Larry Nance's defender closes on Sexton, Sexton has to look for a wrap around pass in that situation instead of an errant toss of the ball.
The turnovers aren't Sexton's only issue. He's got a problem using screens. He can't find a middle ground, which is sort of ironic, since his favorite spot is the middle ground of the court. He hugs screens too tight. In the play below, it causes him to lose the ball. It also highlights his issue with pushing the ball too far in front of him.
Again, he bumps the man screening for him in the below play clip. He then doesn't actually go to the rack. He just settles for a jumper.
When he does use a screen properly, he doesn't force the issue. He's content to pull up early.
Sexton's pulling up instead of going straight to the rim is the result of two things. First off, he's good at that shot and he's given that shot. Almost every NBA defense is designed to funnel guys into that spot. Secondly, he's most likely use to being able to hesitate in that mid-range zone to survey the floor before dribbling again. In college, he could blast by the defender that heads out to him in that area. In the pros, not so much.
Sexton almost has an ingrained tendency to hesitate once he gets under the 3-line. Look at the play below. He shuffles his feet as soon as he's under the arc. He does this quite often. He continues to the rack in that play, but it's a pointless drive after defenders have him sized up.
And, this tendency is a shame. He can dust guys when he doesn't hesitate.
I can't finish this piece without leaving on a semi-positive note. While Sexton has trouble using screens, he's quite effective at denying them. Look at the play below. In it Nance sets a screen and Sexton uses a right to left crossover to get past his man. He even gets his man on his hip and has the strongside defender helping into the paint a tad. Sexton turns the ball over, but he had two open guys, Nance and J.R. Smith.
Look at the next play. Sexton denies a Sam Dekker screen and uses the same dribble move again to penetrate. He takes two defenders with him and is able to make the simple read to hit Sam for an open jumper. He needs to deny, deny, deny.
That style of screen usage eliminates Sexton having to navigate how tight he needs to get to the screener, and the Cavs should consider having him do that more often.
Lastly, notice how Sexton gets his defenders on to his side/hip in the above two actions. That is one of the first steps to him learning how to finish better at the rim, something many of us at the blog have complained about. I mentioned it in my last Wood Shop. We've all said it numerous times, but Sexton takes off too early for his layups. This gives his defenders too much time to defend him. As the season goes on, watch for Collin to take those guys he's getting on the back of his hip all the way to the rack.
It's important to remember that Young Bull is, well, young. Sexton may currently be the boy who launches too soon, but he probably won't be the man who launches too soon as he learns his way in the NBA.