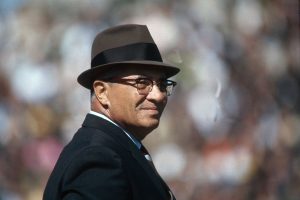 four point play….
1. "Fool's gold" isn't called "adequate substitute for those on a budget". We use "a poor man's… such and such" for that situation. I bring this up because it is easy to confuse the two when evaluating players.
One can say, "Jordan Clarkson is a "poor man's Lou Williams," or that "Collin Sexton is a poor man's John Wall".
One could say that. One would make me laugh sadly into my beer.
With every made pull-up jumper, the Sexton/Clarkson tandem leads someone to make the above claims. To me, every drained (way too early off Pick and Roll) pull-up J, makes me lament "Fool's Gold".
Fools.
It is frustrating to watch talented human beings consistently make poor decisions. It is obnoxious to watch those poor decisions lead to short-term "success" knowing full well that that "success" is untenable, short-lived nonsense that will only serve to reinforce basketball stupidity.
And why wouldn't this basic flaw of humanity rear its head in our beloved sport? People are miserable procrastinators, willing themselves to overlook good long-term judgement. We wouldn't have crumbling infrastructure and the like if people were good at tackling a problem head on.
No, we prefer to convince ourselves that things will get better through time and that simple patience solves our problems. It doesn't. It only erodes our expectations.
It is especially damaging when a poor approach leads to good results considering our world's obsession with outcome.
"Practice makes perfect"
Not if you practice the wrong thing. I prefer the old Vince Lombardi quote that I first read off the wall of my junior high band room.
"Perfect practice makes perfect"
In order to improve, you must change. Sometimes that means you have to actively tear down the habits that are most comfortable, the habits that may have given you a career.
The question becomes, "Do I try to realize 100 percent of my potential and risk running at only 60% on the way to that realization, or do I decide 85% of my potential is good enough, I don't want to ever get worse!".
If you choose the latter, you will likely convince yourself that the 85% percent version is actually the 100% version. You will actively lower your ceiling because you are scared to spend some time in the tear down phase.
I will not support that choice from the outside. Clarkson is likely a lost cause, but Sexton still has a chance to unlearn bad habits. It becomes that much harder for him to understand that those habits are indeed bad if we cheer him for making the poor shots he takes, saying things like "he is a better shooter than we thought, and he really tries!"
2. I have seen very limited growth in Sexton's decision making. He is afraid to get out of his pull-up comfort zone. His faux tough guy defensive stance also confuses people into overlooking his basic, continuous errors.
Collin, we will support you if you truly work your game. Make the effort. I am glad your shot is falling. I am glad you care. But, if you don't soon understand that many of those shots are fool's gold, then you will be in for a mediocre career. If you can translate your passion into working on your understanding of the game, you have a chance to be a solid player.
a) you must continue to work your handle through contact and in tight spaces.
b) you must attack the big man in PnR with a live dribble until you either have a layup, have drawn two defenders, or have short jumper. The jumper is the LAST resort.
c) for the love of basketball, keep your feet on the ground when you are defending. A big man is never supposed to leave his feet until the last moment. The same is true with your shuffle slide. Hopping around makes you susceptible to the blow-by.
d) set active screens off the ball. You slip almost every off-ball screen I have seen you in. You and J.R. Smith have been useless on the weakside of the floor. Good screeners are rewarded with easy buckets.
e) Be as honest with yourself as you can. If you fancy yourself a smart guy, how does that translate to the floor? Can you sacrifice little moments of joy (taking a pull-up 21 footer) for the better basketball play (almost any other action)?
Who are you modeling your game after? Do you listen to the old heads in the locker room with an open mind knowing that they know more than you do about practically everything? Are you clever enough to choose and trust the right veterans?
Or maybe you are shrewdly being financially pragmatic knowing that since you aren't supremely talented, you are more likely to be paid on your next contract if you get decent scoring numbers. Hey, chucking got Clarkson and Smith paid, didn't it?!
I doubt it is that last one, but I wouldn't blame the kid if it were. Without his crazy three on five game in college, I sincerely doubt Collin is a top 10 pick. It isn't his fault he was picked that high.
It will be his fault if he doesn't make the hard choice. Change. It is the only way to improve. And yes, it is a risk. But Collin, you are open for a reason. Teams want you to take that shot, make or miss. Stop being a fool looking for gold and aim for silver.
3. Unsurprisingly, the Cavs' defense has improved since Ty Lue was fired. The most obvious reason is that the Cavs have been playing Larry Nance and Tristan Thompson more minutes together, and that David Nwaba has gotten more run.
The other huge reason is schematic. The Cavs are doing more show and recover on-ball, and trying to fight over picks. With another big man behind the play in either Nance or TT, the immediate roll threat is less problematic.
Nance has been a menace in passing lanes and TT is boxing out more on the defensive end than he sometimes has in the past.
Off-ball is where the real change is. There was zero off-ball defensive effort during the Cavs' "switch (almost) everything" start to the season. Off-ball screen action wasn't met with force at all.
The opposing offenses were able to get deep post position off simple ball swings as lazy Cavs defenders sunk deep into the paint. More often than not, non screens were switched by only one player leaving the entire defense destroyed by lazy incoherence.
Games have been watchable since Drew took over, but we should be careful not to get too excited by the blowout victory over the Hornets. While the Cavs did play well across the board, the Hornets missed a ton of wide open looks from three. Cleveland has improved, yes, but they also got lucky.
4. Count me as one guy who is disappointed by the Jimmy Butler trade. I really enjoyed watching the Sixers play ball last year. Dario Saric is quietly a very good player, filling in every gap with his massive skill-set. Robert Covington may have come up short in the playoffs, but he is a perfect fit next to Simmons and Embiid.
I can only hope that Jimmy Butler does his best to fit in next to Ben Simmons. Over the summer, there were a lot of people worried that LeBron's theoretical arrival would stunt Simmons's growth. Many Philly fans didn't even want LeBron for fear it would wreck the fun that is the Simmons and Embiid duo.
Well, they didn't get LeBron, but they got perhaps the closest facsimile in playing style. There is a chance that Butler will fit in seamlessly. He did start as a fantastic role player after all. Still, losing Saric is more painful than people realize.
Like the Leonard trade, it wasn't just DeRozan for Kwahi. Danny frickin Green also came over. Robert Covington and Dario Saric are two B to B-plus players who excelled in their previous roles. Indeed, Jimmy Butler is an A to A-plus player at times, but if he drops Simmons from an A-minus to a B-minus, it might be a net loss.
On the bright side, Markelle Fultz seems to be out of the starting lineup. Maybe giving him less ball-handling responsibility will do him good. Or maybe Jimmy Butler makes the kid cry by week three and he goes to China.
In any case, the East has more varied talent than it has had in years. In a series, would you really take the Jazz, Nuggets, or Rockets over the Raptors, Bucks, or Sixers? Look at those roster matchups.
I am not betting against Bron, but those three Eastern Conference teams now have better wing defenders than any team out West not currently defending a chip.
I am not as sold on the Celtics yet as their top flight talent is a step lower than the other Eastern Conference giants. Still, they play regular season basketball with playoff tempo, so I am not writing them off.
The Raptors were my preseason pick to take the East. The Bucks and Sixers are making this interesting.
When your best players are two-way monsters, you are working with real gold, all the way around.