Leading up to the season most of us were pretty optimistic. With several returning players and a promising new rookie, the Cavs featured some things to be excited about. Unfortunately, pretty quickly it became apparent that the coaching staff, and Ty Lue in particular, had largely sat on their hands all summer long and failed to implement any sort of system. Then Lue got fired, the Cavs hired Larry Drew, and the games suddenly got a bit more interesting to watch after the early season beat downs.
Despite continued losses, at least the Cavs are playing a brand of basketball that can be watched, and this one was no exception. The game came down to the wire and though Cleveland lost 99-98, the game was close nearly the whole way and was engaging until the last second. The Cavd were in a position to win it late and gave rookie Collin Sexton a chance to finish it off. It didn't work out, but that's okay. With our adjusted expectations of the season, that's all any of us can hope for. Let's get into it.
The first quarter featured a strange starting lineup of Collin Sexton, Rodney Hood, JR Smith, Larry Nance Jr., and Tristan Thompson. The lineup didn't really work as the Bulls were able to get things going pretty quickly inside the paint. Fourteen of their first twenty one points came right inside the paint and the Cavs couldn't do a thing to stop them. At points, it appeared like Chicago could almost literally walk the ball into the paint for an open basket. Despite this, there were some things to like out of the few points the Cavaliers scored, especially from the rookie point guard. Sexton had a nice dump-off to TT that led to a bucket after driving ALL THE WAY to the hoop. Yeah, that's right, it appears that the number of times Sexton is taking it completely to the rim instead of lifting off from the free throw line appear to be decreasing ever so slightly. That's a good sign. Collin also managed to hit a pull up three off the dribble, a rarity for him. If he's going to be more dynamic on the offensive end and avoid looking like a younger version of Derrick Rose, he'll need to continue to work on that three point shot.
Unfortunately, the youngster wasn't enough to keep it close in the first quarter as the Bulls continued their waltz to the paint. The Bulls had 20 points in the paint in the first quarter and Cleveland didn't really have an answer for it. The quarter ended heavily in Chicago's favor, as they led 37-23.
The second quarter went a bit better for Cleveland, partly because of some increased activity on the defensive end for Cleveland and party because the Bulls are also bad and started missing a bunch of shots. Early on in the quarter the Cavs committed some dumb turnovers which led to easy transition buckets for the Bulls. But with the help of a pair of three pointers each for Korver and Clarkson, combined with a sudden ability to finish inside for Cleveland, the Cavs closed the gap. They even managed a three point lead with a minute to go. After an impressive baseline drive by LaVine and a foul in transition leading to a made free throw, the Cas settle for a tie, 53-53 at the half.
The third quarter was much more even and a bit uglier as well. The Cavaliers made one triple i the quarter (another Collin Sexton pull up off the dribble). Everything else was cobbled together from a few put backs at the rim, some long twos, and a few made free throws. Fortunately, the defensive activity continued for Cleveland and they were able to at least irritate Chicago enough to cause some missed shots. Thompson returned to form a bit as he gobbled up a few offensive rebounds. Nance had a hard time finding his shot but was able to abuse the Bulls on the boards as he finished the game with only 2 points, but 14 rebounds and 4 blocks. Practices must be a rebounding frenzy between Nance and Thompson and that's a good thing. After a Zizic block and an Andrew Harrison turnover, the quarter ended with the Bulls up 79-77.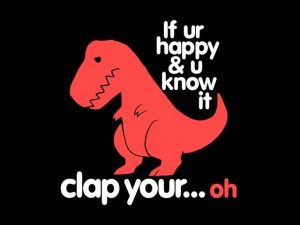 The final frame was one of the lower scoring quarters I've watched in this early NBA season. The count for the fourth quarter was only 21-20 in favor of Cleveland. Rodney Hood, of all people, managed to really get it going in the fourth, going 4-8 from the field. He would finish the night with 20 points, 2 rebounds, and 2 assists. With about 1:30 left on the clock, Hood made a tough jumper for two with a hand in his face. He followed up the tough shot with a very rare thumper in traffic to bring Cleveland within one. Really, how often do you see this out of Rodney "T-Rex Arms" Hood? Not often, I'll tell ya. Check him out below as he puts rookie Wendell Carter Jr. in a poster.
With under a minute to go in the game, Thompson forced LaVine into a long two which he missed. Cleveland brought the ball up the court with 52 seconds on the clock. Hood took and missed another long two. But with just 15 seconds on the clock the Bulls had a miscommunication and a turnover which gave the Cavaliers an opening. After a timeout, they put the ball in rookie Collin Sexton's hands and let him go to work. Sexton got into the paint fairly easily and got all the way to the restricted area under the hoop before pulling up for what would be an open look. The shot fell short, Secon got his own rebound, and but was blocked by Wendell Carter. Ultimately, so were the Cavs, but the effort was there. The game ended at 99-98, Chicago.
The finish to this one was quite entertaining, if disappointing. Cleveland is going to need to put the ball in Sexton's hands in high pressure situations if they are going to want him to be able to produce in those situations. The fact that he missed the shot isn't really material in any way. The important thing is that he didn't shy away and went right at the Bulls. Sure, he probably should have been able to finish that, but they were there in the end and that's all that I want to see as the season goes on. After all, one more loss gets Cleveland one more loss closer to a Duke phenom. This Bulls team isn't any good either and were missing several key rotational pieces in Lauri Markkanen, Kris Dunn, and Bobby Portis. But let's not forget the Cavaliers were missing even more in Kevin Love, Cedi Osman, and George Hill.
Some Notes:
1) I love the way Tristan Thompson is playing right now. He finished the night with 22 points, 12 rebounds (7 of the offensive variety), 2 steals, and an assist. Don't get me wrong, I don't think there is a future for him on this team anymore but boy is he increasing his trade value. Someone will want to bite on all of those offensive rebounds. Especially with the number of shots some teams are getting up these days. Hopefully he's not as untradeable as all of us fear.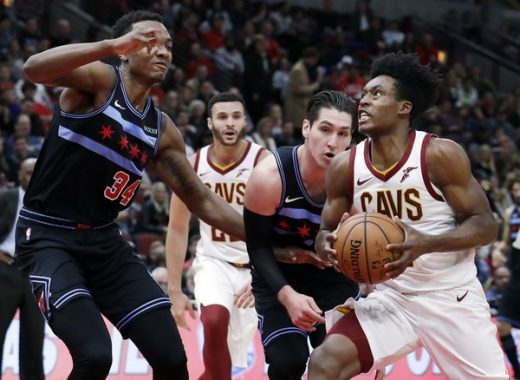 2) Collin Sexton still has a long, long way to go. But I don't care how many times Ben Werth tells me Sexton won't amount to much, I'm pretty much belligerently ignoring it. Yes, I recognize his faults, but I put faith in all we've heard about Sexton being a learner. I'm already seeing some improvements. He's been driving further into the paint a bit more. His two pull up threes were good to see tonight. The rookie finished with 20 points, 4 rebounds, 3 assists, and only one turnover. I'd like to see some more distribution from him but that's not a bad stat line for the youngster.
3) JR Smith isn't really bringing anything to the table anymore. Nwaba doesn't have Smith's shooting stroke, but right now, Smith doesn't have it often either. I'd rather the Cavsv get Nwaba's defensive production. Their minute distribution should be switched.
Overall, it was certainly not the worst loss of this young season. The Cavs face off next against the Hornets on Tuesday. Hopefully they can avoid the same fate as their last meeting. As always, Go Cavs!