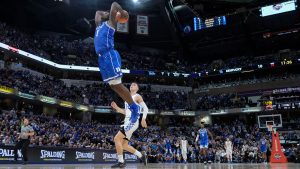 four point play….
1. For the first time since 2014, I find myself interested in college basketball. To be more specific, Duke basketball. Shocking, I know.
With the 2018-2019 Cleveland Cavaliers already living their best tanktastic life, pardon me for checking in on potential Cavs of the future.
Unlike Steve Kerr, I am allowed to refer to the kid by name. Yes, that 285 pound freshman, Zion Williamson, is rightfully on everyone's mind. His regular season debut against Kentucky was awe inspiring. And fun! Remember fun, Cavs fans?
See that vein in his shoulder. He isn't fat. We will get back to that in a bit.
While it is easy to be wowed by Zion Williamson's athleticism, we shouldn't overlook his basketball skill-set. Though teammate, RJ Barrett has often gotten more hype as the better NBA prospect, I think Zion Williamson's athleticism has simply obscured his actual basketball acumen.
The issue is likely to be debated all season and beyond. Some will focus on Barret's prettier jumper and more traditional NBA body. People who desire the prototypical NBA body have already waxed poetically on Barrett.
Yes, Barrett is likely to be a great NBA player, maybe even a multiple All-Star. He is smooth, has a tight handle, great length, and leaping ability. Barrett has one of those high arching shots that rip nets.
And still, who the better prospect is isn't much of a discussion. To me, Zion Williamson is the far more impressive player. Zion is not nearly as limited skill-set wise as many people seem to believe. Perhaps his otherworldly hops and defensive-end sized body make it impossible to fairly grade his game.
It can be overwhelming. Once we pick our jaws off the floor, we can check out his natural pass timing, his fantastic ball-handling, and an infectious love of the game.
People are dying to find a flaw, and his mechanical shot provides a bit of amo. His lefty jumper is more of the set-slingshot variety, but it isn't hard to see a path for improvement in that regard. He has decent touch around the rim, keeping the ball more on his fingertips. When he shoots from distance, he does sometimes let the ball get into his palm.
It is almost as though he has had to mitigate his incredible strength by eliminating both a jump and finger flick from his shooting motion.
Even so, his jumper isn't broken. His elbow is in a decent position and he doesn't have any major balance issues.
2. And even if it were never to improve, Zion's first step either direction is a thing to behold.
Steve Kerr is right to bring up LeBron. We haven't seen a prospect with anything close to this kind of skill and explosion combo since LeBron James was rocking it in Akron.
Let me be clear. Zion isn't the pass first natural that LeBron was. They have different games. But Zion can dish the rock and actually has more bouce than Bron did, as shocking as that may be.
The the more obvious Zion comparison is to Charles Barkley. Peak young Barkley had legs and a backside similar to Williamson, but Chuck, even at his athletic apex, didn't have the explosion that Zion employs. At a legit 6'6″ plus, Zion is also a bit taller than Barkley and he is broader in the upper body.
3. What sets Zion apart from all those that come before is his ability to leap off of either leg and power jump off two feet. I've talked about it frequently in this space, but it can be repeated.
Leaping ambidexterity is hugely important. While many guys ultimately learn how to leap off their opposite legs, most lack a bit of explosion off their off leg. How many open floor tomahawk slams has Bron done off his right leg?
More detrimental for a player is the inability to power off two feet. It shows itself more on the defensive end when a player tries to contest a shot, but it hinders a player's overall athleticism.
A huge reason why Kyrie Irving has had so much success around the rim during his career is that he is completely ambidextrous. That starts from his feet. Kyrie's ability to leap equally well off of his right or left foot, or off two in either direction, allows him to powerfully get into the body of his defender. The defender can't time Irving's jump because Ky isn't limited to certain angles.
Zion is also a naturally ambidextrous person. He was recently shown dunking from the foul line with his off-hand. That's right, his right handed Tomahawk off his left foot is actually his off-hand.
I admit it does seem as though he slightly prefers leaping off his left foot, but his right footed leap doesn't seem any weaker. Then there is his power jump.
In his first game at Duke his ability to spring off two feet and look down at the hoop wowed even the most athletic people on the planet.
He is just at another level.
RJ Barrett is likely to be very successful with athleticism that reminds me of a Will Barton "plus". He has more girth than Barton but not the size of a Tayshaun Prince. To me, he is a best case scenario medium ground of Barton and Prince. That necessary two foot jump isn't as powerful for Barret. He glides.
Zion is Charles Barkley and Vince Carter rolled into one, with a touch of Lance Stephenson hurkyjerky. Even that isn't really doing the kid justice.
Really, we have never seen an athlete like Zion Williamson on the hard floor. The closest guy that I can compare him to is Myles Garrett of the Cleveland Browns. We have seen Miles in short spurts playing pickup basketball making other athletes look like children.
At roughly six-five and 275 pounds of solid muscle, Garrett gets off the floor with incredible ease to the tune of a 41 inch vertical.
Is he fat? Yeah, I don't think so.
4. Zion Williamson is a little bit larger and can explode even higher. Those who say that he needs to drop 20 pounds don't quite understand the amount of muscle he has in his glutes, hamstrings, and quads in order to create the force necessary to have that kind of vertical jump.
Looking at pictures and video of Zion as an 18 year-old shows us a certain level of vascularity in his shoulders and arms. Those who need to drop 20 pounds don't have that level of vacularity, especially at 18.
Yes, Zion Williamson is more a defensive-end type body with super fast twitch muscles than a traditional baller. But, to ask him to lose weight unnecessarily would be to ask him to lose some explosion.
When he gets to the NBA, he will likely have the perfect diet for his body type, and a training regiment to maximize his overall fitness. I wouldn't be surprised if he were to drop five or even 10 lb, but it would be foolhardy to force his body to shed 20 lb of fast-twitch muscle.
If you look at an NFL running back, many of them are five-foot nine and 215 lb of solid muscle. In football having a low center of gravity and incredibly strong legs and glutes allows players to gain leverage and explode through contact. It is the same in the NBA, it is just rare to find that kind of ratio in a 6'6″ dude instead of a 6'0″ guy.
I understand the fear. Can his joints handle it? I hope with every amazing jump and landing that Zion Williamson stays healthy. I haven't enjoyed watching a young athlete so much in as long as I can remember.
There is something incredibly charming about a man so large flying through the air like Superman. It is also clear that he has an intense love for the game and is a bright young man.
Maybe the only fun aspect of this 2018-2019 Cleveland Cavaliers season will be in fantasizing about Zion Williamson coming to the Cleveland Cavaliers via tank acquired 2019 draft pick. Drafting a young man like Zion would make even a losing team incredibly enjoyable to watch in the coming years. It is certainly magnitudes better than thinking about Jordan Clarkson's PnR defense.