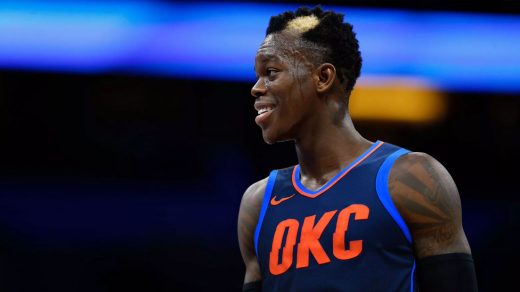 Buckle up, Cavs fans. On paper, this looks like another winnable game against an ailing squad. Do-everything guard, Russell Westbrook is out with a bum ankle, and noted Cavs killer, Dennis Schröeder looks to start for OKC. The umlaut is also known as Schroeder's cat around these parts, because he only seems to play well when we're looking. The rest of the time, he stinks.
In other news, the Cavs roll out a new starting lineup in the absence of Sam Dekker who's out 2-4 weeks with his own ankle sprain. According to FSO's Fred McLeod, Cedi Osman will move to the power forward spot, and J.R. Smith will start at the two. Now if only the Cavs could start Nwaba instead of Hood, we could really have something.
OKC is coming off five straight wins after losing their first four. They've beaten solid teams in that stretch too, with victories over the Clippers, Hornets, and Pelicans.
The Thunder start Paul George, Steven Adams, Jerami Grant, and second year man Terrance Ferguson. Grant is playing the best ball of his career, averaging 11 and 5, and he will block some shots. Key to stopping him? Make him a three point shooter where he's averaging just 25%.
Of course, perennial all-star, Paul George will lead the way for them, with splits of 23/7/4, along with a whopping 2.6 steals per game, which helps OKC rank eighth in NBA defense. Steven Adams and substitute Nerlens Noel will kill the Cavs on the o-boards if Cleveland lets them. Those two are averaging seven offensive rebounds a game. With a smaller Cavs lineup, boxing out will be key.
Stopping Patrick Patterson (41%) and Alex Abrines (35%) from getting hot from three off the bench will be the next challenge.
Cavs have a shot if they make it hard for George and not too easy for the umlaut and the shooters. They also must take care of the ball, which terrifies me a little with George guarding Cedi.
Let's hope TT continues his stellar play and JR keeps balling out for a trade. Go Cavs.