If you only have ten minutes; read Tom Pestak's post below, not mine. This week, Mo and I will profile players of interest with the Cavs #32 pick. Also my favorite players, numbers 7 – 13:
#7 Kemba Walker
#8 Marcus Morris – His well rounded offensive game has won me over.
#9 Bismack Biyombo – I don't know what to think about Biyombo, which is why he's #9. The players above him can be top 3 players on playoff teams, but I don't think that about those below him. Per 40 minutes, Biyombo averaged 12 rebounds and 5.5 blocks in 14 games in Spain's top division (ACB). He had 10 blocks and a triple double in the 2011 Nike Hoop Summit. Very impressive for an 18 year old, but here are reasons for controlled expectations (besides age questions). Looking at his five games against the Euroleague teams in the ACB, his averages are 7.8 rebounds and 4.1 blocks per 40 minutes. I'm not going to pretend to know what these next results mean; but his ACB team was 7-7 when he played and 14-7 when he did not. Six months ago he was playing in the Spanish third division. His team was 4-10 with him, allowing 76.7 points per game. After he left they were also 4 – 10, but gave up only 69.6 ppg. If he couldn't dramatically impact Spanish third tier games, can he be the next Ben Wallace?
#10 Kawhi Leonard – I am not as high on him as others. I do like him enough to put him tenth.
#11 Tristan Thompson – He has good size and athleticism, but is young and raw. His 49% free throw shooting is scary.
#12 Markieff Morris – Similar to my take on Jon Leuer below; except Morris is stronger, younger, and shot 45% from three over the last two years (35-78).
#13 Jimmer Fredette – This is based on a benefit of the doubt that he won't be a complete defensive void. He has fine size and strength for PG at 6'2.5", 196 lbs, with a 6'4.5" wingspan. He surprisingly tested 2nd and 3rd in the combine agility tests. He needs to give some effort on defense, or he will not play very much in the NBA.
The Cavs are going to pick a lot in the 28-40 range over the next 5 years and need to add quality rotation players. Here are a few to look at this year with pick #32.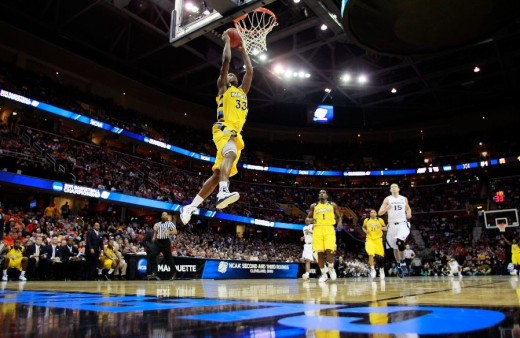 Jimmy Butler – Butler attended Marquette and was MVP of the Portsmouth Invitational, the annual pre-draft camp for NCAA seniors. His Portsmouth team won the championship, and he impressed with his effort on both ends. Butler turns 22 in September and has decent size for a SF at 6'8", 222 lbs. He is a good athlete, confirmed by top 12 performances in 5 of the 6 combine athleticism tests. I don't have the space here to cover how much I like Jimmy Butler, but he has a great attitude and intangibles. One fun stat involves how well Butler takes care of the ball. He had a positive pure point rating all three years at Marquette; no other likely first round non-PG had even one year of positive PPR. For his college career he had more steals than turnovers (115 to 110). He's an efficient scorer, averaging 15 ppg on 60% true shooting. He only shot 94 three pointers in his college career, but hit 38%. Butler will be a starter in the NBA and fills a Cavs need.
Travis Leslie – If the Cavs can't draft Butler, Leslie would be an option to add a wing athlete. In his three years at Georgia, Leslie played a lot at forward, but at 6'4", 205 lbs, he's an NBA shooting guard. He has a large wingspan of 6'10.5", and is an explosive athlete that plays way above the rim. If the Cavs want to draft a future dunk contest participant, Leslie's the guy. His shooting and ball handling are suspect; but he effectively scores on cuts, fast breaks, and offensive rebounds; averaging 15 ppg with a solid offensive rating. He is the best rebounding guard available and averaged 3 assists per game against 2.2 turnovers. Like all long, athletic players; Leslie can be a quality defender, but he needs to work on his perimeter defensive skills. Leslie will provide footage for the annual highlight video, and should be a capable rotation player. Comparisons include Maurice Evans, Shannon Brown, and Tony Allen.
Jon Leuer – The Cavs need help on the wings, but the long-term roster also lacks a big man to space the floor. Leuer just finished his senior year at Wisconsin and should perform four things a useful "stretch 4"needs to do:
1. Shoot at least 35% on threes – Over the last two years, Leuer has shot 38% from long range.
2. Protect the defensive glass – Leuer is 6'11"tall, which is great for a PF. The last two years, he grabbed 20 and 22% of the available defensive rebounds (NBA average at PF is 18 – 19%) by giving good effort with solid fundamentals. Leuer needs to increase his lower body strength, but he has the other tools needed to limit opponent's second chances.
3. Not be a defensive liability – Leuer has great fundamentals, energy, and awareness. The biggest concern about his defense is his athleticism; however he was in the top 10 in both combine agility drills. Again, if he can add 10 – 15 pounds of muscle, Leuer's length and effort will ensure he's an adequate man-to-man and team defender.
4. Don't turn the ball over – Despite being a highly used part of Wisconsin's offense, Leuer limited turnovers to 11% of his possessions. This is in the top ten percentile of NCAA players, and two years ago Leuer's turnover rate was a microscopic 8.6%.
Leuer has the tools to bring the benefits of a "stretch 4" without taking much off the table. In addition, he has been working on his high-post game with David Lee to improve his already well-rounded offensive game. For many years, Leuer should be a good third player in a front line rotation.

Tags: Draft Profiles