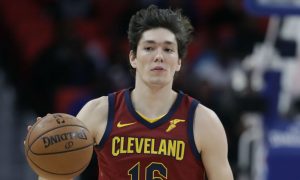 One thing you have to give the Cleveland Cavaliers, it's never boring with them. In the past week alone, they've fired their head coach, had their associate head coach all but refuse a move to the head chair, had Quicken Loans Arena named as the site of the 2022 NBA All-Star Game, had owner Dan Gilbert and general manager Koby Altman named in an age discrimination lawsuit by former assistant coach Jim Boylan, and had Kevin Love, the team's best player, undergo surgery on his toe that will sideline him indefinitely. Oh, and they actually won a game. Who says that LeBron caused all the drama?
Tonight, the Cavaliers head to Charlotte to take on a Hornets team that is looking to return to the playoffs for the first time since 2016. While they are just 4-5 to start the season, they are outscoring opponents by nearly five points per game and three of their losses have been by two points or less. Kemba Walker is off to the best start of his career, averaging 29 points per game, and Nicolas Batum has been healthy and effective to start the season. New head coach James Borrego has done a nice job of finding ways to get as much shooting on the floor as possible, and his decision to play Michael Kidd-Gilchrist almost solely as a big man has paid dividends.
Meanwhile, the Cavaliers are in disarray both on and off the court. They were always going to struggle if and when Love got hurt, but they are also playing an inefficient style of offense that leads to a ton of mid-range jumpshots. Combined with one of the worst defenses in the league, and it's no wonder why they are 1-7 to start the season.
At this point, the goal should be to try to establish systems on both sides of the ball and get players such as Cedi Osman and Collin Sexton valuable experience. We'll see how it goes.