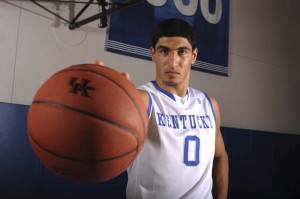 With the first-overall selection all but placed on the placard above the podium in the Prudential Center, the Cavaliers appear primed to pinpoint players who will be available with their second lottery selection as well as some who could fall to them later in the draft. Chief among those awaiting an arrival to Cleveland is Enes Kanter, the 6-foot-11-inch center out of Turkey that has been pegged to go anywhere from the second-overall selection down to the fifth and continues to be one of the more-discussed players heading into draft night.
I'll be sure to keep you guys posted on these workouts at various points during the week, though I'm not sure I can tell you what they mean. It's a good thing we hired draft experts.
I have a running joke with my friends that every music video should be Fatboy Slim's "Weapon of Choice." Like, artists should stop making music videos and instead just play their song behind visuals of Christopher Walken pirouetting around a hotel lobby. By same token, every rookie workout should be Yi Jianlian posting up a chair. If Derrick Williams shows up for his workout holding a flatscreen that's playing Yi performing up and unders against a hunk of metal that comes up to his knee, I might re-evaluate who the Cavaliers should select at number one.