As if LeBron James leaving to join the Los Angeles Lakers wasn't enough, the surprise firing of former head coach Tyronn Lue just six games into the start of the season is yet another indicator that the Cleveland Cavaliers have moved into a new era. While ownership and the front office seems to still believe this team should contend for a playoff spot, the vast majority of people that follow the team see one of the weaker rosters in the NBA. Like it or not, the Cavs are likely in for some sort of rebuild. The only questions know are how long will that rebuild take, and which players could still be here when the team is once again ready to contend for the playoffs? Today, we'll take a look at the current roster and how much each player matters to the team's future.
Clarkson has been listed among the young talent the Cavaliers will be building around, but should he be? At 26 years old, Clarkson isn't young by NBA standards. He's also in his fifth season in the league. Chances are, Clarkson is who he is, a gunner off the bench who doesn't pass or play defense. He's had a hot start to the season, but a lot of that is built off of being unsustainably hot on mid-range jumpers. Since he's owed roughly $26 million between this season and the next, Clarkson will likely be a Cavalier for the foreseeable future, but he'll also likely be one that hinders both winning and the growth of Collins Sexton. He shouldn't be considered a core piece.
Acquired over the summer with part of a trade exception from the Kyrie Irving trade, Dekker has had a decent, if uneven, start to the season. He went from backup power forward, to out of the rotation, to starter in place of Kevin Love in just three games. After a rough season with the Los Angeles Clippers, Dekker is looking to establish himself as an NBA player with the Cavs. He's a decent playmaker at the four who uses his athleticism to outrun opponents, but his shot still needs work, and he's a minus defensively. Dekker currently sports a Box Plus-Minus of zero, and his offensive rating is higher than his defensive rating for the season. That's not bad for an end of the rotation player, but Dekker still has a lot to prove before he can even be considered a solid bench piece, let alone a core reserve.
Channing Frye is a beloved Cavalier, and rightfully so. He was a big part of the 2016 championship team both in the locker room and on the floor, helping the Cavs move past both the Atlanta Hawks (27 points in Game Three!) and the Toronto Raptors on their way to the finals. He's a professional and great locker room guy, and a team with this amount of chaos needs every good locker room guy they can get. But he's also 35, and obviously at the end of his career. This may very well be Frye's final season in the NBA, let alone with the Cavaliers.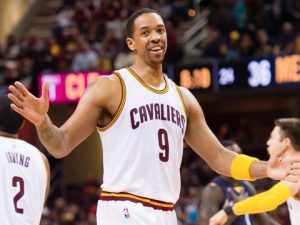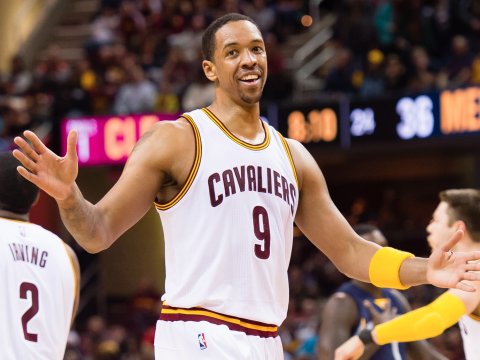 At this point, we need to accept that the Hill that we saw with the Indiana Pacers and Utah Jazz is no more. Age and injuries have begun Hill's decline as a player, and he's averaging his fewest minutes and assists per game since his rookie year as well as the fewest rebounds per game of his career. His defense has fallen off a cliff. Still, Hill remains an efficient scorer, and the Cavaliers are typically better with him on the floor than off, especially considering Hill's true shooting is 64% and he's averaging 18 points per 36 minutes.
Lue's firing likely means that Sexton will become the starter at point guard sooner than later, but Hill remains solid protection from overexposing Sexton, as well as a mentor for the rookie. With only $1 million of his contract guaranteed for next season, Hill may be traded to a team that wants to dump salary and is willing to give up a future asset to do so. Even if he isn't, he won't be here next season.
Holland is a two-way player who will turn 30 next week. It's nice to see him fulfill his dream of playing in the NBA, but there has to be a better way to use what should be a developmental deal.
An inefficient volume scorer who does little else, Hood is simply a larger version of Clarkson. He doesn't pass, doesn't rebound much, and doesn't get to the line. His ability to attack off the dribble is limited to getting in position to take 18 foot jumpers, the most inefficient shot in basketball. Hood has typically been solid from three for his career, but has struggled from deep this season before hitting four threes against the Hawks. He's also a minus defender who lacks both speed and physicality. The one good thing the Cavaliers have going with Hood is that they didn't pay him any more than his qualifying offer. They challenged him to prove that he was a core piece, and so far he hasn't come close to meeting that challenge. One good game doesn't make up for six bad ones. It will be hard for any Cavs fan to justify him being considered part of the team's future.
Update: Hood totally blew up, Tuesday with arguably his best game since a Dec. 22nd Jazz victory over the Spurs, with 26 on 13 shots, with three dimes, and three steals. If he is the guy who can stroke threes like we saw Tuesday, he will have stood up to the challenge and he will get himself paid. Rodney clearly is a confidence player, and when his confidence is down, he struggles badly. Hopefully the coaching change will help him move into a core piece.
Korver is one of the greatest shooters in NBA history, and remains so even at age 37. The Cavaliers have generally played better with him on the floor, and he has built some chemistry with Sexton in the second unit. Still, if anyone deserves a trade to a contender it's, Korver, who joined the Cavaliers the season after they won the NBA championship. His shooting and smart team defense can still help a team, and considering he contemplated retirement over the summer, this may be his last chance to compete for a ring.  Only $3.4 million of his $7 million salary is guaranteed for next season, which only heightens his trade value. It also means that the team will probably move on from him in the summer if he isn't traded. Either way, his time in Cleveland is coming to an end. Watching his interview from Cavs Media Day gives you the feeling he knew what was coming.
Kevin Love
No matter what direction the franchise takes, Love is still the most the Cavaliers' most important player. He's the five-time All-Star who takes the pressure off Sexton, the Cavs' most valuable trade asset, and the only player who is anywhere close to a marquee name on the roster. Many are calling for Love to be traded to another team for draft picks and/or young players as soon as he his eligible (January 23). A smart trade that truly helps the Cavaliers for the future would be fine, but what are the odds of that happening? As NBA fans, we love trades. It's exciting to get new players and think about how they will affect our team. That's all well and good, but teams need to get some sort of value when they make a trade. That's especially true with a top 25-ish player like Love. There's a more than decent chance that the scenario in which Love provides the most value to the Cavaliers is one in which he accepts what the team is this season, especially if his toe injury keeps him sidelined as long as speculated, and the Cavaliers try to rebuild quickly for a future in which he is still an important piece.
Larry Nance Jr.
Nance doesn't post big numbers, but the analytics love him. He's an efficient player on offense who has emerged as a point-center this season, leading the team in assists, and dropping almost seven dimes per 36 minutes. Larry's also a versatile defender, if not the rim protector some want him to be. Most importantly, the Cavaliers typically play much better when Nance is on the floor. Like many other players on the roster, Nance isn't as young as one might think, but going into his fourth season, he's proven that he is a useful, productive player. Some feel the Cavs traded for Junior simply because his father starred for the team, but he's definitely a core player, and his contract extension will likely be fair market value, if not something of a steal.
Right or not, Nwaba is going to be seen by some as a symbol of the division between Lue and Koby Altman. Altman wanted Nwaba to play, while Lue kept him glued to the bench. Nwaba played well during Saturday night's loss to the Pacers, which was the first time this season that he had been in the rotation. Nwaba is 25, under team control as a restricted free agent next summer, and has shown flashes on both ends of the floor thanks to his high motor and athleticism. Do we know if he's actually good or not? No. Should the Cavaliers give him enough run to find out for sure? Definitely.
The Cavs are betting on Osman being one of their core pieces, and despite some recent bumps, the potential is there. Osman is a big wing with a high motor that can shoot from deep, rebound, and create for others. He still needs to work on focusing all of his energy in a more productive manner. This includes improving his finishing around the basket, reducing his turnovers, improving his shot selection, and playing more under control on defense. Improving his shooting from the line would help too. Still, all of these things can be fixed with hard work, and Osman is nothing if not a worker. He may never be the All-Star some Cavs fans expect him to be, but Osman could become a high-level role player for years to come.
Like Hood, Osman busted out Tuesday with a 20 point night, but Osman's five turnovers were one of the lone dark clouds in the victory over Atlanta. Also like hood, Osman is a confidence player who will need his coach and his teammates to build him up.
During the preseason, Preston looked like exactly what he is, an impressive raw athlete with good size who needs to add muscle and work on his shot and basketball fundamentals. With his college career over before it began, the former McDonald's All-American is the exact kind of player a team should sign to a two-way contract. If the Cavs can develop him into a real NBA player, great. If they can't, then it didn't really cost them anything. Hope for the former, but expect the latter.
Other than Love, Sexton probably rates as the most important player on the roster, and some would even rate him first. Selected eighth overall in the 2018 NBA Draft with the pick that was the crown jewel of the Kyrie Irving trade, Sexton, right or wrong, is the face of the new era of Cavaliers basketball. The rookie has struggled with finishing at the rim, and cannot is rarely willing to shoot from deep at all, but he has also shown some intriguing flashes late in games. One thing Lue had done well was shield Sexton from needless pressure, but that will likely change soon. Sexton may never be an All-Star, but he could be a very good starter in a few seasons. Plenty of point guards have struggled early in their career. Eric Bledsoe, a player with whom Sexton is often compared, is a prime example. Sexton would benefit from not sharing the floor with Collin Sexton, as the pair is one of the worst defensive backcourts in the association.
JR Smith
The Cleveland Cavaliers likely wouldn't have won the 2016 NBA Championship without JR Smith, and for that we should always be grateful. The marriage between Smith and the Cavaliers has seen the former mature into a family man who loves the Northeast Ohio area, and the latter experience the greatest run in franchise history. But it's over. Age and injuries have made Smith an ineffective player over the past two seasons. Despite coming into camp in great shape, that has continued this season, and it's now impossible to justify giving Smith minutes. If Nwaba was one symbol of the tension between Ty Lue and the front office, then Smith is the other. His only value to the Cavaliers at this point is as an expiring contract that can be used to take on future salary in exchange for assets.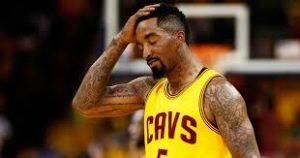 If not for Thompson's contract, we might be looking at him completely differently. He's still just 27, still an elite rebounder, and has shown that he can still guard switches on the perimeter when he's healthy. Obviously, the shooting has become a larger issue as the NBA has evolved, but Thompson is still a solid rotation big man. Unlike Hood or Clarkson, Thompson has things that he does efficiently and consistently. Still, while it's hard to see the Cavaliers finding a taker for his contract, it's harder to envision Thompson playing for the Cavaliers for a much smaller salary after this contract is up.
Zizic is a skilled finisher around the basket. He has shown potential on the boards, protecting the paint, and even as a passer. So why isn't he playing more? Simply put, he's a bit of a throwback, and his deficiencies make him a difficult fit in today's game. Zizic can't space the floor, and simply doesn't have the speed to compete against any offense that targets him. The Cavaliers should give him a chance, especially if Love is out for any length of time, but it's hard to see Zizic developing into much more than a situational role player.
I can't blame Drew for wanting a guarantee for the future from the organization before he becomes the Cavaliers' next head coach. This is a notoriously unstable organization, and they don't have many other places to turn. While it's understandable that Koby Altman and Dan Gilbert would want to do their due diligence before hiring a permanent head coach, they should have thought about these things before starting the season with Lue obviously on a very short leash. Now, whether or not Drew takes the job, the organization is looks foolish, and moving on from LeBron James looks like it will be just as messy this time as it was eight years ago.