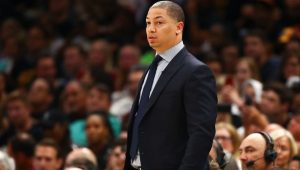 four point play….
1. The Cavaliers have been particularly difficult to watch thus far. It's not as though the previous two regular seasons were a joy. LeBron played with little to no effort on the defensive end. Rotations varied from "huh?" to "you gotta be kidding me". The offense cratered anytime James wasn't on the court and the defense bled points regardless.
It was frustrating to watch a team play with such marginal effort and intelligence. And yet with LeBron, fans knew that the proverbial switch was, in fact, a literal one.
Sure, the media would continually ask whether the Cavs could turn it on when it mattered, but even they only seemed to question the inevitable simply to promote narrative. Few people outside of Boston truly believed that LeBron wouldn't carry his flawed Cavs teams to the Finals.
Still, it was a slog. There was little point in analyzing a team that didn't try. The Cavs  wouldn't even pretend to turn on the jets until April. LeBron knew his body. We were left with a transcendent offensive player and a rather miserable defensive one for most of the last three seasons.
For that reason alone, many of us almost welcomed this new era in Cavalier basketball. Instead of waiting seven months to see what kind of squad Cleveland has, we were excited to watch a full 82 games of relevant effort.
Oops.
Unfortunately, this team makes last season's all misery squad almost look fun. Well, almost. Derrick Rose was a form of basketball torture I wouldn't wish on anybody.
Sadly for fans, the Cavs replaced one tragically inefficient player obsessed with the mid-range jumper with three such players.
2. If you thought Rodney Hood and Jordan Clarkson were bad in the playoffs, this season's heavy minute variety only confirms your disdain.
It is easy to watch both Jordan's and Rodney's ability to get a shot off and conclude that they are valuable players. Easy and sadly incorrect.
Jordan has been almost the best version of himself this season hitting on 50 percent of his 13 plus shots per game. That is all well and good, but Jordan, always a poor defender, has taken his defense to a new low, consistently getting lost in an effort to jump passing lanes and/or leak out early in transition.
Offensively, any good that one might see in his decent shooting percentage from two is heavily mitigated by his complete lack of passing and accuracy from deep. Jordan is averaging 13.4 shots per game and 1.2 assists. That is absurd.
And still, Clarkson has a running mate in suckitude with the name of Rodney Hood. Hood's garbage play is somehow even more frustrating to me at the moment, perhaps because I had maintained a modicum of faith in his potential. I have long given up on Clarkson. He is a run-of-the-mill chucker, a great player in China with no future of being a winning NBA player.
Hood, however, has proven my limited remaining post playoff hope to have been foolish.
Rodney, like Jordan, has completely abandoned the pass. Like Jordan, Rodney loves to chuck up mid-range hope shots that occasionally find success.
Unlike Jordan, Hood refuses to pull the trigger on wide open three attempts, thrawting countless otherwise solid offensive possessions. I can't tell whether he has lost all confidence in his three ball, whether he falsely concludes he isn't open, or whether this inept coaching staff has actively encouraged this awful decision making.
3. Collin Sexton has been emboldened by this miserable strategy to launch 20 footers off the bounce as though they are worth four points. Collin finally made a quick drive all the way to the cup against Ish Smith. I yelled "it is about time" to myself before he missed his and-1 free throw attempt. Baby steps.
Also midly encouraging was his first "Nashing it" job. It didn't net any points, but it was the first time Collin actually kept a live dribble in the paint. It is a thing even sub-par point guards like Ish Smith do with regularity. It is an absolute necessity and I will keep harping on it until Sexton stops picking up the bounce too early.
In general, the Cavaliers backcourt has been a disaster on both ends. Only the occasionally aggressive possession from George Hill resembles winning process and strategy in 2018 basketball.
If this seems doom and gloom to you, trust me, I am not being negative for the sake of being negative. I am only pointing out what most of us already know. Two point 20-footers off the bounce are the worst attempts in basketball. The Cavs' entire backcourt prefers that shot to all others.
4. If Lue were a good coach, he would sub out Hood immediately any time Rodney passes up an open three for a contested two. Hood needs to be broken of this offense killing habit. Instead, Lue asks his players to be aggressive, detailing nothing of how they can go about being smartly aggressive. It is coaching malpractice. Even if you believe that those players cannot be cured, one must allow that a competent coach might at least be able to harness a player's negative compulsions.
I mean really. Even Rudy Gay has turned into a somewhat positive player in San Antonio. I don't think there is hope for Clarkson. Perhaps there is still a tiny glimmer of hope for Hood if given proper coaching. (Quinn Synder may have already maximized his potential)
Regardless, Lue is clearly not doing anything but applauding this crude effort with Austin Carr's antiquated basketball acumen's support. It is anti-Morey ball.
The focus on pace and switching does nothing to cure the team of its faults. Look, the entire league is playing with pace. That isn't a basketball strategy. At this point, it is analogous to saying "do better!". It is empty nonsense that has no second part. Push tempo for layups and threes. If there is no good early shot, run an offensive for layups and threes. Do NOT settle for the first open 20 footer! That is hardly an offensive strategy either and it still has more steps than Lue's current directive.
Austin Carr frequently says "play what is in front of you." While I understand the idea of taking what the defense gives you, it is not a great plan. Any solid defense will give you exactly the shots that the Cavs' dysfunctional backcourt sadly wants to take. It is just stupid, impatient basketball and anyone who understands the game is currently being driven up the wall trying to watch this team as it barfs out lazy offensive possessions.
What is the easiest way to turn the team into a watchable unit?
Run the guys who naturally play modern basketball.
Right now, poor Kyle Korver is forced to play his limited minutes with guys who don't know how to pass him the rock on time and on target.
With more experience, Collin will hopefully learn how to anticipate when Kyle will be open off flare screens, but thus far he has routinely passed Korver the ball a tick too late. It is not that Kyle has lost a step. He he simply receiving the ball late enough that the defender has had time to turn the corner in lock and trail technique. By the time Korver receives the pass, the defense has recovered.
Instead of playing Korver with the backcourt of self-inflicted death, Sexton and Clarkson, Lue should start Kyle to maximize effectiveness. Cedi Osman is a smart enough passer to feed the Love and Korver two man game that continues to be excruciatingly underused.
Love and Korver are masters of the off ball screen dance. Lue either doesn't understand that, or he is trying to lose. It is likely the former, though I don't know which would be worse.
Hill, Korver, Osman, Love, and Nance. That is a winning group of guys full of smart off-ball offensive and defensive play. Their collective high basketball IQ and solid floor-spacing would give the Cavs a chance.
Sexton, David Nwaba, Ante Zizic, Channing Frye and Sam Dekker would be my other rotation players. Dekker can be effective in limited minutes when he plays with players who pass.
Ante Zizic misses a shot as often as Hood takes an open three. AKA, rarely. Frye spaces the floor and plays smart defensive angles.
David Nwaba. For the love of basketball, play the man. He moves the ball, has an underrated PnR game, and he defends across the perimeter. This isn't complicated. Play the guys who understand that NBA basketball isn't one-on-one, that three is greater than two, and dribbling doesn't earn the team points.
This team does have playoff talent. But they won't sniff 25 wins unless Lue has a eureka moment. It will have to come soon, or many folks will tune out before December.