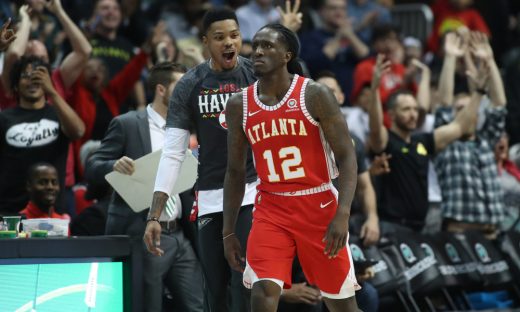 Seven teams remain without a win in this fledgling NBA season, and with both the Hawks and Cavs at 0-2, something's got to give. Cleveland makes its home debut after giving up big second quarter runs to the Raptors and T-Wolves. The Hawks come in having given up 257 points to the Knicks and Grizzlies, with an average loss margin of 16.5.
Leading the Hawks have been Taurean Waller-Prince who has 25-5-5 and Trae Young who has led the team in minutes and posted 17-4-7 averages, while shooting a whopping seven treys per game. Sitting on his right hand and making him a driver is a key to stopping Trae who's shooting 36% from three, but just 39% from two. The other key to beating the Hawks? Taking advantage of their turnovers. Atlanta's coughed the ball up a whopping 43 times in two games.
Many think Atlanta's the worst team in the league, but they have some dangerous players with Young, Prince, Cavalier irritant, Kent Bazemore, and Jeremy Lin.
In the injury department, it's good news and bad news. The good news: Larry Nance is available to play after spraining his ankle late in preseason. The bad news: Sam Dekker is available to play after a head injury, Friday. Now don't get me wrong. I'm happy that Dekker isn't hurt seriously, but the less he plays the better for Cleveland.
For Atlanta, Peachtree Hoops reports that that John Collins, Dewaye Dedmon, Justin Anderson and Daniel Hamilton are out. Omari Spellman (ankle) was upgraded to questionable. Trae Young, Vince Carter, Tyler Dorsey and Alex Poythress are probable.
Kevin Love should have a good matchups tonight with Atlanta's main line big men out, and we should see a good rookie duel between Young and Sexton. Keeping my fingers crossed that the Cavs come out hungry for their first win.