Froggy Fresh and Moneymaker Mike here. Yeah, we're bringing it back to 2010 for Froggy's ode to Derrick Rose (still together!), Pau Gasol, Joakim Noah, the Bulls, and most especially we're "talkin' bout that man, Jimmy Butler."
Now the Cav's all 'bout to get slaughtered
Cause Jimmy Butler is your father
Preach, Froggy. After a nice opening seven minutes that saw the Cavs up 13-21, the Wolves outscored the Cavs 56-28 in the next 15 minutes, before closing the half up 54-71. Cleveland fought to the end, closing it to four in crunch time when Collin Sexton scored at the rack, but the wine and gold were unable to get enough stops and quality possessions to close the gap.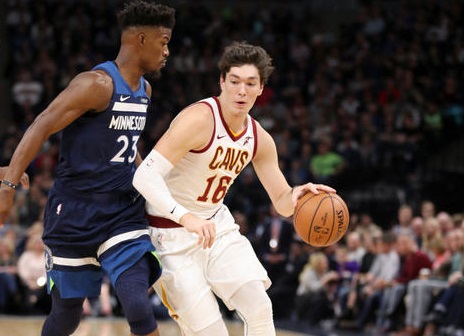 Jimmy Butler fathered all the Cavs in this one, scoring 33 on just 12 shots from the field. He went 10-12 from the floor and 10-10 from the free throw line to finish 33-7-3 in points-rebounds-assists in 33 minutes. Thibs put Jimmy out there with the bench units, and that lineup blitzed the Cavs in the late first/early second to give the Wolves the momentum for their big run. Butler attacked in transition, went to the rack, and hit impossible mid-rangers against decent defense. He also brought relentless energy with four steals and two blocks, and proved why he's among the best two way wings in the league.
The Cavs bench played better in the second half, but Collin Sexton+starters had to close the gap late, and the Cavs rarely had an answer outside of two stops by Osman in the late going. Minnesota also got a lot of calls, and took advantage of them making a ridiculous 33-35 freebies, but make no mistake. Minny out-executed and outhustled Cleveland when it mattered most.
Cleveland was led by Kevin Love who like Jimmy was a perfect 10-10 from the charity stripe, tricking his way into free throw efficiency, but Kev went just 6-19 from the field, missing a lot of looks from the left wing/break. But Kevin, like many Cavs settled, for mid-range Js at times when he should've worked for a better shot. When he did work for a better shot, he ended up with plays like this fantastic reverse dunk to close the first half (before a Wiggins 15-footer).
Love was beasting on the boards though with 19, and added seven assists, including two or three outlet touchdown passes. Love finished +3, but his shot chart included a lot of misses, and his mid-range J was missing entirely (below). Still, a pretty stellar effort from Kev who played 39 minutes in the first time since I don't know when. Don't know if that minute count is sustainable.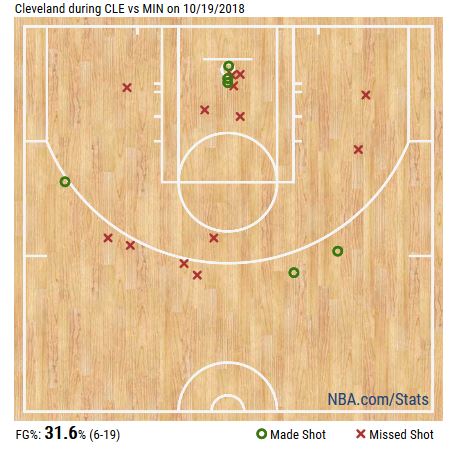 Also leading the Cavs? Their current best playmaker, Cedi Osman. Cedi frankly made Ty Lue look stupid for not playing the Turk more last season. Cedi is currently far and away the Cavs' best point man. When Osman was the focal point, the offensive sets, looked dynamic and varied. The Jedi led the Cavs with +8 in his 35 minutes on the floor, with 22 points and eight dimes. It was probably just foul trouble that kept him from playing more. A couple of ill advised fouls when the Wolves were in the bonus in the second quarter were the primary blemishes to his night.
And shooting? Lordy, Osman's shot looks dialed in. Cedi went 4-7 from three and his form looked fantastic. He was slashing with and without the ball too, driving and finishing, cutting, scoring in transition, and taking advantage of switches in the post. He had a chance to cut the game to one late, and missed a pull-up trey in transition, but it was the kind of shot great players take, and greater players make. I loved the confidence.
And the defense? Cedi was the only guy who cut off Jimmy's forays to the paint, and Cedi had lots to do with Wiggins' inefficient night.
Cedi's passing wasn't dazzling. He just made good decisions and the simple pass when the opportunity presented itself. He showed great chemistry with the Cavs' starting bigs, dropping three dimes to TT, and three to Kev. Cleveland's announcers praised his decision making more than once. He just plays with a high basketball IQ. Check this play out where he steals the inbounds and makes the simple pass to a cutting Thompson who (amazingly) finished from 12 feet.
Tristan Thompson was a mixed bag. Yeah he finished with 14 and 10 in 36 minutes with a couple dimes. And yeah, he was +3. Certainly, he finished better this game, as his hook shot is getting more and more effective, and he had a couple really nice catches and deliveries. But man, does Tristan ever clog the lane. He just kind of camps out there waiting for O boards sometimes, and when he is cutting through he doesn't seem to clear out and draw his man with him. When the Cavs needed a bucket late, TT's inability to stretch the floor clogged the paint and made it difficult to get a bucket at the rim.
Tristan's constant presence around the rim was also part of the reason Karl-Anthony Towns had four blocks, a couple of them resounding (see the highlight package up top where he pins Cedi's shot to the backboard). KAT added 12-9-2 but only got 10 shots. Still, his ability to step out and calmly drain a triple completely flummoxed Thompson. KAT was 2-2 from downtown. But I gotta think he and the Wolves would rather he get more than 10 looks compared to Wiggins' 21 shot attempts.
Andrew Wiggins only made eight of those, and he went 2-7 from mid-range, which can't thrill the coaches. Even his Cleveland hate dissipated as the game wore on and he seemed more and more pedestrian. Yeah, he finished with 22, but it took him 21 shots to do it. Wiggins spawned several great comments on the live thread about how he plays like a hall of famer against the Cavs and no one else, or this gem that came after Wiggins abused Rodney Hood on the left block (why Wiggins doesn't post more often is beyond me. The dude is so long and jumps so high, he's almost unguardable there).
Biggest issue with Wiggins as far as I can tell has always been 1. his effort/prep game to game 2. His complete distaste for defense and 3. His shot selection. If he cleans up all three he becomes a really good player me thinks. -John B
Taj Gibson was super active all night, but also fouled the crap out of guys and never thought he was actually fouling the crap out of guys. Taj finished with 13 and 8, with four fouls. (It should've been eight). He was also a team low -9 and was definitely the weak link among the Wolves' starters. Taj does stretch the floor some though. He shot several Js and even a three.
The Cavs' starters mostly played the Wolves to a standstill, but the bench got smoked in the second quarter when Collin Sexton, Ante Zizic, and Jordan Clarkson were absolutely abused by Derrick Rose who finished with 12-4-8 and was a game high +20 in just 23 minutes. Rose destroyed them in transition, in the pick-and-roll, and Collin looked lost on D. Rose was a part of the Jimmy led bench lineup, and the chemistry is still palpable.
A frequent recipient of Rose dimes? Anthony Tolliver who chipped in 11 on 3-7 from downtown and +15 in 20 minutes. Right now bigs who can shoot are an enormous problem for Cleveland. Two of Tolliver's treys were of the "absolutely wide open" variety as no one bothered to recover to him at the line or pick him up in transition. Tolliver got away with a BS play when he stuck his leg out on a triple attempt and Rodney Hood got called for the foul, which earned Anthony three freebies. The Wolves got one extra when Ty Lue got t-ed up. It was the most animated I've seen Coach in a while. Lue also looked like he wanted to cry in the second quarter u t.
Yes, Tyron Lue got severely outcoached in this one. Not matching Cedi's minutes to Jimmy Butler's was a mistake and part of the reason the Cavs' backups got roasted against Butler. Jimmy, Tyus Jones, Rose, Dieng, and Tolliver just absolutely annihilated the Cavs second quarter lineups which included Sexton, Hill, Clarkson, Dekker, Osman, Korver, Zizic, and Love. Ty kept flinging spaghetti and these lineups clearly had little chemistry and were subbing in and out so much everyone looked lost on both sides of the ball. The only thing that might have enabled the Cavs' comeback attempt in the second half was a head injury to Sam Dekker who left the game after he was clocked on a drive by Gorgui Dieng.
Coach still doesn't know who to play, and the Cavs are leaving shooters wide open routinely. David Nwaba got a DNP while Sam Dekker went -13 (five points) in nine minutes. Check out Sam getting yet another dunk attempt knocked out of the sky, this time by Dieng who almost palms the ball out of the air. Seriously. Why is this scrub playing? Woody's been obliterated at the rim in like the last four games he's played in. I think there's a snake in his boot.
But that's not as egregious a sin as playing Kyle Korver and not running any plays for one of the best shooters in NBA history. Korver took and missed one shot in five minutes and had no three-point attempts. Kyle was -8 in five minutes but he's sharing the floor with Sexton and Clarkson who were simply not passing, while the Cavs weren't running any sensible sets for Threezus.
Jordan Clarkson's teammates raved about him in preseason. It's easy to see why. His jumper and finishing ability were on display in this one. Clarkson routinely kept the Cavs' offense afloat with his ability to hit tough shots and deliver nifty finishes around the rim. Indeed, his shooting was efficient with 19 points on 14 shots in 24 minutes. But his turnovers were absolutely brutal as two led to runouts. Jordan was a part of the comeback parade in the early fourth, but he was also part of the fire drill lineup in the early second. He was a mixed bag defensively. He had a big block and steal late, but yeah. That second quarter was a mess as this horribly demoralizing turnover attests. WTF was this set, Cavs?
Jordan had decent chemistry at times with Ante Zizic who's posting a PER above 25 in two games this year. Zizic is a load offensively, and was a tough cover at certain points for the Wolves, and a huge target on the roll. He finished with 5-1-2 in 11 minutes. He can post or finish in the p/r, and shows good vision with two dimes out of the Cavs' high-post dribble handoff sets (mostly a result of Clarkson cutting hard and getting downhill). But he was routinely abused in the pick and roll, and the coaches and his teammates are doing him no favors protecting him in those situations. And pick-and-pops? Forget it. ZZ does not like to chase guys out to the three point line.
Rounding out the Cavs' starters were George Hill and Rodney Hood who were just kind of meh. Both went 0-2 at the three point line and both have to start shooting better. They combined for 17 on 17 shots. George was +7 for the game and played passable D. Hood had some nifty finishes but both just missed too many Js. He also got baited into going up for a shot on a drive and got swatted by KAT, leading to a Butler dunk the other way. Cleveland had just too many of these four point swings caused by bad shots and turnovers and poor floor balance.
Finally, Collin Sexton. Collin was a huge part of the problem in the first half as he just got rooked soo often. Here's George Teague shredding Collin with a simple crossover when Teague goes away from the screen and gets right by. Sit on the right hand, YoungBull.
After a disastrous first half, though, Sexton shot the ball well in the second and brought energy coming down the stretch, picking up full court and playing much better defense. He really enjoys the left baseline jumper and was 3-3 from there. He also deposited two fantastic finishes late: first driving into a sick up and under, and second, betting the biggest basket of the game as he burned rubber to the rim in transition and finished on the left side over three Wolves to cut the lead to four.
Sexton finished with 14 on 6-9 from the field in 23 minutes, favoring long twos over threes. Playing mostly off the ball, he had just one dime as he was primarily a shooter (or a watcher of Clarkson). Collin committed no turnovers, but posted a game low -15 despite being a part of the comeback crew. That tells you how much of a tire fire his first half was. Also, despite how fancy those last two finishes (above) were, Ben's right. He's taking off too early.
Sexton also had the biggest miss of the game when he took a terrible mid-ranger against Teague and KAT with sixteen seconds on the shot clock when a make would've cut the game to a single possession with 3:30 left. He had lots of options here: Nash, kick it back to Kev, get into the body, pocket pass. The problem is he's not creating any separation when he gets around the corner and he's letting Minny ice him easily. The shot isn't the worst option, but Cleveland never recovered after this miss.
After that miss, the Wolves got bailed out by a ridiculous foul call on Love during a pedestrian Jimmy Butler drive that stretched the lead to six. Then Jimmy  sealed the game with this steal by peeling off Cedi in the left corner and nabbing the ball from Kev after a very bad left elbow entry pass by Clarkson. Love got credited with the turnover, but this was yet another Clarkson poor decision which turned into a runout for Jimmy and Taj Butler (…so many ex Bulls)…
Cedi kept it interesting with a clutch triple 30 seconds later, and after Clarkson blocked Teague in the lane, dribbled into another trey but missed. The Wolves obliged the Cavs with a bad pass that went through Teague's legs in the right corner, but Kevin Love forced a three that missed. Teams traded attempts at the rim, but the officials were calling no fouls at the basket, and no team could get it to drop during the scrums until a Teague 6-footer with a minute left pushed the lead to seven.
Osman gave the Cavs a glimmer with yet another trey (I told you he was good this game), to cut it to four with 47 seconds left, out of a gorgeous pick-and-roll with Sexton and Love.
Butler calmly dribbled into a 22-footer over the outstretched arm of Kevin Love, KAT blocked Kev at the rim, and the Wolves won the free-throw game to put it away. We all loved the fight, but Minnesota outplayed them and it's hard to crawl out of a hole.
I gotta think Froggy's a fan of this Wolves team, and I gotta think that after this game, Thibs' and Glen Taylor's phones are ringing with Butler trade offers again. He's a guy you could build a championship contender around, if he wasn't such a jerk.
Yeah, I'm talking 'bout that man, Jimmy Butler
Put the whooping on the Cavs, they's imposters
I ain't gon' lie, Cedi, you's a baller
But Jimmy Butler is your father