Well folks, it's hard to believe, but we're about to tip off our 10th season of Cavs: the Blog, tonight. This blog was started way back in 2008-2009 when John Krolik spun up this lowly site for the ESPN TrueHoop network. The oldest post on this site was January 7, 2009, but I believe that a form of it may have existed before we went to WordPress. Regardless, it's our 10th season covering the Cavs, and in that time the Cavs have gone from championship contenders to, record setting losers, to eventual NBA champions, thanks to the presence (or absence) of LeBron James. And now we embark on a completely new chapter with a sense of excitement for the unknown that many of us haven't had in a long time.
It's been quite a ride, and we've been blessed to have you along for it. John Krolik published the following CtB manifesto almost 10 years ago, and we and the Cavs have done a damned fine job of living up to it.
In all seriousness, here are the goals for this here site, which I reserve the right not to meet:

-Recap every game possible (I have league pass, but I also have other responsibilities) in a comprehensive and enlightening manner-stuff you hopefully wouldn't just get from reading an AP recap or a box score.
…892 recaps later, we've brought you the highs the lows, and everything in between, as we try to keep it funny and informative. I'd give us a passing grade on the ole manifesto. I'd like to thank the folks who've done recaps every game for 10 years: Ben Werth, Carson Zagger, CLF, Colin McGowan, Cory Hughey, David Wood, Elijah Kim, EvilGenius, Excl, John Krolik, Joshua Martin, Justin May, Kevin Hetrick, Mallory Factor, Mike Schreiner, Mitch Suchan, Patrick Redford, Robert Attenweiler, and Tom Pestak. I'm sure I'm leaving a couple folks out who have emailed in the last decade. Thank you all.
-More than just report pertinent news like injuries or trade rumors or struggles, but try and provide a perspective on them you won't get anywhere else.

-Do our best to provide a subjective but fair spin on the team, somewhere in between major-network sterility (darn you, journalistic standards!), and knee-jerk reactionism (OMGGGGZ HOW COULD U NOT SAY THE CAVS AREN'T BETTER THAN THE JORDAN BULLS MAYBE U SHOULD STOP EAST COAST BIASING AND REALIZE THAT BOOBIE IS DA MAAAAAAN!)

(Sidebar: This is not to suggest that we do not believe Boobie is the man.)
We've done this from having Sam Meyer on podcasts to talk about Isaiah Thomas' hip, to Ben Werth break down the (many) struggles of Jordan Clarkson, towards my takedowns of Kyrie Irving's defense. And OMG have we broke down trades from fake trades to real trades, we've sucked the air out of the room on trades. Sure, sometimes we've reverted to knee-jerk reactionism, but only because the Cavs traded a knee-jerk for a hip-jerk.
Also, Boobie was the man. Until he wasn't.
-Give you off-day stories that make you laugh, see something differently, provide you with argument fodder for your friends, and more than anything are just fun to read.
Gotta admit, we've struggled with this of late, but we're trying. Still, we've been mostly on the ball during the season for 10 years, and we've tried to be funny and entertaining throughout. There's been pieces I've been really proud of and pieces I cringe when I read. And there have been pieces that slayed me in the laugh department as recently as EvilGenius' hilarious writeup of Tuesday's podcast.
-To provide a community that can make you feel like you're just outside of the Q even if you're thousands of miles away.
If it's your first time here. Welcome to our pleasant beach community. We even accept goldbrickers.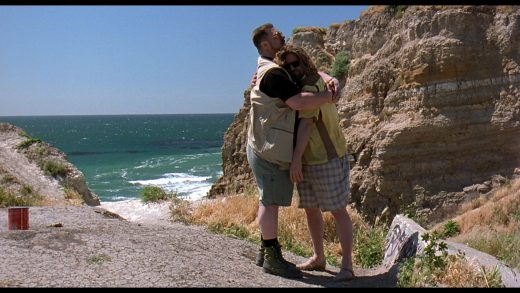 -To avoid using cliches, except when necessary, as it was with the last bullet point.

-To get a banner at some point in the future.
Totals: multiple banners; one ring; many many many clichés (we've even invented some). Every cliché was necessary. I swear.
-To make AWESOME CUSTOM T-SHIRTS THAT ARE CAVALIER INSIDE JOKES.
Hells to the yeah! Here are some tees! We even raised money for cancer with our first tee! Who's up for a 10th anniversary tee!? Does the Boobie Gibson Shirt seem completely inappropriate now?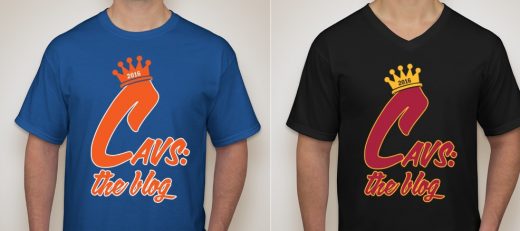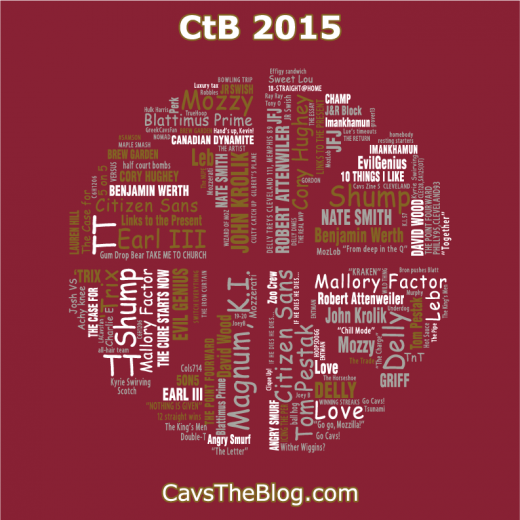 I've spent some time as a journalist. Journalism is great. But for this project here, I'm putting on my creative writing hat to bring you stuff you won't see anywhere else, but more than anything this blog is written by someone who loves this game, loves this team, and knows them both like the back of his hand. Hopefully that'll allow me to tell you some new information, but most of all I want all of us to have a great time. Stick around-it'll be worth your time.

Sincerely,

John Krolik

Founder and Grand Viceroy, Cavaliers: The Blog
Thank you, John for setting our mission. And here's to it continuing for many years to come, may we live up to the words in the final paragraph of your manifesto. There will be some changes around here in the coming month as we steer CtB into its second decade. You might have caught the pop-up window on the home page. We're experimenting with ad-sponsored video, but we'd like your feedback on how it's working out.
If you don't mind it, please let it play for 10 seconds before you close it so we can start registering impressions and generate a little money towards the cost of the site. As we've said before, we don't make anything on this labor of love, and have raised more for charity over the years than we ever raked in. If you have a change you'd like to see here, please let us know, and definitely let us know if there's an article idea, site change, or podcast contribution you'd like to make.
Thank you everyone who has contributed to the almost 4000 pieces we've published, including the recappers I mentioned above, Ben, Carson, CLF, Colin, Cory, David, Eli, EvilGenius, Excl, John, Josh, JMay, Kevin, Mallory, Mike, Mitch, Patrick, Robert, and Tom. Also, thank you Ryan Braun, Arch Stanton, Phil Hubbard, and TheOtherJason for your pics and posts on the comment board; our only intern, Briana Contreras; Mark Cameron, Mark Neal, James Michael Kenny-Prentiss (who we hope will return safe soon), Dani Socher, Sam Meyer; TrueHoop founder, Henry Abbott, Kevin Arnovitz, RC Kim; Eli Kim for running our twitter, @CavsTheTweets; and Mallory Factor, the founder of Cavs: the Podcast. Thank you to all of our podcast guests, too! Thank you to Brian Windhorst who gave us our biggest story ever.
Let me issue a heartfelt thank you to our many long tenured commenters over the years (there are too many to name, and I'm too afraid I'd leave some out) at the end of tonight, there will have been over 278,000 comments since we started. I know I read every one since I started here. You make this the pleasant beach community it is.
Thank you to the Cavs and every player and coach we've had the pleasure of being entertained by for the last ten years There are too many to mention.
Most of all, thank you to our readers, who've put up with us turning into old men, and yet still read.
Finally, I'd like to thank my co-owners, EG, and Tom. The work you do here means a lot, but your friendship has meant so much more.
Feel free to share your favorite moments, disappointments, articles, and laughs. Here's to 10 more years and more Cavalier banners at CtB. As always, go Cavs!