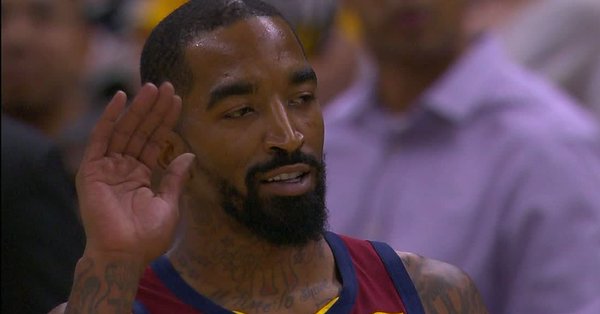 Missing Kev, Tristan, Hill, Korver, and David Nwaba, this game played out as a pleasant surprise to those of us who were still stinging from a Tribe playoff loss. That game that wrapped virtually as this game started, and the Cavs used early momentum, consistent attack, and a disengaged Celtics' attitude to run out to as much as a 21 point lead as the starters dominated and the guys fighting for roster spots held on to a double digit lead to close out the Leprechauns.
First Quarter
The Sexton, Hood, Osman, Dekker, Nance lineup raced out to a 9-2 lead as the wine and gold D was decent and the clover O wasn't. There were a couple nice buckets as Cleveland ran and caught Boston in mismatches leading to things like an easy turnaround by Nance over Tatum, another pure Sexton three-ball, and a nice delivery and finish from Collin to Larry.
Sexton had three quick jumpers score, and his J looks very accurate so far. The team was humming 18-10 when a J.R. triple swished and then the fireworks started. J.R. got arm-barred on a rebound by everyone's least favorite Aussie, Aaron Baynes. Souper Mario responded with a two handed shove. Marcus Smart channeled his inner Conor McGregor to try to take on J.R. and half of his own teammates who were holding Marcus back. I'll be honest. We all thought J.R. was gone and were shocked when the officials sent Smart to the showers, but not Swish. A grinning J.R. waived bye-bye to Smart as he headed out, inspiring yet another frantic surge of output from the internet meme machine, and a whole lot of post-game bs. It should be fun the next time these two play.
Despite the officials tightening up the game after, it got fun as J.R. canned a yolo right baseline iso-J, and Clarkson hit two yolo triples which were naturally unassisted. Semi Ojeleye canned a three in response causing Ty Lue to try to insert Kyle Korver for an answer, before Ty remembered that Korver wasn't active for this one (I kid). Isaiah Taylor closed this one out by getting to the line for two and then grabbing the ball as Brad Wanamaker inexplicably coughed it up and racing for two more before Jaylen Brown and Jordan Clarkson traded clanks to make it a 28-21 quarter.
Second Quarter
After a couple Ike Taylor misses, a Zizic tip-in started off the scoring and was a harbinger of things to come before the starters subbed back in at the 10:44 mark. Cleveland pushed the pace and got to the rim or the line as they held off the Celts. Sexton canned another three before Sam Dekker absolutely broke Jason Tatum's ankles on this sick crossover, to get a layup and kick off a 9-0 Cavalier run. The only concerning thing about this stretch was Nance's inability to avoid racking up fouls as he picked up four in the first half.
The defense, at least around the basket was spirited as there were a lot of contests, and the Cavs fought for loose balls while the Celtics were playing at an, ahem, lower intensity. Sam Dekker even canned a left wing trey towards the end before Marcus Morris (the only Celtic that looked like he gave a crap) scored eight in the last three minutes to make the score (after the refs upgraded a Cedi J to a three-ball on halftime replay) 58-43, Cleveland.
Third Quarter
The starters rested while Taylor, Clarkson, Smith, Preston, and ZZ started the second half against the Celtic main-liners and acquitted themselves well. It started out with a nice p/r from Jordan to Ante which got the big guy an and1. Billy Preston made a three-ball, but he also threw up a good bit of garbage. He needs some seasoning, but you can see why his shooting and body excites the Cavs' scouts. Ante Zizic kept pouring it on, and played like the biggest guy on the floor, dominating around the basket on offense. He ran the floor, too, which netted him this scintillating catch and dunk off a borderline Jordan Clarkson pass.
Mr. October, Jordan Clarkson, got aggressive with the drives, the shots and the dimes as he got himself to twelve points, and the Cavs kept the beantowners 16-20 points away for most of the quarter. Only Terry Rozier and Marcus Morris seemed engaged for Boston, as they both registered 17 before checking out.
Bonzie Colson and the old man, Channing Frye, subbed in and Channing got a nice applause from the crowd, which pleased him. Both did nice work on the boards and inside as they combined for 11 boards in 18 second half minutes.  Play got pretty ragged towards the end of the third, but Cleveland was in control as John Holland drove to put the Cavs up 89-69 to close the period.
Fourth Quarter
This was roster watch time as guys were battling to be the 15th man or get one of the Cavs' two-way contracts. You'd have to say that this one didn't belong to Kobi Simmons or Levi Randolph as they both appeared to be incredibly fast and athletic, but almost too fast, as they both showed an inability to slow it down when they got to the rack in transition and combined to go 3-11 from the floor, missing multiple layups.
John Holland, on the other hand, looked under control, dropping seven in 12 minutes on just three shots. Still, he didn't show the defensive intensity that he probably needs to to make the squad. The consesus from the commentariat is that Holland is probably close to his ceiling: a competent end of the bench guy, but that's probably all he'll be. As an end-of-the-roster dude for a rebuilding team, he'll probably lose his two-way to an up-and-coming player with more potential.
Guard Walter Lemon Jr. and the french Glen Davis, Guerschon Yabusele, dominated the action for the Celtics as they cut the lead to 12 before Ante Zizic and Isaiah Taylor came back in to stop the bleeding for Cleveland. Ante kept piling up the points against the shorter (but wider) Yabusele and Isaiah Taylor provided steady playmaking and timely scoring from the point guard spot to extend the lead back out to 18.
The Celtics replaced Yabusele with 27th pick, Robert Williams III, and Ante ate him up too, getting to 20 points on an and-1. Zizic was fouled by Marcus Georges-Hunt who had a nice game for the Celtics with seven points in 12 and a team leading +9 from the floor. After Zizic's 20th, a flurry of bucket trading left the score 113-102, Cleveland.
Thoughts
After two games, you'd like to think that the of the three rosters spots available, the 15th, and the pair of two-ways, Preston is probably a lock for one of the two ways. He's the exact kind of player you want in that spot: someone whose rights you control, who has upside, and who needs to play in the G-League. I fell in love with Bonzie Colson, as I counted three blocks and a natural nose for the ball and box-out position. The Draymond Green comparisons are not daft. Ben Werth agreed.
He has a natural instinct of for when to leave his primary assignment to challenge a shot. His length confused a lot of Celtics who thought he had no shot at the ball. Dray is still more athletic, but Colson is a better shooter. If he ends up being 70 percent of Green, that is already a HUGE lift for the team.
Colson's offensive timing was off as he was 0-3 from the floor but he definitely looked like a game changer and played much bigger than his height. I'd like to see him get a legit shot at the backup four spot at some point this season, as I just don't think Dekker is a long term solution there, and Bonzie could be really intriguing. As such, I'd lock Colson into that 15th spot.
As for the other two-way, I gotta give it to Isaiah Taylor, with a nod towards swapping he and Colson in the 15th/16th (two-way) spot depending on how the rest of the preseason shakes out. We don't see these guys in practice, so we don't know what having them around the roster every day will mean, but the Cavs need a legit third point guard (and I don't mean Jordan Clarkson), and Taylor has played in the league for a couple years, and racked up almost 1200 minutes with Atlanta last year (who, admittedly, were trying to tank). Yes, he went 20-80 from downtown in 16-17, but he has a burst, an ability to get to the rim, and racked up 206 assists to just 84 turnovers last year. We'll see what the future holds.
As for the rotation guys, I don't think any of us could be more pleased. The team won the rebounding battle 51-44 and had eight guys with at least five boards. The offense revolved around dribble hand-offs, forcing transition, pick-and-rolls, and post-ups. It's hard to gauge it too early, as Boston isn't putting much defensive effort in, but it's fun to watch the ball moving. It rarely sticks.
ZZ bounced back in a big way after a bad first game. Sexton is 4-5 so far this preseason from downtown and dropped 13 in 19 minutes. I think we'd all like to see him swap out some of those long twos for threes, though.
Chris K asked on the live thread about Sextons' lack of assists: just two dimes in 42 minutes of play. But plenty of us, including myself were happy to defend him. I'm actually super pleased that Sexton isn't a dime-hunting ball hog. He's content to make a simple swing pass and run the offense: creating the initial action which often leads to a bucket, in addition, he's swung it for the open three multiple times just to see guys miss, or gotten guys trips to the line (59 freebies for the Cavs in the first two games). Don't be concerned about Sexton's or the Cavs' lack of assists.
As many people in the live thread also noted, this might be a team where there are a lot of guys with 2-4 assists per game instead of one guy racking them all up – bad for fantasy, good for basketball. The team's most gifted passer might be Cedi who had another nice all-around night, as he went for 7/6/4 (p/r/a) in 18 minutes with zero turnovers. Yeah, he was just 1-5 from three, but he's going to have to train himself to step into shots without hesitation. Work out the kinks in preseason, young Paduwan.
Rodney Hood? Got himself to the line a couple times but went 0-5 from the floor. e still had a decent floor game, getting on the boards and actually blocking a shot. Nance looked solid with 10/5/2 but is still foul prone. Some guys get a rep and just can't shake it.
Jordan Clarkson added 12 on eight shots, plus five boards, and three dimes, but as Ben told me in an email, "Clarkson had four shots before he made a single pass. Seriously. I can't stand him. The rest of the team has been YOLO fun. He has been YOLO misery." After a feature by Chris Fedor in Cleveland.com yesterday, it's clear Clarkson has made some life changes to improve his game. If he keeps shooting like this, we'll live with him… begrudgingly.
The Cavs host Indy Monday for the last real preseason test before a scrub finale in Lansing against the Pistons on Friday. We're just 10 days away from a regular season tipoff in Toronto. Until then, go Cavs.