High fives all around… the Cavs are back! Time to snag a selfie with your lone remaining All Star and strap in for what promises to be a fun rollercoaster ride through a brand new kind of season. There's a ton of new faces to meet, new plays to run and new territory for this once perennial contending squad to explore. How high can they rise? How far might they fall? Where they end up is just about anyone's guess… so a quintet of C:tBers took their best shot at it.
Eli, JMay, Excl, EG and Nate threw a few darts at the proverbial board, hoping to hit a bullseye or five. We mostly avoided mentioning the departure of that kid from Akron in favor of other moves, tried to determine some realistic goals for the wine & gold, hit shuffle on the starting five, drew straws on the nearly departed and did our best to prognosticate the outcome of this season. One thing's for sure… whatever the destination for this team, the journey looks to be a potentially enjoyable one.
1) Without invoking LeBron, what was your favorite Cavs off-season move, addition or subtraction?
Eli: My favorite Cavs off-season move was bringing back Kevin Love in a long term deal. While many people expected the Cavs to fold up and go back into "tanking" mode, I'm a believer that you make your own luck. Teams like the Rockets, Warriors, Pacers, Jazz, etc. did not build their cores by tanking and only selecting top-5 players in the draft every year. While GM Altman isn't perfect, he's right in saying that going straight to tanking erodes the culture that the team has built over the last four years. In an era where there is less and less loyalty, Love and the Cavs have demonstrated more loyalty to each other than the other star players to don the Cavaliers uniform lately.
JMay: I have two favorite moves. The first is re-signing Kevin Love. He wants to be here, I want him here. That's about all the reason I need. The second? Re-signing Channing Frye. He is the exact type of veteran I want on the end of this bench talking to all the young guys.
Excl: It might be the moves that they DIDN'T make, such as signing someone like Carmelo Anthony to a max deal as some sort of last ditch all-out playoff effort, in an attempt to try and show-up He-Who-Must-Not-Be-Invoked. As far as the guys the Cavs DID bring in, I like that they brought back Channing Frye. As a veteran presence that can keep the locker room loose, he's probably the best. Although, not bringing RJ with him and losing Allie Clifton to the Lakers is sort of like acquiring Peanut Butter without the Jelly or crust-less bread that's been cut into little butterflies.
EG: What's not to love about Love showing love to Cleveland? Having said that, I'm still probably most excited about the addition of the Young Bull, Collin Sexton. I already love the kid's fire, grit and fearlessness, and he'll bring some intangibles to this team (I can hear Ben's eyes rolling from across the pond). Yet, this is only slightly more exciting to me than the departure of Jeff "I never met a three I didn't like" Green. Addition by subtraction.
Nate: I'd be lying if I said anything other than Channing Frye. From a list of players whose day to day totally belied their non-winning reputations, Frye, Richard Jefferson, and J.R. Smith all started as players I was extremely wary of, and who eventually won me over completely in 2016. Even if it's just for nostalgia's sake, Frye's return gives the team a guy who keeps it light-hearted yet professional in the locker room, and who still has enough game to be effective. I expect some Frye/Korver pindowns to give teams fits on random nights in January when Ty is dipping deep into his roster. Even if it's just to keep K-Love from getting the January North Coast blues, it's a great move.
2) What does success for this year's team look like?
Eli: Success for this year's team would be a playoff berth. Around both Love-centric half court game and fast paced run-and-gun style with Sexton/Clarkson/Hood/Osman, the Cavs will try to develop their young talent while refocusing their team to their strengths, which will be Kevin Love's offensive game and the try-hard style of Collin Sexton. For the Cavs, the goal of making the playoffs should be their motivation to show the league that LeBron did have help in those previous years.
JMay: I am 100% on team try hard. You can get a franchise player at any point in the draft. I'd rather not sacrifice wins now for future wins. A successful season would be making it into the playoffs. A really successful season? Making it to the second round of the playoffs. The MOST successful season? Making it to the playoffs while the Lakers miss altogether.
Excl: With the moves that were made, and the contracts that are currently on the books, the team doesn't have many options other than to "try hard" and make the playoffs this year. Reaching the playoffs is probably the overall goal. A first round win would be exceeding expectations, but I just can't see this team getting past Philly or Boston. I'd like to see them develop an offensive identity without the shooting forward from previous seasons, and become something similar to the Pacers of the past year.
EG: NBA Champions. If you're not first… you're last. Okay, not really. Even Ricky Bobby would concede that just getting back on the track to winning would be a good goal for this year's team. So, actually, while a playoff berth is probably what the Cavs will consider success… I'd honestly be satisfied with a team that competes night in and night out as they deliver enjoyable performances. Grow the young guys alongside vets who want to be here. Sign me up for that anytime.
Nate: Let me throw out some clichés here, like "establishing a winning culture." Yeah, that's one. Or, "finding young talent that can be a part of a sustainable path to year over year improvement." Success means Cedi Osman is on a path to being a high level starter, Colin Sexton has an all-star game in his future, and Larry Nance can be a 25+ minutes per night NBA player. Playoffs or close with that group playing winning basketball is success. Kevin Love, perpetual all-star is success. Moving fungible contracts like J.R. Smith's and George Hill for draft picks is success.
The other part of success? Jettisoning what isn't working. If the defense still looks like garbage sans LeBron, "then hey hey, ho ho, Mike Longabardi's got to go." If the young guys Koby Altman brought in: Colin Sexton, Bonzi Colson, Billy Preston, Rodney Hood, Jordan Clarkson, and Larry Nance all look like busts or players whose contracts don't match their value, then "hit the road, Koby."
3) Who's your starting five vs. who you think Ty Lue's starting five will be?
Eli: My starting five would be Sexton, Hill, Korver, Love, Nance. Hill, Korver and Love provide floor spacing, while Nance can be a great energy player who also protects the rim on the other end. Sexton would learn via baptism by fire, while Korver would start and get his looks to entice a trade to a true contender. Ty Lue will likely go in a much different direction as indications point to a Hill, Osman, Hood, Love, and Nance lineup which I don't necessarily hate, but at the same time makes me wonder if this year is about winning vs. developing talent.
JMay: I wrote an article about this a few weeks ago, and I haven't changed my mind. I'd start Hill, Korver, Osman, Love, and Nance. This gives the Cavs their best lineup that's got some speed, length, shooting, defense, rebounding, and a few other elements. Unfortunately, it's looking like Lue is going to start Hood. He'll probably trot out Hill, Korver, Hood, Love, and Thompson. Until Lue shows me otherwise, I'm operating under the assumption that he's the same old Tyronn Lue.
Excl: I'd like to have an all-hustle lineup of: Love, Nance, Osman, JR and Sexton. Nwaba would probably be a better "all-hustle" fit, but a dialed-in JR is just a much better player. Lue will probably go with a veteran-heavy lineup of Tristan, Love, Korver, JR and George Hill, play Sexton as 6th man and bury Osman on the bench.
EG: Even though I'm glad training camp and the preseason have been truncated, it would probably behoove Ty Lue to have a bit more time to see who fits together. I'm all for playing the most talented guys, even if they're rookies. So, I'd go Sexton, Korver, Osman, Love and Nance. It looks like Lue will alternate Nance and TT depending on the opponent, and seems committed (at least for now) to Cedi at the three, but his Hill & Hood back court leave me puzzled.
Nate: I've seen enough to decide that the starters should probably be: Nance/TT (I like the split start philosophy of Ty), Love, Cedi, Nwaba, and Sexton. While starting Hill is the safe move, Sexton should take over the reigns as soon as the coaching staff feels he's ready. As for Rodney Hood, there's plenty of "playmaking" on the starting lineup with Cedi, Love, Nance, and Sexton/Hill. I'd rather have a defensive tone setter who can actually grab a rebound in 20 minutes (unlike "gator arms" Rodney the other night). Though, that might put too little defense on the second unit. Still, there's another caveat: The Cavs don't control Rodney's rights next summer. They do control David's. Invest in long term assets you control, folks.
4) Who, if anyone, gets traded by the deadline?
Eli: Korver and Hill are most likely to be traded at the deadline. Contenders would love Korver's game, while Hill can help on the court but also provide salary relief for the offseason with his non-guaranteed contract next year. David Nwaba might be another player teams might covet as a young 3 and D player, while Hood may want a change of scenery after betting on himself by accepting the qualifying offer. The only players that will likely not be traded are Love (as he can't be for 6 months) and Tristan Thompson (because no one wants that contract).
JMay: One or more of Hill, Smith, or Korver have got to be gone by the deadline. I'd like to add Thompson to that list, but that'd be too good to be true. My guess is it's Korver. A contender will want him for the playoffs.
Excl: If the team is a dumpster fire, and some other team needs a rental, then George Hill, JR Smith and Kyle Korver are all on somewhat attractive non-guaranteed deals next season. Hood on his one year qual-offer might get some interest as well. Everyone else is either a young piece that the Cavs would want to keep or a vet on an expensive 2-year deal. I don't see how Love gets traded. He will either be lighting it up, proving his worth as an all-star and therefore leading the Cavs to a playoff push, or be an overpaid underachiever with a $29M a year contract that nobody is going to want.
EG: The Cavs would be silly to not try and get whatever they can for Hill or J.R. Unfortunately, that might not be more than a second rounder in 2022 and a few tokens at the Jack Casino. Who knows though, as both are allegedly capable of helping a playoff team and are on decent trick deals for next year. The optics on moving Love would be pretty bad from both a loyalty and seat-filling perspective, not to mention it would be hard to get equal value. Sadly, La Flama Blanca's days are also probably numbered, since Korver is exactly the type of gunner most contenders will crave at the deadline. Maybe the Cavs get lucky and replenish the first rounder he cost them initially.
Nate: Happy trails, Kyle. If the Cavs don't look in the running for a playoff spot, and a team offers them anything that could turn into a high second or protected first round pick, the Cavs should take it. Teams can always use more shooting, and Kyle provides it in spades. George Hill is also likely going to a team looking to shed long term salary. (It might even happen as a part of the Butler trade). J.R. Smith would seem to be a good candidate, but I think he gets moved after the season (but before the new free agency calendar turns) when his $3.9 million of his $15.9 million is guaranteed and it will help some team shed salary.
5) What's your pre-season grade for the Cavs? What's their final record and fate?
Eli: Can't blame the Cavs for losing LeBron when they made every concession, and had a snake amongst them in Kyrie Irving. The Cavs get a solid "C" grade from me for the offseason for not completely failing, not completely making anyone happy, and just being there. Ultimately, the Cavs will fall short and suffer the Cleveland curse again, going 32-50, giving up their first round pick to Atlanta (11th overall), and Sexton turns out to be Patrick Beverly lite.
JMay: I give them a Bob Ross "Let's get crazy." They went for it with Love and they seem like they really want to go for it this season and give it a good push. I'm down. It'll be nice to watch guys try hard all season, and if they do, they could be looking at a winning season. Call me crazy, but they could end up with a 42-40 record. The East's bottom dwellers are really bad.
Excl: I'd probably give them a "C" … as in: "Could they really have done anything anyway?" Their best player left them, and Cleveland just isn't the free-agent destination that we all hoped it would be. Part of me wishes the team didn't lock up Love to all that long-term money, and that they did make that draft-day trade to go up and get Luka Doncic. But, the current moves are probably for the best. The contracts for most of the roster are still going to be around next year, so one last stab at a playoff push likely doesn't hurt anything. If that doesn't work, they can go into full bulldozer mode next off-season.
EG: I'll go with an L&S (Letters & Science) since the Cavs seem like an undergraduate student choosing to audit a class and waiting for the deadline to decide on a pass/fail grade. There's already been a lot of lip service from management on down eschewing any hint of tanking in favor of gunning for the playoffs, yet they've left ample room to course correct next semester. I'll be optimistic and say 41-41, which could easily net them a 7-8 seed. But, I wouldn't be at all surprised to see them move some vets, lose some "close ones" down the stretch, and stumble just enough to hang onto that lottery pick.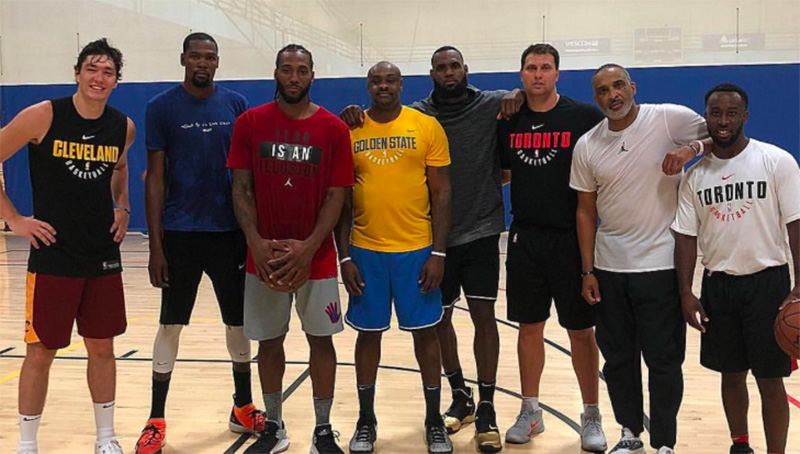 Nate: Cavs preseason grade as a roster? B. Gotta love the way Kev, J.R., Cedi, and Co have approached the offseason (see above). Cavs preseason grade as an organization? D. The Cavs tried to split the baby with LeBron last year, and it was ugly. Adding Rodney Hood and actually giving the Lakers a first rounder for the right to overpay Jordan Clarkson will haunt them. Also, Mike Longabardi is still here, and Phil Handy (also above) isn't. I don't think Cleveland actually had a shot at Doncic, but if they did and didn't take it, then downgrade them an F.
Record: you wanna get nuts? Let's get nuts. 45-37. Cedi establishes himself as a rising star (He's a legit 6-8!), Collin's competitiveness is infectious, and Kevin Love re-establishes himself as the best power forward in the east. Crying LeBron becomes a meme.
Bonus round:
Who is this team's MVP, ROY, DPOY, and Most Improved Player?
Eli: Kevin Love will be a numbers monster and win MVP for the Cavs. Sexton better win ROY or it would be a really bad look. DPOY will go to Larry Nance who will swat a ton of balls, but probably not really protect the rim as great as we hope, while Cedi Osman wins Most Improved Player for his hustle play and Korver-like shooting stroke.
JMay: This team's MVP is definitely Kevin Love. Now that he's the focus of this team, he can really exhibit how much he's grown as a player and a leader. Rookie of the year will probably be Sexton by sheer virtue of the minutes he plays. My underdog choice is Bonzie Colson. DPOY is Nance Jr., assuming this is the year he can get his fouls under control. I'm going to swing for the fences on most improved because it's more fun for me, but it goes to Rodney Hood. That dude was just not playable at the end of last season so it's a low bar.
Excl: MVP: Love. Can't really see it being anybody else, unless Sexton is just off-the-charts good in his rookie year. ROY: Sexton. It's not like he has a ton of competition. DPOY: Nance could probably get a league-wide DPOY if he takes his game to the next level. MIP: Would have to say Osman, just because he barely played last season, and is now set to get tons of minutes.
EG: I want to say Kevin will be the runaway MVP, but I secretly hope Cedi is. Sexton should easily be the ROY for the Cavs, but how cool would it be for Billy Preston or Bonzie Colson to break out? Nance is probably a solid choice for DPOY, yet don't sleep on Cedi and Nwaba. Most Improved will be Cedi, with an outside nod to Rodney Hood and Jordan Clarkson.
Nate: Cedi MVP, Sexton ROY, Nance DPOY, and Cedi Most Improved (in the NBA). And this is all with Kev being really good. But it's a swingman's league, and if the Cavs are going to be good, it has to be Cedi.
Does Kevin Love make the All Star team?
Eli: Love makes the All Star team and turns into Minnesota Kevin. There will be a 30-20 game from him at some point. Book it.
JMay: Yes, KLove makes the all-star game. He should have for four straight seasons as a Cav. This is the year.
Excl: Wow, tough one. If he can figure out how to run the offense through him, then sure why not.
EG: Barring anything unforeseen, all signs point to yes.
Nate: Yup.