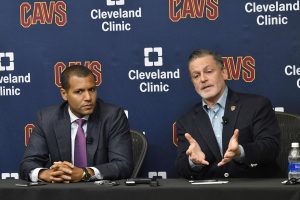 With the Cavaliers in the midst of training camp and the regular season just a few weeks away, here are a few random thoughts that have occurred to me.
—It doesn't look like David Nwaba is part of the rotation right now, and that is going to upset a lot of people who follow the team closely. An athletic player who works hard at both ends of the floor, Nwaba brings the kind of energy Cavalier fans have been craving over the past few regular seasons. Many will be surprised if he doesn't play a significant role for the Cavs. The question is, should he?
—Despite the loss of LeBron James, minutes could be hard to come by on the wing for Nwaba. Cedi Osman is penciled in as the starter at small forward, and the team is hoping that he's a core piece. Rodney Hood will likely start at shooting guard. Meanwhile, Kyle Korver will likely be the first wing off the bench, and deservedly so. The Cavs seem intrigued by Sam Dekker as their backup power forward in small-ball lineups, and that isn't really Nwaba's position anyways.
—That leaves Jordan Clarkson, who looks like he'll come off the bench at shooting guard alongside Collin Sexton. While it seems logical to have a defense-first player like Nwaba on the court with Sexton and Korver, Tyronn Lue seems to think that Clarkson's ability to handle the ball and score could help protect Sexton as the rookie adjusts to the NBA. Clarkson has been one of the better bench scorers in the league over the past few seasons, but you also don't want to see him take the ball out of Sexton's hands too much. Still, Sexton and George Hill can't be the only creators on the floor. At least one of Clarkson or Hood needs to play. I'd personally prefer that Hood starts at shooting guard and Nwaba comes off the bench ahead of Clarkson, but I can see the logic to Lue's thinking. It will be hard to play Nwaba over these guys and still generate enough points to win.
—In general, Nwaba betting on himself with a one-year minimum deal with the Cavs was an odd finale to an odd free agent saga. It's a bit surprising that he couldn't get more than the veteran's minimum from some team, although not a complete shock considering the lack of spending in free agency this summer. It's also odd that he thought a lot of playing time would be available on a Cavs team that has a bit more wing depth than most realize. Plus, it's not like he'll be able to just go wherever he wants next summer. He'll still be a restricted free agent next summer since he'll have just three seasons of experience, meaning the Cavaliers control his future with this team. Maybe he figures that the team will trade some of its veteran wings, allowing him to showcase his talents with more playing time, and earn a larger deal.
—Hood is a player with a lot of flaws. He's a poor defender, doesn't rebound much, and doesn't really create for others. He also doesn't get to the line as much as one would expect for a player with a 22.2% career usage rate, which pulls down his overall scoring efficiency. In many ways, he's a less athletic version of Andrew Wiggins. He puts up a decent amount of points, but it's hard to say that he helps his team win. Hood's disastrous playoff run last season doesn't help his case either. Still,  there are two things that he does do well, shoot threes and create his own shot. Hood's a career 36.9% shooter from three on over five attempts per game. He uses his size to shoot over the opposition from both mid-range and beyond, and has shown that he can run well in transition. On a Cavaliers team that is going to struggle to score on some nights, Hood's shot creation looks like it could be a decent fit on the perimeter alongside the heady play of George Hill and Cedi Osman.
—There's no doubt that last season was a disaster for Hood. He ranked 93rd in ESPN's Real Plus-Minus among shooting guards alone. Nevertheless, he could be a bounce-back candidate. In the first three years of his career, Hood ranked 23rd, 10th, and 25th among shooting guards in RPM. He's certainly young enough that it's possible he could return to the level of legitimate starter by that metric. Whether or not he actually does so remains to be seen.
—JR Smith doesn't seem like a bounce-back candidate, at least with the Cavaliers. To his credit, Smith has come into camp in great shape—his weight loss is evident—and seems extremely committed to being a great example to the younger players. That's all well and good, but there just doesn't seem to be a place for Smith in the team's rotation. Considering how Smith went into a several week funk when he lost his starting spot to Dwyane Wade last season, it's hard to see him dealing well with playing behind Osman, Hood, and Clarkson. Smith is also in a dispute with the league office over whether or not he should have to cover he should have to cover his new SUPREME tattoo. While Smith has a valid point—plenty of players walk around with tattoos that are insignias for other businesses—it's doubtful the Cavaliers will want to deal with the distraction this issue could cause. Considering that Smith is only guaranteed $3.87 million next season, he seems likely to be moved to a team looking to clear up cap space for next summer. It wouldn't shock me if that move happened sooner rather than later.
—The rumored starting lineup of Hill, Hood, Osman, Love, and Nance/Thompson does have a nice feel to it in terms of all-around fit. There's a nice blend of heady passers, shot creators, outside shooting, and rebounding. There's also a lack of athleticism that is cause for concern, particularly on the defensive end, but there's a balance to the lineup that at lot of teams, particularly in the Eastern Conference, just don't have.
—Long shot prediction time. If the Cavaliers struggle, Tyronn Lue will be fired and replaced next offseason by… Tom Thibodeau. Dan Gilbert has long been an admirer of Thibs, and it sounds like he is not long for the Timberwolves.
—The Cavaliers make their preseason debut tonight against Kyrie Irving and the Boston Celtics. Regardless of the outcome and the game not counting, it will be interesting to see the beginning of the post-LeBron years.