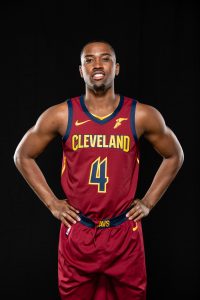 At long last, it's finally here. While it's only been a little over three months since we've last seen the Cleveland Cavaliers together, it seems more like an eternity. That's really no surprise when you consider all that's happened to the Wine & Gold since the Golden State Warriors swept them out of the NBA Finals in June. Since the final buzzer sounded in Game Four, the Cavaliers have drafted Collin Sexton, lost LeBron James to the Los Angeles Lakers, signed Kevin Love to a four-year $120 million extension, and added three new players in David Nwaba, Sam Dekker and (kind of) Channing Frye. Even Quicken Loans Arena has undergone major renovations. Now, as training camp begins for the King-less Cavaliers, there's one more spot to be filled. With 14 players signed to guaranteed contracts, the Cavaliers will decide on their fifteenth player among four training camp invitees, each of whom brings something different to the table. Today, we take a look at each player and their chances of making the final roster.
Taylor is by far the most experienced player among the four, with 71 NBA games to his credit, including 67 last year with the Atlanta Hawks. An extremely quick point guard with decent height at 6'3″ (but with only  a 6'3.5″ wingspan), Taylor averaged 6.6 points and 3.1 assists in 17.4 minutes per game with the Hawks. He showed some ability to get to the basket and was a solid passer while doing so. He also generated a fairly low amount of turnovers at just 1.3 per game.
So why did Taylor have to settle for a one-year non-guaranteed deal with the Cavs? Simply put, he can't shoot. Taylor is currently a career 24% shooter from three, and has shot just under 70% on free throws during his time in the NBA. He also shot just 29% from deep in college, although he hit 79% from the charity stripe. Also, Taylor is already 24 years old, so major improvement is unlikely. Still, in 29 career games in the NBA G League, Taylor has shot 45.6% from three on 3.6 attempts per game, so not all hope is lost.
Considering that he is on a one-year (albeit non-guaranteed) deal rather than a camp deal and has a decent amount of NBA experience, Taylor is easily the favorite for the final roster (and third point guard) spot. Still, he is by no means a lock.
Kobi Simmons PG/SG
More of a combo guard than a true point guard, Simmons became the first player in NBA history to sign a two-way deal when he joined the Memphis Grizzlies after not being selected in the 2017 NBA Draft. At 6'4″ with a 6'6″ wingspan and tremendous athleticism, Simmons uses those traits to get to the basket either in transition or when driving to the rim. He's able to distribute the ball on his drives, a must on this team with it's plethora of three-point shooting perimeter players.
At first glance, it might be surprising that a physical specimen like Simmons went undrafted after his one year at Arizona, but not once you take a deeper look. Simmons is extremely raw in almost all aspects of his game. He gets to the rim, but didn't draw many fouls at the NBA level, averaging just 1.4 free throw attempts per 36 minutes. He averaged fewer than four assists in over 30 minutes per game at the G League level, and his assist-to-turnover ratio was roughly 1.5-to-1 at both the NBA and G League levels, showing poor decision-making the must be refined. Considering he was old for a one-and-done player, it's a bit surprising that Simmons is this raw.
Still, Simmons is just 21 years old and has all the athletic tools needed to succeed in the NBA. There's a reason many Grizzlies fans were sad to see him go. With the Cavaliers now in the "player development business" again, Simmons should get a serious look.
The oldest of the training camp invitees, Randolph will turn 26 this Wednesday. While Taylor and Simmons are lead guards, Randolph is undoubtedly a shooting guard. At 6'6″ with a 6'10" wingspan, the 210 pound Randolph has good size for the position, as well as plenty of professional experience, having played in the G League and overseas since going undrafted in 2015. A mediocre outside shooter during his four years at Alabama, Randolph has been much better as a pro, shooting 39% from deep during the 2015-16 season with the Maine Red Claws, and well over 42% during the past two seasons in Europe. While the three point line is shorter overseas, there's little doubt that Randolph can shoot the ball. His efficient shooting and heady play at both ends of the court give him some role player potential. Working against Randolph is his age, a lack of elite athleticism, and the fact that he has to prove that he can be an elite shooter at the NBA level. He'll have to prove it in training camp to have a chance to stick. Considering he hasn't done it the past three years, it's hard to see that changing now.
The lone forward and rookie of the group, the 6'6″ Colson joins the Cavaliers after an impressive four-year career at Notre Dame. As a junior, Colson was an All-American, who had a chance to be taken in the first round of the 2017 NBA draft, but he decided to return for his senior year at Notre Dame and it cost him dearly. Colson missed a large chunk of the season with a foot injury, and his three-point shooting, an asset that would have helped his draft position previously, abandoned him completely. This caused Colson to go undrafted, and the foot injury lingered long enough that he missed the Las Vegas Summer League, where he was supposed to play for the Cavs. Before, he was a high energy player and elite rebounder with the ability to stretch the floor. Now, he's an undersized power forward with limited range and athleticism, as well as an injury history that has made teams nervous about him.
Still, it's hard to give up on a guy like Colson. While he is just 6'6″, Colson does sport a tremendous 6'11.5″ wingspan. He also has a great motor that helps to make up for his lack of size. He's terrific on the boards, having averaged 10.1 rebounds per game in each of the past two seasons. Colson is also no slouch defending the rim, as evidenced by his having averaged two blocks per game during his college career. He's a high I.Q. player on both ends of the floor, and crafty finisher around the rim. If Colson can prove he's healthy and regain his shooting touch, then his energy and skill set may be enough to offset his lack of height and athleticism as he looks to find himself a place in the NBA.
While it's unlikely that any of these players have a significant impact on the Cavaliers' upcoming season, each brings something interesting to the table. Taylor looks like a legitimate NBA point guard, albeit with some significant warts. Simmons and Colson have the kind of upside that a team looking for talent on the fringes should take a chance on. Randolph could be the kind of steady role player every team desires. While most will likely be with the Cavaliers for only a brief time, it will be interesting to see how each man performs over the next few weeks.