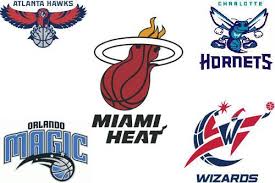 Today our countdown to training camp continues as we take a look at the Southeast Division. Whether they're playoff contenders or making a push to the top of the lottery, the Southeast Division is full of interesting players on flawed teams. Let's take a look.
Team: Atlanta Hawks
Outlook: The Hawks look like a team that will have another high draft pick. Combined with the pick they got in from trading down in the draft with the Dallas Mavericks,  and the possibility of receiving the Cavaliers' first round pick, that's not a bad thing for this rebuilding team.
What success looks like (for this team): 
The Hawks want to be bad, and will certainly get their wish. Their biggest success for this season would be to see Young play a level of basketball that would justify them trading picks with the Mavericks despite
Luka Doncic
still being available. Considering he was drafted by the Mavs, that trade was essentially Young and a future first for Doncic. This is the kind of gamble that shapes franchises for years to come.
Cavalier theft targets? Taurean Prince is a solid young player who could be an important piece for a playoff team for a long time. Prince can shoot, defend when focused, and has begun to create off the dribble. Not bad for a player with just two NBA seasons under his belt.
Preseason Grade: C. As in Confusing. Most of the Hawks' moves were appropriate for a team that will be playing for a high lottery pick, but adding a solid player in Lin who may help them get a few unnecessary wins when they could have gotten even more draft picks in making the same trade with the Denver Nuggets that the Brooklyn Nets did seems a bet counter-intuitive to their grand plan.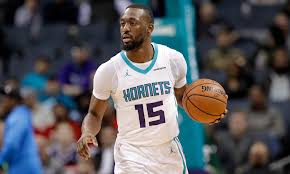 Team: Charlotte Hornets
Outlook: 
People talk about how being stuck in the middle is the worse thing that can happen to an NBA team. While many site the
Joe Johnson
–
Al Horford
Hawks as an example, those teams made the playoffs ten straight seasons. A far worse fate has befallen the Charlotte Hornets, a team that is capped out despite not even being good enough to make the playoffs in the Eastern Conference, yet too good to earn a high draft pick. Outside of
Kemba Walker
, there isn't much to be excited about with this team.
What success looks like (for this team): 
The Hornets simply need to be different than they've been the past few seasons. Whether that means making the playoffs or bottoming out and snagging a high draft pick,
Michael Jordan
's team would be better off than where they have been.
Cavalier theft targets? 
As much as I loved
Michael Kidd-Gilchrist
going into the 2012 NBA Draft, there's little doubt that a wing who can't shoot at all simply isn't that valuable in today's NBA. Still, it wouldn't be the worst thing to see the Cavs' take on the contracts of Kidd-Gilchrist or
Marvin Williams
with a draft pick attached as payment. Considering the Hornets' need to move some money, that type of trade would make sense for both teams.
Preseason Grade: (think of something funny) N. As in No-Man's Land. That's where the Hornets have been for most of the past decade, and it's a place they need to get out of as soon as possible.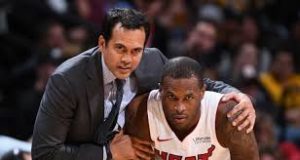 Team: Miami Heat
Additions: None
Subtractions: None
Outlook: 
As his career winds down, Heat team president
Pat Riley
seems content with a well-coached roster of solid role players than can consistently make the playoffs, but make little impact one the postseason begins.
What success looks like (for this team): Getting out of the first round of the playoffs would be nice, but the real prize for the Heat would be if they could trade several of their role players for a disgruntled star who wants to live in Miami.
Cavalier theft targets? I'm as big of a Ty Lue defender as anyone on this blog, but if the Cavs could somehow lure Erik Spoelstra to Cleveland, they shouldn't think twice about doing so.
Preseason Grade: O. As in Old. Or Over the cap. It doesn't matter, the Heat are both.
Team: Orlando Magic
Outlook: 
The Magic haven't made the playoffs since they traded
Dwight Howard
six years ago. If you want to argue against tanking, Orlando is a strong case in your favor. They've tried to bottom out, drafted reasonably well, and even hired two solid coaches in Frank Vogel and Steve Clifford, yet they haven't even sniffed postseason contention. That's unlikely to change this year, as the Magic have an imbalanced roster that features a ton of big men and not much on the perimeter. Their point guard rotation of
D.J. Augustin
and
Jerian Grant
will likely be among the worst in the league.
Aaron Gordon
is a really good player, but not quite as good as he thinks he is. After all, if he was a true star he certainly would've made an Eastern Conference All-Star team by now.
What success looks like (for this team): 
If the Magic can trade impending free agents
Nikola Vucevic
and
Terrence Ross
for young players and draft picks, that could help this team in the future. Finding a long-term answer at point guard either through trades or next season's draft should also be a priority.
Cavalier theft targets? Steve Clifford could likely coach up the Cavaliers' defense. There is really anyone one the roster that the Cavs would want and the Magic would give up, although Jerian Grant would be a solid backup point guard for the next few seasons.
Preseason Grade: S. It's always the Same for the Magic, and that's a Sad state of affairs. The fact that experts seem down on next seasons' draft doesn't help matters either.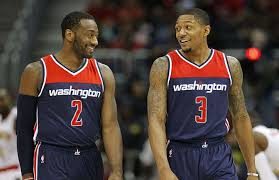 Team: Washington Wizards
Outlook: 
The Wizards knew that they needed to improve their locker room chemistry during this offseason, so they signed Dwight Howard and traded for
Austin Rivers
. Meanwhile,
Ernie Grunfeld
is beginning his 16th season as the Wizards' President of Basketball Operations… There are no words. While nowhere near the player he used to be, Howard is still a more talented player than Gortat, and Rivers has become a solid bench scorer over the past few seasons. Still, giving Rivers the ball means less time for
John Wall
,
Bradley Beal
, and the underrated
Tomas Satoransky
to run the offense.
Jeff Green
had an underrated season for the Cavaliers last year, but he can't match the shooting of
Mike Scott
. Still, Wall and Beal are legitimate All-Stars, and
Otto Porter
was the guy I wanted the Cavs to take with the
Anthony Bennett
pick. The Wizards should be a playoff team, and if they can really get on the same page, they could be the team no one else in the Eastern Conference wants to face.
What success looks like (for this team): Making it through the season without killing each other?
Cavalier theft targets?
The Wizards have quite a few solid young players who would look great in a Cavaliers uniform. Before they signed Howard and the Cavs agreed to a contract extension with Love, I was quietly hoping for a Love-Porter trade. While Porter makes a lot of money for a guy who has never been an All-Star, he's a highly efficient player at both ends of the floor with excellent advanced metrics. He's also still just 25 years old. Satoransky,
Kelly Oubre
Jr., and
Troy Brown
Jr., would also be solid additions for the next era of Cavaliers basketball. Grunfeld isn't giving up Wall or Beal, but Koby Altman could probably talk him into parting with one of his younger players in a win-now move.
Preseason Grade: D. The Wizards have the Drama of the LeBron-era Cavs without any of the Dominance. This locker room could be a circus.