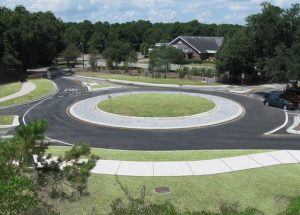 four point play….
1. Tunisia loves its roundabouts. Like much of the non-US world, Tunisia eschews the American style four way stop in favor of the occasionally frustrating wheel of driving "fun".
While engineers have focused on overall rule clarity, volume, and safety when comparing the two systems, it seems one crucial point has been lacking in their data input.
Smart Phone use!
I know, I know. One shouldn't text and drive.
By most  accounts, a roundabout is roughly 20 percent more efficient than a four way stop. If only contrasted head to head, it seems a no brainer. Roundabouts save gas, weaken collision impact, and allow for higher traffic volume.
Still, how can we factor in the added danger of phone use while driving when stops are eliminated from a normal commute? If one never gets that same red light after crossing Route 20, how will Instagram survive? How will we survive?!
In most European countries, a roundabout is a relatively uneventful affair. Once one is acclimated to the necessity of orientation maintenance, the wheel of "fun" verges on fine.
In Tunisia, it is more sport than transportation. Lanes are only members of Superman's extended family and a rogue bicycle can sneak up on even the most attentive driver.
Once one leaves the centrifuge, the chosen spoke is often filled by people who see literally no difference between a "pedestrian only" zone and a freeway.
In this pleasant North African country, it is not uncommon to see grandmothers walking their children across the equivalent of Route 2. No worry creeps into their faces. That's just how they roll. Or walk. You feel me.
"He got there eventually, in a roundabout way". The great thing about roundabouts is that you can simply keep driving around until you decide where you are going. If you choose the wrong spoke, another roundabout is waiting nearby to give you a nice legal U-turn.
If your chosen spoke is seemingly clogged with obstacles, just keep driving. Those obstacles have brains and will likely cross after you pass. Keep moving. Write the map.
And so it will need to be with the 2018-2019 Cavaliers. It may be tempting to "stop and check the phone"(the antithetical brother of the roses phrase), but the success of the season will largely hinge on the Cavs' ability to attentively go with the flow.
In Vardons recent Wine and Gold podcast, former Cavs GM David Griffin repeated the word "optionality" somewhere between six and "if you say that obnoxious word once more, I'm going to slowly take out my earphones before putting them back in to listen to the rest of the podcast" times. It was very annoying.
Griff, I know you are using the finance term as a buzzword, but sometimes the word you really wanted was plain old "options".
Regardless of my word fatigue, it's clear that optionality, essentially the value of flexibility, is paramount to both short and long term success.
Start the season, evaluate how the team is coming together, and make each decision with the understanding that the ultimate goal may be reached in a non-linear manner. Koby Altman need not stop his car to decide to tank, or rev his engine in an effort to make the playoffs.
Follow the roundabout of the NBA landscape and while moving. Like Griff alluded to, it's the best way to get to know your passengers.
2. Much was made of Cedi Osman's post training photo with the best small forwards on planet Earth. The thing that stood out to me was Cedi's sheer size. He is every bit as large as Kawhi and only slightly shorter than Kevin Durant. Obviously, Osman doesn't have the length of those players, but photos can often remind us of things that many people may not have completely internalized.
Cedi is a big, athletic dude.
Here's hoping he has been working on his left hand. In my scouting of Cedi over the years, much has made me squeal with delight. However, his left-handed dribble drive game worries me.
Thus far, Cedi has gotten away with being a two dribble guy going that direction. Most drives aren't more than two dribbles anyway so it hasn't killed his ability to get to the rack.
It will soon. Osman will need to show his full range of talents so that Ty Lue has no choice but to play him heavy minutes. As teams devote more energy to Cedi in their video work, defenders are going to time up his shot after his second lefty dribble with full trust that Osman cannot put it down a third time.
I see no reason why Osman can't improve this aspect of his game. He has decent enough dexterity on the left side to add more sauce to his pet move arsenal.
If training against Kawhi Leonard didn't highlight this weakness, nothing would. I'm confident we will see more variety from Cedi in camp.
3. If not, Ty Lue might continue to torture me and other fans of defensive basketball. If we are to believe David Griffin, Ty Lue is set to have his best season as a coach. Griffin asserts that Lue's primary talent is his ability to coach up young players. I sincerely hope that that is the case. Thus far, we have only seen Lue, the often confused game manager, and not Ty Lue, the developmental mastermind.
Griffin did not discuss how different lineup choices could have positivley affected the Cavs' poor defensive showing from a season ago. Lue is Griff's guy afterall. Here is your chance coach. LeBron is gone. It is your team now.
4. Count me as one NBA fan who is saddened by the retirement of Manu Ginobili. A close colleague friend of mine in Germany is the biggest Ginobili fan whom I have met. My friend, Frederik played a few seasons in the Euroleague himself, and modeled his game after the great Argentinian shooting guard.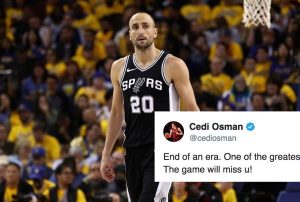 Playing with Frederik felt like playing with Manu. The incredible basketball IQ mixed with an intense love of the game made playing ball all the more entertaining.
If having Manu Ginobili as a teammate was anywhere close to the experience that I had with my friend Frederik, it is no wonder that the Spurs had such an incredible run of success.
The modesty, passion, teamwork, and commitment to purpose, that Freddy exhibited on the court (and still onstage) is what the NBA world will miss with Manu's retirement.
And that man could straight ball.
Somehow the Kobe Bryant narrative continues to morph post retirement. Young players who have beef with LeBron like to claim Kobe as better. His similarity in playing style to Jordan has also given him a boost. Kobe is without question, a top 10 shooting guard of all time.
And yet, Manu was better. The career numbers favor Bryant. Kobe's usage consistently blew Manu out of the water. But if we look at playoff basketball, overall efficiency, and two-way play, Manu is, at a minimum, in lockstep with Kobe.
The media and Kobe himself have made such a statement seem absurd, but I have watched both players' entire careers. I have seen them go head to head. I have accounted for the different team structures and usage. I can confidently say that I would rather have had Manu in his prime than Kobe.
The killer instinct was there for both guys. Kobe was ridiculously overrated on the defensive end while Manu was incredibly underrated. It's not a landslide, but I take Manu.
Quickies: Just another example of how silly the Kobe vs LeBron debate is. Kobe wasn't even the best player at his position during his prime, let alone in LeBron's class.
Lest you think I am simply a sucker for the Spurs and their culture of team, I will quickly mention that Shaq was much better than Duncan in their corresponding primes as well. LeBron is the only guy who has approached the sheer domination that Shaq exhibited at his peak.