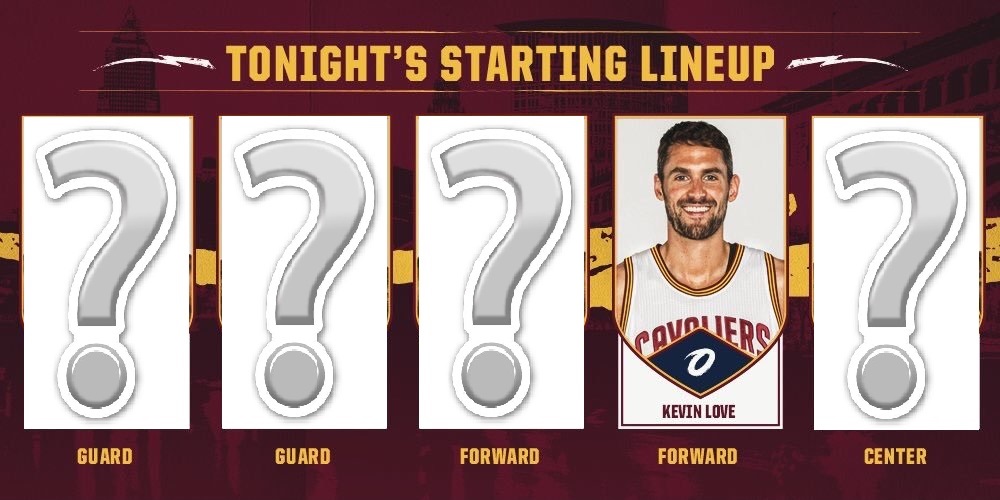 Well, here we are in the dog days of summer as we wait for the return of NBA basketball. Most of us have been taking a needed reprieve from the often exhausting journey that was the LeBron 2.0 era. In a lot of ways, it feels like I needed this break as much as the players did. I've been recharging my fandom and my meter is almost back to full. Now that I'm nearly fully recovered and ready to dive back into the unexplored waters of a Kevin Love lead Cavs team I have been pondering some possible futures for Cleveland's starting lineups. I'm going to review a few different lineups and then I'll do my best Dr. Strange impression to predict the right starting lineup from the multitude of options the 15-man (I guess it's 17 if you include two-way contracts) roster with which Coach Lue has to work. For the purposes of this article, I'm going to assume that both David Nwaba and Rodney Hood will be on the team, though both remain unsigned.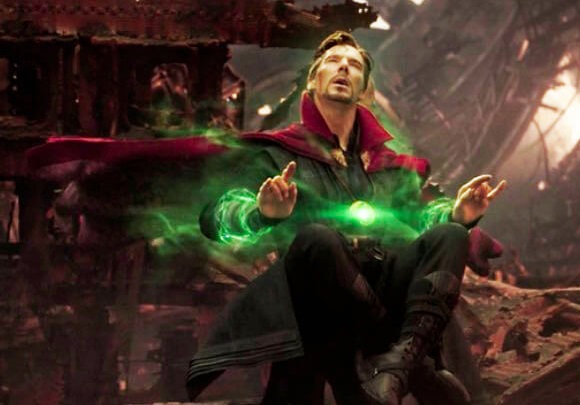 The Anti-Development Lineup
I wanted to talk about this lineup first because it's the one I hope they don't go with the most. If Lue still doesn't see value in developing his youth (I think this is all of our worst nightmare) despite no longer being in the running for a championship, this is probably the lineup we'll see trotted out come October 17th. In this scenario, Lue's drive to get back to the playoffs without James has pushed him to return to a familiar lineup. So here it is in all of it's ignominious and stale glory:
At point guard, the Cavs start George Hill. Hill had a rough post-season last year despite getting his first crack at the Finals. The Warriors decided Hill would be one of their individual victims in the series as almost every time he and Durant shared the court, the Dubs were content to switch KD to the shorter guard and let him get his own shot. Still, Hill was the best guard defender Cleveland had and I presume that trend will continue into this season as Sexton will likely need to make some improvements/grow to be as effective a defender as the vet. In this lineup, Hill retains his primary ball-handling duties as well as needing to maintain his perimeter defense. If the 32-year-old guard has lost a step, however, the rest of this lineup is pretty doomed regardless of improvements from last year.
Next up at shooting guard is everyone's favorite pipe-fitter and Cleveland's resident bone-head, the one, the only, JR Smith. I can hear your audible sighs from here, trust me. Like I said, in this scenario, Lue has abandoned the idea that it's important to develop Cleveland's young blood and has opted for familiarity. It's unlikely that Smith can return to the brief state he once held as a defensive hound after surprising all of us by painting himself to Klay Thompson in the 2016 Finals. Additionally, his shot appeared to have completely abandoned him by last year's Finals series and whatever effective in-game decision making skills he had have certainly fled. I guess Lue's hoping that without the pressure of a championship run looming over his head, Smith can act as the three point marksman he once was and possibly add some play-making to the mix.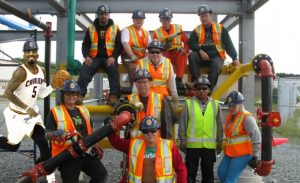 Though he's probably better suited at one of the guard spots, the small forward position will be filled by Rodney Hood. Hood had a miserable end to the season last year as he played himself out of the rotation during the playoffs and looked really unsure of himself. Starting him signals that Lue feels the maligned wing will return to his Utah form without the accompanying pressure of playing with LeBron James. Whether that form is still attainable, or even desirable, remains to be seen. Hood doesn't have the length or defensive acumen to be a stopper so he's going to need to make up for it on the offensive end with efficient scoring. On it's surface, this lineups wing players look like they can be pretty switchy in the new NBA ideal mold. Unfortunately, the likelihood that Hood and Smith will be effective NBA starters seems pretty slim.
Next we move to the power forward position with the new pillar of Cleveland basketball, Kevin Love. Short of an injury, we know Love will be starting, barring injury, in whatever lineup TLue graces the fans with this season. The half court offense will run through Love like it did in his Minnesota days. If he is operating from the elbow and Hill, Smith, and Hood are all out on the perimeter and hitting their shots, he should be able to run a pretty effective floor game, as each of those three should be knock-down shooters capable of receiving, hitting shots, and diving to the hoop.
Finally, for center, the Cavs return the mundane Tristan Thompson to the starting lineup. At the start of last season, Thompson was dealing with injury and being out of shape and it showed. The undersized but mobile center was reduced to just an undersized center as all thoughts of mobility seemed to have abandoned the guy. He was overweight and slow and lost his edge on the offensive boards and defensive perimeter switches. Now that Thompson is in shape, he provides another switchy defender to add to the triumvirate of Hill, Hood, and Smith, surrounding Love with a capable defense. Thompson can also be an effective dive man working opposite Love. We'll see.
Now, as deplorable as this lineup seems, it's not without value. If the Cavs have any hope of dumping Thompson or Smith's contract, they'll need to at least show that they are capable of being on the court with other NBA players. That's not going to be an easy task and moving one or both of those contracts may just prove to be impossible. Still, GM Koby Altman would be completely without brains if he wasn't at least exploring options to accomplish the salary dump. The other thing this lineup does is prevent valuable youth from getting time as starters. Forward Cedi Osman was criminally underused during the 2017-18 season. If the disuse continues, it will signal Lue's complete inability to coach this team and it should result in immediate termination. Fingers crossed this lineup isn't the one that starts the season off.
The Starters – George Hill, JR Smith, Rodney Hood, Kevin Love, Tristan Thompson
The I Love Defense Lineup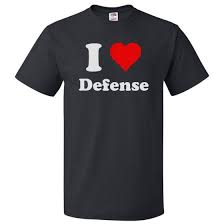 Okay, so, this is the starting lineup I think Lue has to go with if he's going to turn this team into a defense-out-of-the-gate team. Kevin Love is still going to anchor this offense. And as I said, there really isn't a starting lineup that you can put out there that doesn't include Kevin. Even if you're eventually going to trade him, his value is tied to his status as a star power forward. You start your star power forward. From there, Lue can surround Love with as much defensive capability as possible.
Starting again with point guard, Lue can slot in rookie Collin Sexton. I'm sure Ben Werth is groaning from wherever he is, maybe back in Germany? Regardless, Sexton has projected to be a fairly decent defensive guard with long arms and quick feet. And, according to a recent podcast over at cleveland.com featuring Cleveland's ex-GM David Griffin, Coach Lue actually excels when he can develop young guys in his own defensive mold. If we take Griff at his word, then we should see marked improvements in Sexton's defense as the season progresses. He can learn to stay on his feet more and do less lateral hopping as well as learning to play the passing lanes a bit better. His athleticism means that he should be able to obtain those skills and stay in front of just about anyone. Plus, with the next player in the lineup, he wouldn't be solely responsible for the point guard duties.
Speaking of that next player, George Hill will slot in on shooting guard in this lineup. Having the long-armed guard in next to Sexton will mean that the offensive initiation does not rest solely on the rookie's shoulders. This will give Sexton a little bit of forgiveness on the offensive end as well as pairing him with an experienced defensive guard on the opposite end. Sure, Sexton is a little short to be switching onto taller guards, but the general length of this lineup should make up the difference here.
At the small forward position TLue can play the forgotten son, Cedi Osman. Cedi proved that he could do an admirable job attempting to guard the opposite teams point guard any time he was played last season. Cedi really shouldn't be primarily covering guards. He's much more suited to guarding the wing positions and actually plays passing lanes quite well. Plus, he's spent portions of his summer training with the best small forwards the League has to offer. Training with James, Durant, and Leonard can only mean good things for Osman. And if that's who he's been guarding all summer, then Cedi is the man I want on the court in defensive lineups.
Apparently there was an interesting workout at UCLA today… pic.twitter.com/WglSlSec1a

— Marc J. Spears (@MarcJSpearsESPN) August 21, 2018
Rounding out this one is the returned-to-form Tristan Thompson at center. Though Thompson clearly struggled last year, he is still only 27 and isn't quite due to be slowing down because of his age. It was pretty obvious that Thompson was out of shape for almost the entire season last year as he played his way back into shape all season, only to injure himself in the second half. Assuming that Thompson is back in the shape he was in circa 2016, he can still be a menace with his ability to switch onto perimeter players. He's still not going to be the rim protector we all wish he was, but the Cavs don't really have one of those on the roster. Without a shot blocker like Gobert, or even Nate Smith favorite Dewayne Dedmon, I'd rather opt for switch-ability and an in-shape TT is that in spades.
Here's the thing, though. The Cavs roster has some other options defense wise. Say Ben's influence wins out in the hearts and minds of the coaching staff and Lue doesn't actually want to start Sexton? Why not go super long and slide Hill to the point guard and pair Cedi with David Nwaba on the perimeter? After all, Osman's proven he can compete when guarding smaller competition. Maybe JR is out of his head and can return to being a defensive irritant, though that's probably less likely as even in his best moments, he made plenty of dumb mistakes. Maybe Larry Nance Jr. can stay on his feet and foul less, giving the Cavs some much needed rim protection. My point is, the "I Love Defense" lineup has options. Options are ordinarily a good thing even though Tyronn Lue seems to coach better when he doesn't have anyone to sub.
The Starters – Collin Sexton, George Hill, Cedi Osman, Kevin Love, Tristan Thompson
The Balanced Lineup
This is the last of the possible lineups that I'm going to review. This lineup balances shooting, playmaking, and veteran savvy with youth and defense. By starting this lineup, Lue can show off some possible trade pieces while also putting a team out on the court that should absolutely be able to compete with plenty of teams out there. By starting George Hill, Lue puts in the player we've discussed in each of the previous two lineups. An experienced guard who has defensive capabilities, can run an offense, and has no problems as a spot up shooter.
Next, returning to the starting lineup is everyone's favorite shooting coach, Kyle Korver. Korver may not be on the team come April, but in the mean time, his experience and dead-eye three point shooting is still invaluable in any lineup you play. He's got incredible mojo when he shares the court with Kevin Love and he rarely makes mistakes. He's not going to be the most athletic player on the court by a long shot, but he'll always be in the right place and he'll always make the right play. Plus, by showing he still has the juice to be an NBA starter, the Cavs only raise his value. Even he's a token starter only capable of playing a few minutes to start things off, why not start off hot?
Next up is The Last Cedi. Osman gets the start here as a playmaker, youth development project, and lengthy defender. He can help out with Korver on the wing and is great in transition. He's got very underrated court vision and shouldn't have any trouble leading the break and hitting Korver in the Korner where he is absolutely lethal. Osman's shot was inconsistent last season but fingers crossed he's been working on his shot all summer long.
Kevin Love, of course, is the next starter. As I just mentioned, he and Korver already have an established game together that works absolutely beautifully and has nothing to do with LeBron James. They showed countless times that their corner screen action poses a deadly shooting threat that defenses have almost an impossible time trying to stop. Watch below as we see Korver and Love work multiple screens eventually netting Korver a wide open look beyond the arc.
There are plenty of examples of this happening throughout the season, regardless of who is feeding the ball to that wing or corner. It's a beautiful piece of basketball and should absolutely be replicated for as long as Korver wears wine and gold.
Finally, adding to the youth movement and rounding out this lineup is Larry Nance Jr. The springy 25-year-old should add the rest of the speed and length to this lineup. He's shown he has the ability to run the floor and work in the pick and roll game (one of Cedi's strengths). He's got a great dive game that should work excellently opposite Love's elbow offense. Plus, he actually sets pretty good screens and can absolutely leap out of the gym, something that this lineup doesn't feature too much. He should be able to excel in this role as a starting center.
The Starters – George Hill, Kyle Korver, Cedi Osman, Kevin Love, Larry Nance Jr.
The Best Option
So now that we've review a few of these lineups, you may be able to guess which lineup I'm leaning towards. If it were me picking, I start the last lineup. I think it provides the Cavs the best balance of youth, veteran leadership, athletic ability, range, defense, and length. While it doesn't venture far in any one of those factors, it at least touches each of them. This leaves the reserves with Sexton, Clarkson, and Isaiah Taylor at the guard spot. The wings will consist of Hood, Nwaba, and Dekker and Channing, TT, and Zizic will hold down the big-man duties. I think this is a rotation that works in today's NBA and doesn't rely too much on any one aspect of the game or player. If Lue is the coach that David Griffin thinks he is, he starts a version of this lineup. If he's the coach we all fear he is, he starts a version of the Anti-Development Lineup. Excuse me while I gag out my distaste. Let's hope for the former over the latter as we all await the return of NBA basketball with training camp in three weeks. Go Cavs!