I know. This title dates me. The 2005 World of Warcraft video that documented Leeroy abandoning his guildmates and crashing headlong into the fray only to result in the slaughter of his guild, is however emblematic of the type of teambuilding the Cavs could engage in: a win now, and win at all costs mentality. This is the kind of strategy the Knicks embraced in building around 'Melo and Amare Stoudemire. Isn't this the strategy that the Cavs have been engaged in over the last four years you ask? Well, not really.
I'd argue that ole CavsDan hit the breaks on this strategy last year when he started collecting guys he viewed as long term assets, like Larry Nance, Rodney Hood, and the draft pick that became Collin Sexton. Even yesterday, the Cavs added Wisconsin's Sam Dekker who has had a lackluster three years in the NBA so far, but posted a not abysmal RPM of -1.46 despite a sub 20% three ball. Still, the Cavs have a few things up their sleeve that would allow them to roll the dice and get more competitive now.
First off, they have the George Hill contract. While it seemed like expiring contracts were useless for a while, there are a lot of teams up against the cap again. Miami, Minnesota, Portland, Detroit, and Memphis all faxing big payrolls for the next two years, and Miami and Portland don't seem to have much cap relief in site and are above the $123.7 million dollar tax apron. Unfortunately, the Cavs didn't move quickly enough to trade Okaro White and his non guaranteed $1.5 million dollar contract to help another team clear their cap.
Still there are a lot of moves the Cavs could pull off now or at the trade deadline to make their team better in the short term, damn the torpedoes, let the chips fall where they may, and realize some other Quixotic metaphors.
Scenario 1: The Miami Connection: As has been publicly discussed, Miami seems to be making just about everyone not named Justice Winslow available in trade talks: Dion Waiters, Tyler Johnson, Hassan Whiteside… If a guy has a contract over eight figures per year, my bet is Miami would trade him for cap relief. In fact, things are so desperate, there are talks of them flipping Tyler Johnson for Houston's contract albatross, Ryan Anderson, just to save some tax dollars. Crazy.
So why not just make the trade? In this move, the Cavs get a lot of guys who can help them now, Justice Winslow, and a draft pick for the future. Why are they getting a draft pick for the future? Because this move gets Miami out of cap hell by saving themselves $27 million next season.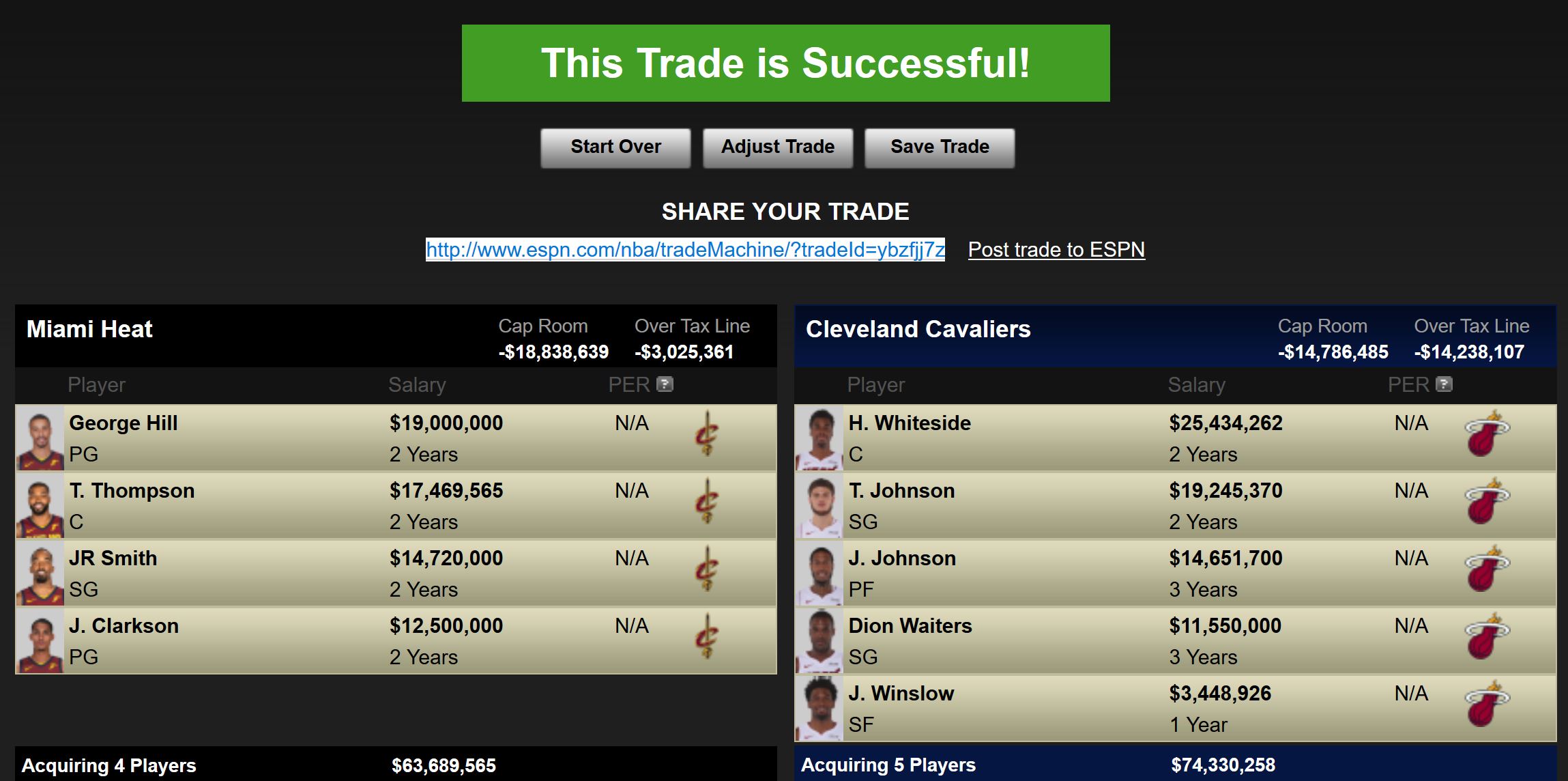 Larry Nance, if he can perfect a corner three ball can play next to Whiteside or Love, and would be a great high-low combo with either. Tyler Johnson is a better player than Jordan Clarkson, and if last season is to be believed, JR Smith and Tristan Thompson have nothing to offer anyone.
Taking a look inside RPM, this move equals about nine more wins for the Cavs next season, if RPM is to be believed, and Dion's return doesn't prove deleterious. Also could be more if Whiteside can return to his former form and Winslow can improve offensively.
| | | | | | | |
| --- | --- | --- | --- | --- | --- | --- |
| Player | 17-18 RPM | 17-18 Wins | 16-17 RPM | 16-17 Wins | 15-16 RPM | 15-16 Wins |
| Miami |   |   |   |   |   |   |
| Hassan Whiteside | 0.5 | 3.2 | 2 | 8.2 | 1.43 | 6 |
| Tyler Johnson | -0.5 | 3.5 | 0.3 | 4.7 | -0.9 | 1.2 |
| James Johnson | 1.4 | 5.5 | 2.4 | 7.3 | -1.6 | 0.9 |
| Dion Waiters | -3.1 | 0 | 0 | 2.8 | -1.9 | 1.8 |
| Justice Winslow | 0.3 | 3.6 | -3.9 | -0.3 | -0.9 | 3.1 |
| TOTAL | -1.4 | 15.8 | 0.8 | 22.7 | -3.87 | 13 |
| Cleveland |   |   |   |   |   |   |
| George Hill | 0.5 | 4.1 | 3.8 | 6.3 | 1 | 6.6 |
| Tristan Thompson | -3.8 | -0.5 | 0 | 4.6 | 1.4 | 6.3 |
| J.R. Smith | -2.3 | 1.2 | -1.3 | 1.4 | 1.3 | 6.5 |
| Jordan Clarkson | -1.8 | 1.6 | -4 | -1.4 | -2.4 | 1.2 |
| TOTAL | -7.4 | 6.4 | -1.5 | 10.9 | 1.3 | 20.6 |
If you really think getting over .500 is a great accomplishment, this trade could probably get you there, especially if Dion returns to the form he showed in 16-17. Also, if you think Justice Winslow could pull a Jimmy Butler and turn into a star in his fourth season, this trade would probably be worth it. The problems with it are numerous if your name isn't Leeroy Jenkins.
Hassan Whiteside is a headcase who has shown an inability to play consistently intelligent and motivated basketball. Tyler Johnson is a solid 37%+ three point shooter, but James Johnson, Justice Winslow, and Dion Waiters are all wildly inconsistent shooters. James Johnson is a career 30% shooter, and Dion is all over the place peaking at 39% in 16-17. Winslow did shoot 38% from deep last year (but just 28% his rookie year, and 20% in 18 games of his his injury shortened sophomore campaign).
Dion is also injury prone and has missed about half of each of the last two seasons. In addition, He and James Johnson combine to make almost $25 million when the third year of these deals rolls around, putting a significant dent in Cleveland's 2020 cap space. Finally, these guys put up these numbers under Eric Spoelstra, one of the better coaches in the NBA. What would they do in Cleveland where the coaching is more suspect, and the Cavs have lost arguably their best player development guy in Phil Handy?
From a fit standpoint, this move turns the Cavs into a half court, grind it out team, which is not exactly what you want to put around Collin Sexton. Still, few teams in the league have the size and depth to consistently contend with Love, Nance, and Whiteside in the high and low post all night, and defensive rebounding wouldn't be an issue. Get a board, outlet to Sexton and let him run and send it to the post if nothing's there. It's not a bad offense.
Best case scenario? Dion has an Oladipo like breakout, Hassan gets his head on right, Love feasts on double teams and elbow offense, and James Johnson, Tyler, and Collin harrass everyone defensively. Ultimately, though, the peak on this team might just be a 52 win squad that loses in the second round. A lot would depend on Winslow's development too, and I'm not sure Miami would give him up, and a draft pick…
Scenario 2, Hotlanta: I've been pitching some form of this deal for years. Atlanta clears out Plumlee and Baze from their books in 2019, and Cleveland Gets Dedmon and a protected pick that could some day turn into a gem and a second rounder or two for the savings.

I'm not even sure this deal is an upgrade, since Bazemore is about on par with Hill, and we'd be suddenly seeing a lot more of Jordan Clarkson in point guard duty. The trade machine gives the Cavs four more wins with this deal, and it might be worth it for a pick. Still, that's not really the point of this article.
Scenario 3: Bring CJ Home. This deal assumes things absolutely blow up early in Portland, they decide to clear the decks, and Paul Allen actually starts to care about how much money his team loses.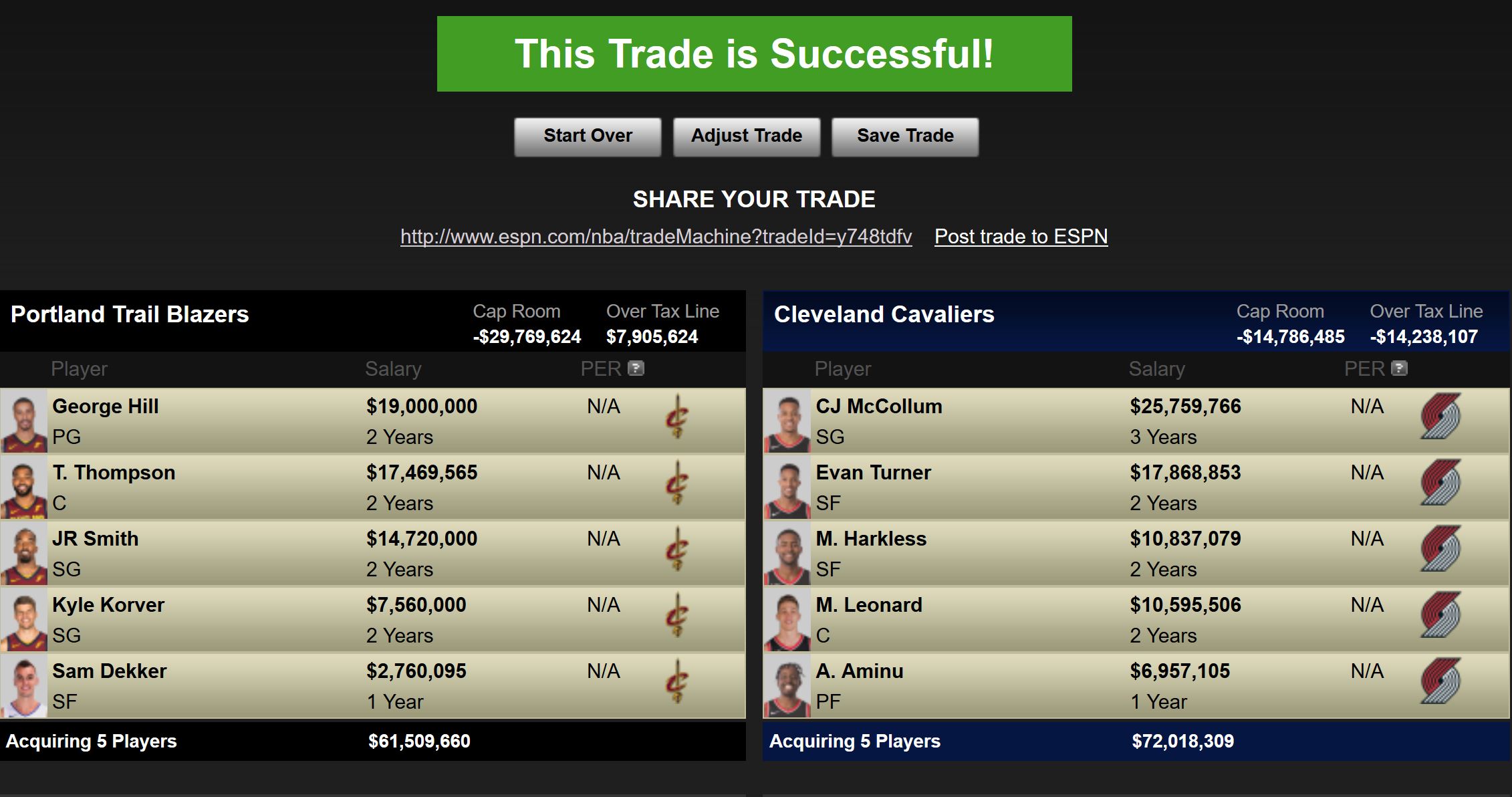 This takes a wrecking ball to Portland's team and actually gives them the ability to sign free agents in 2019 by cutting $34 million off of salaries next year. It also gets them out from under the tax this year (depending on how far into the season they make this trade). To do so, Portland takes on Tristan Thompson (Cleveland probably has to find a third team to take him with a draft pick from Portland). It's a steep price to pay, taking on $37 million worth of mediocre players next year, but it's probably worth it if you think CJ McCollum is a star. (I do).
Cleveland gets a big two of Love and McCollum, and hopefully Sexton and Osman round it out into a big four. Meyers Leonard gets a chance to actually play real minutes, and Portland gets rid of some bad contracts. This one is a long shot, but one they should be on the lookout for if things go badly in the Rose Garden
Scenario 4: LeBron James, you is a balla…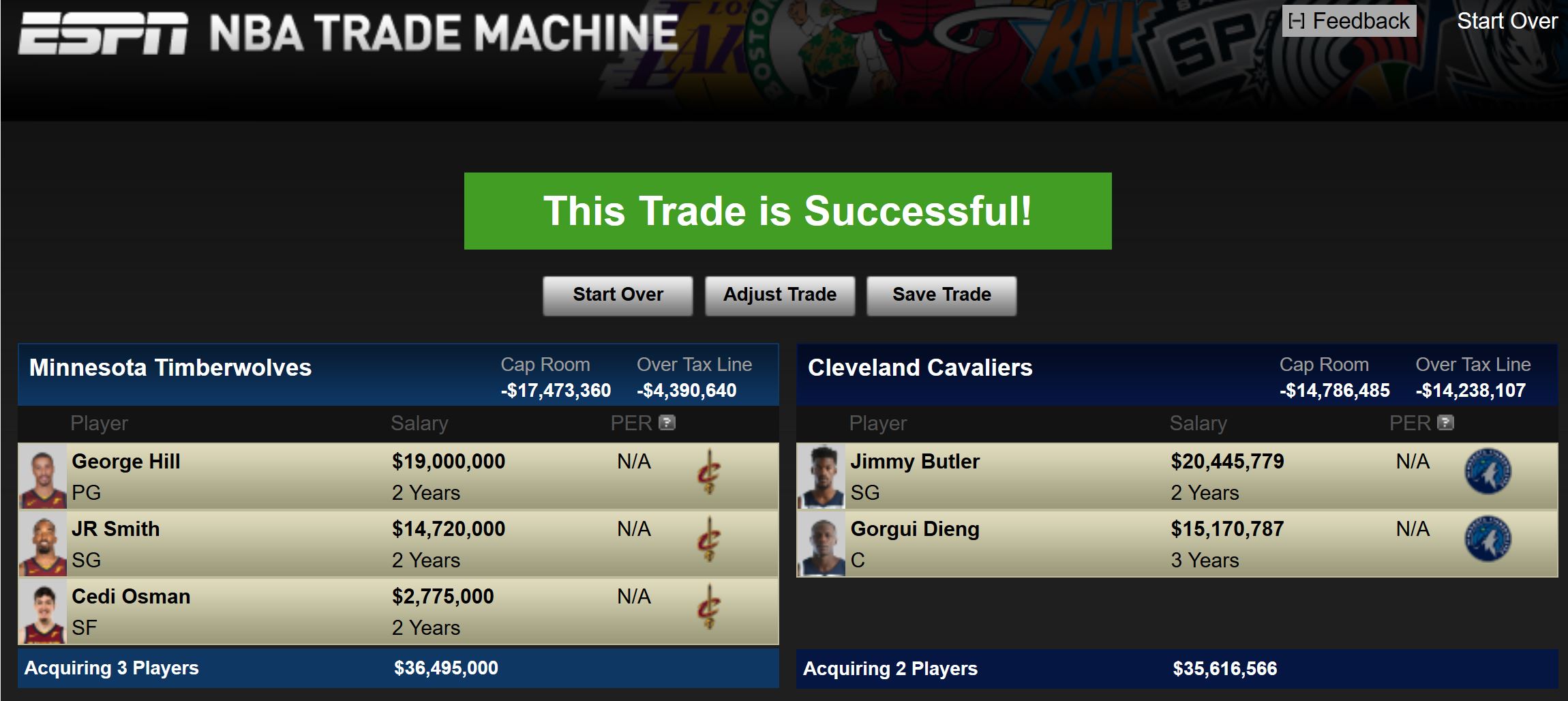 but Jimmy Butler is your father. Jimmy Butler could be the best player in the east if he still played there. With a contract option for next summer, Butler knows this, and has been reportedly frustrated with the Wolves' young guns. You want a swing for the fences deal? How about bringing Butler back east and selling him on teaming up with Kevin Love to get back to the finals? I know. I know. Giving up Cedi (and a first-rounder), and eating Dieng's deal… But Butler is one of the few players I'd do it for. Butler is probably the most underrated player in the league. No. 4 in RPM at 6.39, just behind Steph Curry, Butler is as good as the Cavs could ever hope to acquire after LeExodus. Could they swing for the fences and get him to re-sign? Boston won't have a lot of cap room next year, and Toronto is tied up for a while. Don't think that Philly is watching the Butler situation. That third spot in the east is up for grabs, and a Butler led team could get an Eastern team to the finals.
Scenario 4b, Andrew Wiggins. Andrew's five year, $147.5 million dollar extension inked last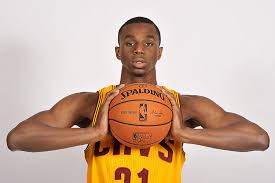 fall already looks like a massive overpay for a guy who can't post better than a -1.6 RPM. Wiggins posted the worst TS of his career last year at 51%, despite dialing back his shots from 26 to 22 per game. His splits are pretty awful at 44%/33%/64% from the field, three, and the line. Yet, he takes a whopping 5.7 threes a game. If the Wolves are ready to give up on him, bringing him back to Cleveland could be done for the trade above for 'Drew instead of Jimmy. Few in the league want a contract that big for a player that mediocre. It'd be an awfully big gamble but would let Minnesota clear the books to chase Butler and a free agent. Truthfully, I'd rather have Cedi than Wiggy.
Scenario 5, "Damnit, Leeroy!"

Want to take every bad contract from the Hornets to grab Kemba Walker? Here's your chance. This trade is one of those rare awful deals for both teams, though it does clear the books for Jordan next summer. In this scenario, the Cavs would have to commit to playing at a breakneck speed all the time, because it's the only way you'll survive with a backcourt of Kemba and Collin, and Kidd-Gilchrist and Biyambo or TT on the floor for for stretches of the game. IDK, as much as I hate Clarkson, you might have to swap TT into that deal for him just to balance out the shooting. Still, Batum can guard, Biyambo and Kidd-Gilchrist are smart defenders, and Corey Hughey would have his dream MKG/Young Bull pairing. Love in the high post constantly scanning for MKG, Biz, and Nic on the cut? It's not the worst offense ever envisioned, but Kev would see a LOT of double teams, and I'm not sure the Cavs would win many more games. This trade would probably get your World of Warcraft guild slaughtered.
Scenario 6. Champagne Superdova

If there's one trade that could make the Cavs an instant contender, it's this one. Cleveland returns a guy who took them to two straight finals, and the Bucks get a shooter and save almost $7 million off next year's payroll. Zeller and Brown are throwins, but I like the karma of bringing back a former Cav and Shannon Brown's brother along with Delly.
Conclusions: Thanks for riding Dapple while I pilot the Rocinante on this one. As you can see from above, there are scenarios for short term gain that improve the Cavs around the edges, and make them a little more competitive for a couple years, but all but a couple face pretty long odds at bringing the elite talent needed to complement Kevin Love and return the Cavs to a Finals contender. Still it's fun to envision these scenarios, and many of these teams would at least be entertaining. What say you? Once more unto the breach, dear friends?