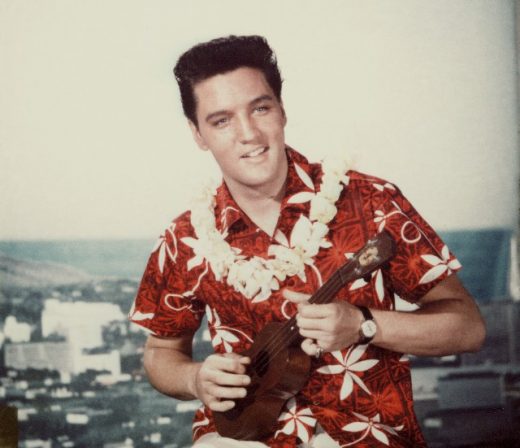 Editor's Note: Welcome to Part IV of our summer series: The Road to Contention. In Part I, Excl gave us a State of the Cap. In Part II, we profiled Sam Hinkie, who made the mantra "tank your way to success" model for team building. In Part III we saw what it would be like if the Cavs took a James Dolan windmill tilt to try to win now with limited assets.
The standard bearer for the more graduated model of team building is Houston's Daryl Morey. The Rockets built their teams during Morey's tenure by using analytics to build a player prediction model and making incremental improvements year after year until they finally built a contender. They mined diamonds out of the second round (Carl Landry, Chandler Parsons, Isaiah Canaan, Montrezl Harrell…). They won trades by taking collecting draft picks and then flipping them for better players (like how they turned Kyle Lowry into James Harden). In the 12 years since Morey took over the Rockets, they've never had a losing season. They also have the second highest record in the NBA over that time, trailing only the Spurs.
The problem with the Dork Elvis Expressway is that it isn't an expressway at all. It took the Rockets four seasons to rebuild into a playoff team after the Yao era. That coincided with an NBA singularity: a young superstar available for trade (James Harden) that the Rockets had the assets to pull off. It took them arguably eight years to become an elite NBA team (getting to conference finals in 14-15) and they still may not beat the Warriors. (A lot of people think they look worse this year than they did last year).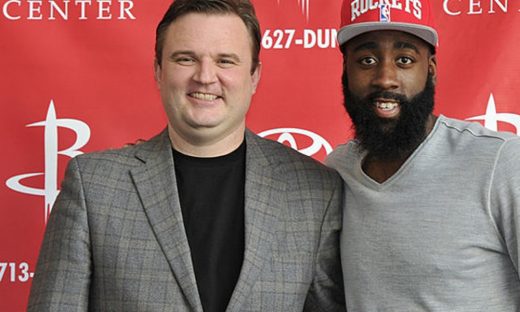 The other problem with the Daryl Morey method is that everyone is copying it now. Informational edge in any competitive field only lasts so long before everyone else catches up with you. This excerpt from Slate.com of Michael Lewis' The Undoing Project: A Friendship That Changed Our Minds describes the problem with trying to imitate Morey.
In Morey's ten years of using his statistical model with the Houston Rockets, the players he'd drafted, after accounting for the draft slot in which they'd been taken, had performed better than the players drafted by three-quarters of the other NBA teams. His approach had been sufficiently effective that other NBA teams were adopt­ing it. He could even pinpoint the moment when he felt, for the first time, imitated. It was during the 2012 draft, when the players were picked in almost the exact same order the Rockets ranked them. "It's going straight down our list," said Morey. "The league was seeing things the same way."
That piece is one of the best I've ever read on building an NBA team and on the inherent biases that cause us to make bad decisions. See if this quote reminds you of anyone running the Cavs.
Whatever prejudice a person brought to the business of selecting amateur players he tended to preserve, even when it served him badly, because he was always looking to have that prejudice confirmed. The problem was magnified by the tendency of talent evaluators—Morey included—to favor players who reminded them of their younger selves.
If it reminded you of Dan Gilbert and his penchant drafting scrappy short guys, then give yourselves a pat on the back. But how do teams avoid these issues?  Morey related the story of a scout who asked Morey to stop holding workouts if he was going to weight the value of those workouts so low.  Morey noted that even being aware of one's biases doesn't help people avoid them. People "found it very hard to ignore the evidence of their own eyes" with workouts on a player they new had a low chance of NBA success. One thing that would be very helpful for the Cavs would be for Dan Gilbert to walk away from the player evaluation side of the business. Sadly, now that Klutch isn't running the Cavs, isn't going to happen any time soon.
I'd argue that this gravitation towards players that remind you of yourself actually helps some teams. Take the Spurs. They tend to focus on team first guys who are intelligent enough to learn a role and can understand an intricate offense. They also value guys with a sense of humor and an ability to give themselves over to the group. This has allowed them to remain incredibly competitive despite their highest draft pick since Tim Duncan being Kawhi Leonard at 15.
I'd also argue that the emphasis on winning has helped the Rockets avoid a "culture of losing" that has plagued teams like the Kings and the Hornets. But is it even possible any more to field a team that is trying to win every game, while building for long term success in the NBA? Does a team have to wallow in the valley of NBA suckdom to reach the rarified air of the NBA elite? When looking at the top teams in the NBA, the answer is a resounding "No."
In the east, only Philadelphia has climbed to the top by being crappy. Unfortunately, the Cavs do not have the gift of elite NBA draft picks that Danny Ainge nabbed when the Celtics traded an aging Paul Pierce and Kevin Garnett to Brooklyn, and yeah, their team is built around Jaelyn Brown and Jason Tatum, both top three picks.. But Toronto was built out of smart drafting and trades (and a lot of whiffs). Milwaukee was built by mining an unbelievable player with the 15th player in the draft, acquiring Khris Middleton in 2012 via a trade in the second round with Detroit, and drafting Malcolm Brogdon, signing Tony Snell and Matthew Dellavedova. The Pacers drafted Paul George with the 10th pick and built their team around flipping him for Victor Oladipo who's suddenly the best two guard in the East.
In fact, looking at the East, five of the top eight teams weren't built with high lottery picks. They were built via smart (or lucky) draft picks and a winning culture. In fact, just looking at the John Wall (No. 1, 2010), Bradley Beal (No. 3, 2012), and Otto Porter (No. 3, 2013) n Washington, top draft picks may not get you to the NBA elite. They may just keep you in no man's land.
Out West, we've gone through the Rockets and Spurs, but the Warriors were built around possibly the greatest No. 7 pick ever in Steph Curry (2009), and monster 2011 and 2012 drafts which netted Klay Thompson (2011, No. 11) and Draymond Green (2012, No. 35). Their highest pick in this run? The middling Harrison Barnes. (Yes. I'm aware that Kevin Durant was a No. 2 pick, but they'd never had the juice to sign him if they hadn't nailed their '09 and '11 drafts). And yes, you can go back and trace the Spurs' rise to Tim Duncan at No. 1 in 97, but they rode that wave with brilliant picks in Ginobili, Parker, and Leonard just like the Cavs could ride the Kevin Love and Collin Sexton Wave.
Rounding out the rest of the West, are the Blazers who are built around Lillard (No. 6, 2012) (who the Cavs could've had over Dion) and C.J. McCollum (No. 10, 2013). The Thunder tanked their way to getting Harden, Durant, and Westbrook, but the Jazz built their team around incredible draft picks Rudy Gobert (2013, No. 27) and Donovan Mitchell (2017, No. 13). (Man. Has any team in pro sports whiffed on a draft as badly as the Cavs did on '13?).
The Pelicans were built around being crappy in pursuit of Anthony Davis, but the TWolves are where they are not because of Andrew Wiggins and Karl Anthony-Towns, but because they traded for Jimmy Butler (2011, No. 30). Right behind them, the Nuggets have finished consistently in the middle of the field but are looking dangerous after drafting the Joker (No. 41, 2014), hitting on a slew late lottery hits, and now taking a high risk flier on Michael Porter Jr.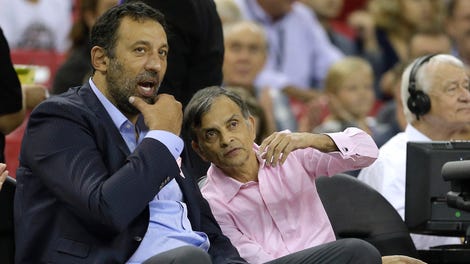 If there's any lesson to take from this is that tanking over and over is no sure fire recipe for success. For every Sixers squad, there's a King's squad who've squandered their opportunities over and over and over again. Their string of lottery picks from 2012: Thomas Robinson, Ben McLemore, Nik Stauskas, Willie Cauley-Stein, Georgios Papagiannis, Zach Collins, De'Aaron Fox, and Marvin Bagley Jr. Those last two guys are the only two guys I'd want on my squad. Robinson and PapaG aren't even in the league. It is very clear that culture, fit, and intelligence matter more than just having as many high draft picks as possible. More than anything, teams have to draft players who are hungry and have something to prove. Those guys are often not at the top of a draft board.
So color me as a guy who likes the current direction of the Cavaliers. I don't want to see a lose at all costs mentality, I believe that having smart veterans and a desire to put a winning product on the floor matter more than just having a top ten pick in 2019. Do I trust Koby Altman? Not especially, after the Isaiah Thomas trade and after getting fleeced by the Lakers last spring, but everyone in this organization deserves an opportunity to show what they can do now that they're out of LeBron's shadow.
And Koby's moves this summer have been commendable. Whether or not you think the Kevin Love extension was a good one or not, it at least gave the franchise a direction. Add to that playing hardball with Rodney Hood, adding Isaiah Taylor and high upside guys David Nwaba and Billy Preston. Nwaba is an NBA proven athletic guard who can defend multiple positions with his wingspan, and has the potential to be a a solid, 3-D-and finish guy. Preston has an NBA body a a good looking shooting stroke. A year in the G-League might turn him into a player.
The best part of these moves is aside from the Love extension: the Cavs have maintained long term flexibility and can use the 2020 non-fully-guaranteed deals for JR and Hill to add assets when the opportunities arise.
What other moves could the Cavs make? I'd still like to see them use their cap room to help Miami get below the tax, but it's looking increasingly like the Heat don't want to give up any youth or picks to do that. It would have been nice to get in on the Manimal trade that netted Brooklyn Kenneth Faried and a draft pick. Any of those types of moves should be the ones the Cavs embrace. Their goal shouldn't be significant cap room in 2019, but it should be to have significant room in 2020 and acquiring young talent that fits in today's NBA.
And there are still intriguing players out there that the Cavs could bring in. They don't have so much talent on the wing that they couldn't bring in another. KJ McDaniels who earned himself a Summer League finals MVP is the kind of high energy player who could ignite the Cavs' bench and has more long term upside than John Holland (though is not as good of a shooter). At 27, John Jenkins is another wing who is a knockdown three point shooter, and he had some good games for Portland in Vegas earlier this summer. With both those guys, you likely know what you're going to get, but what you're getting are quantifiable NBA skills: defensive flexibility and three point shooting.
I can't point out any one particular move that the Cavs should make, but what I'd hope is that they learn to recognize their biases and what has caused them to make massive mistakes in the past, and avoid those in the future: be dispassionate, trust the data, and use it to inform your decision making process. The Cavs are capable of making graduated increases in roster quality and intelligent decisions and building a roster so that when a superstar like Harden becomes available, they have the resources to grab him. Now that LeBron James, the ultimate safety net, is gone, they can't afford many misses as an organization if they want to become competitive again. Otherwise, they'll turn into the Hornets, or worse, The East Coast Kings. So for all our sakes, Dan and Koby, channel your inner Dork Elvii.