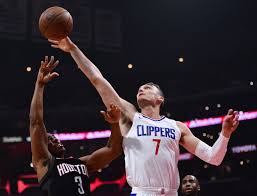 As the Cleveland Cavaliers continue rebuilding their roster to begin the second post-LeBron James era, a few points emphasis within their plan have become apparent. First off, they aren't interested in a complete tear down ala' the 2010-2011 Cavaliers. They believe that fielding a competitive team is better for the development of the young core players on the roster, as it makes it more difficult for a losing mentality to creep in. While some may disagree with this plan, anyone who remembers those Cavaliers of eight years ago can understand why Dan Gilbert would be hesitant to commit to a second total rebuild. Second, the team seems to be focused on building around young players with high motors, and at least some upside. While only the middle trait applies to Channing Frye, most would agree that Collin Sexton, Cedi Osman, and David Nwaba fit the bill.
Now, the Cavaliers have added another young player in Sam Dekker. Still just 24 years old, Dekker certainly fits the young part of the equation, but what about his motor and upside?
Cavs announce trade with Clippers for Sam Dekker finalized. Cavs send draft rights to Vladimir Veremeenko; receive draft rights to Renaldas Seibutis & cash considerations from LAC.

— Marla Ridenour (@MRidenourABJ) August 7, 2018
College basketball fans likely remember Dekker as a member of some great Wisconsin Badgers teams. Along with Frank Kaminsky, Dekker helped lead the Badgers to back-to-back Final Four Appearances in 2014 and 2015, losing to Duke in the 2015 NCAA Championship Game. The Badgers also won the 2015 Big Ten Championship, with Dekker taking home Second-team, All-Big Ten honors both of those years. It was during that 2015 Tournament run that Dekker really gained attention as an NBA prospect, as he was named West Regional Most Outstanding Player. Dekker was a different kind of player for a small forward. He shot a great 59.1% on his two-point attempts, and turned the ball over just once per game during his college career. He could get to the rim off the dribble in the pick-and-roll, moved well off the ball, and used his size (6'9″, 230 pounds) to bully smaller players down low. Dekker was also solid on the glass, particularly on the offensive end. On the defensive end, Dekker showed good lateral movement, and both the willingness and ability to chase and defend both small forwards and stretch power forwards. On the other hand, he didn't put up much in the way of blocks or steals, didn't really create for others, and wasn't much of a floor-spacer, shooting just 34.8% from deep and 69.5% from the line during his three seasons with the Badgers. While Dekker seemed to have a good motor, it was a bit inconsistent, perhaps due to his lack of confidence in his outside shot. Also, while he could defend both threes and fours, he wasn't (and isn't) an elite defender at either position, and lacked a truly elite offensive skill. These questions caused Dekker to fall slightly during the 2015 NBA Draft, when he was selected 18th overall by the Houston Rockets.
Fast-forward to his second season in Houston, and Dekker was still the same player in many ways. Back surgery had cost him all but three games of his rookie season, so Dekker didn't really play until the 2016-2017 season. Spending most of his time at power forward, Dekker averaged 18.4 minutes in 77 games, becoming a real rotation piece for a Rockets team that won 55 games. Dekker's strengths were evident, as he shot 59% on two-point attempts, averaged 2.4 offensive rebounds per 36 minutes, and averaged just one turnover per 36 minutes. Dekker also shot a non-terrible 32% from three on 2.4 attempts per game. While the percentage was below average, it was high enough that—when combined with the frequency of his attempts—it allowed Dekker to serve as a bit of a floor spacer. He still didn't get many steals or blocks, and shot just 56% from the line, but Dekker finished what was essentially his rookie season with a o.3 VORP, and ranked 41st among small forwards in Real Plus-Minus, ahead of the likes of Josh Richardson and Andrew Wiggins, as well as former Cavaliers Richard Jefferson and Jeff Green. The last two names are interesting in that Dekker may well take over the role of combo forward that Jefferson and (later) Green filled for the Cavaliers over the past three seasons.
Going into last summer, it looked like Dekker was possibly on the verge of a breakout season. He was considered one of the few Rockets with upside, and fit their switching defense far better than Ryan Anderson did. Then the insanity known as the NBA offseason began. Dekker was traded along with  Patrick Beverley, Montrezl Harrell, Darrun Hilliard, DeAndre Liggins, Lou Williams, Kyle Wiltjer and a 2018 first-round pick to the Los Angeles Clippers in exchange for Chris Paul. With Danilo Gallinari, Blake Griffin (until he was traded), Wesley Johnson, and later Tobias Harris ahead of him, it didn't seem like there would be a big opportunity for Dekker, and at first there wasn't. But—to the surprise of no one who follows the NBA—Griffin and Gallinari dealt with injuries while Johnson was ineffective for much of the season, and the window of opportunity was open for Dekker. But he didn't climb through. Dekker maintained his excellent shooting on two-point attempts, and continued to rebound at the same solid rate, but his outside shot completely abandoned him as he shot just 16.7% from three on the season. These struggles obviously affected Dekker, and he simply stopped shooting threes as the season went on (1.1 attempts per game before the All-Star Break, 0.2 attempts per game after). This wasn't the only issue. His assist percentage dropped, while his turnover percentage jumped, and he declined in Offensive and Defensive Win Shares as well as Box Plus-Minus at both ends of the floor. All of this added up to Dekker being rated below Replacement Value and becoming highly expendable to a Clippers team that was facing a roster crunch.
So the question is, which Sam Dekker are the Cleveland Cavaliers getting? The one who looked like an up-and-coming role player with the Rockets, or the one who looked like he was on his way out of the league with the Clippers? A year ago, almost everyone who covered or followed the NBA would have taken Sam Dekker over Jeff Green. Now, Green is coming off a surprisingly solid season with the Cavs, while Dekker was given away by the Clippers, with questions about his focus following him out the door. While it seems like Dekker will get more of an opportunity with the Cavs as a backup small forward/small ball power forward, he will still have to compete for minutes with Kevin Love, Cedi Osman, the Cavaliers' glut of big men, and possibly Rodney Hood and Kyle Korver. There is no guarantee here. Still, Dekker is just 24 years old, didn't cost the team any real assets, has shown potential in the past, is on a small contract, and will be a restricted free agent next summer. Trading for him was a low risk proposition for a team looking for young rotation players. If he pans out, great. If not, no big deal. All in all, this was a worthwhile move for Koby Altman and the Cavaliers.