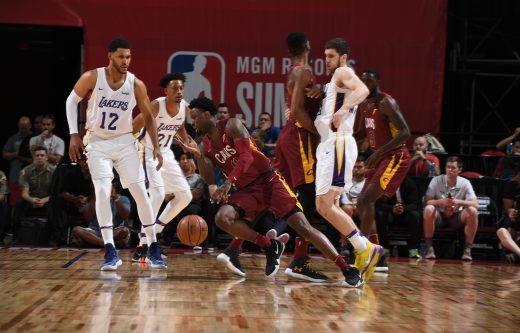 Thanks one last time to CLF for his summer league recaps.
Cavs put on a gutsy performance tonight, falling just short in a double overtime thriller against the Lakers, 112-109.  This was an absolutely riveting game from start to finish.  Both teams competed extremely hard, and from very early on everyone could tell it was coming down to the wire.  Here's your final player report for the summer!
Player of the game: Collin Sexton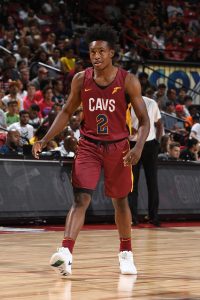 My oh my… Sexton put on a show tonight! It makes a statement when Collin Sexton was THE trending topic on Twitter arising from this game.  He was not without flaws, there were five turnovers and a missed free throw that would've put the Cavs into position to win the game, but there was absolutely growth for Sexton in this game. He wasn't having the best game but was able to bust out, and Sexton took it to another level when it mattered most.  The main takeaway for me was that he could be a "go to" guy on a team.
Sexton scored a team-high 27 points (9-22 FGs, 1-3 3pt FGs), 3 rebounds, 2 assists, and 2 steals.  But the numbers aren't the most impressive thing, it was how Sexton came up big in the most pressurized moments.  He had a run of baskets in the 4th quarter to keep the Cavs in the game, including the game-tying 3-pointer to send the game into overtime.  He made a spectacular play where he saved the Cavs from an over-and-back violation, then took a pass from Scoochie Smith, then scored a huge floater over size.  He took on the challenge of guarding Josh Hart, the best player on the court for the Lakers in crunch time.  Sexton wasn't afraid of the moment… he relished the pressure.  Hart even paid Sexton respect during Hart's post-game comments, saying, "He's got guts."  The passion with which Sexton plays the game really makes a difference, and now I can see why the Cavs fell in love with that aspect of his game.
Bench report: Scoochie Smith, Billy Preston, Vlad Brodziansky
Scoochie had a solid game with 14 points, 5 rebounds, 5 assists, and 1 steal with a +8 plus/minus. Coach James Posey rode him again with 27 minutes, utilizing Sexton and Smith in tandem in crunch time. Smith really stabilized the game in the 1st half with some "veteran" savvy. He struggled a bit with his shooting down the stretch, which could easily be attributed to the fatigue that comes with three games in three nights, not to mention double overtime tonight.  All in all, Smith showed improvement over the summer, and I hope he continues to build on his success in the summer.
Billy Preston turned in a decent game, with 10 points (4-10 FGs, 2-3 3pt FGs), 4 rebounds, 3 steals, and 1 assist. I look forward to seeing how Preston develops, because there is definitely talent there to work with. He's got a nice jumper, great handles for a big man, and nice length and athleticism.
Vlad Brodziansky, a rookie from TCU (Go Horned Frogs!!!), turned in his best performance of the summer with 10 points, 6 rebounds, 1 assist, and 1 block along with a +4 plus/minus. He played solid defense and has a knack for nice finishes on the offensive end around the rim. Coach Posey rode with him instead of Marcus Lee down the stretch presumably because he's a bit more of an offensive threat in pick and roll situations. It's always nice to see guys step up when their number's called.

Finishing the summer strongly: John Holland and Jamel Artis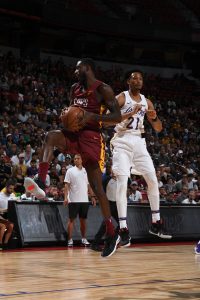 Holland built off of last game's performance with 17 points (5-10 FGs, 3-7 3pt FGs), 2 rebounds, and 1 assist.  You have to love how Holland plays defense like a madman and has absolutely no fear shooting the ball.  I have to give him credit, he really turned his summer around the past two games.
Artis got a really long look as the summer went along, culminating in tonight's 38-minute performance. He was solid with 17 points (6-11 FGs), 6 rebounds, 3 assists, and 1 steal. He struggled a bit with turnovers (three) and his defense could use work as his Laker counterparts Svi Mykhailiuk and Josh Hart absolutely went off tonight on offense.  He's another guy who showed improvement as the games went along, and I hope he's able to work on his game in Canton or elsewhere.

Hustle performance of the night: Okari White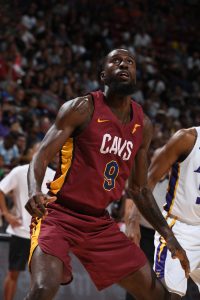 White hustled out there with 5 points (1-2 FGs, 1-1 3pt FGs), 9 rebounds, 2 assists, 2 blocks, and a +8 plus/minus in only 18 minutes.  Great to see him make a comeback from injury… I hope he continues his progress.
Well that's it for the summer… Coach Posey and the team should be proud of their accomplishments… Cedi Osman and Ante Zizic looked ready to go from the start, and Collin Sexton proved to be one of the best of a very deep rookie class.  The steady improvement of the players was remarkable and tribute to the coaching staff and players' hard work.  Shout out to Nate and the CtB gang for making this an enjoyable ride for the summer… it's a privilege to serve you all. Go Cavs!
In Other DNP/CD Related News: Kendrick Perkins Released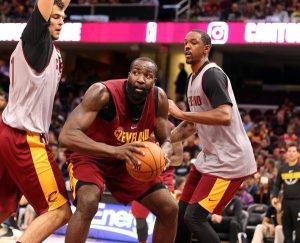 The Cavs waived Kendrick Perkins today, thus likely ending the Angry Smurf Era in Cleveland.
(Photos by Garrett Ellwood/NBAE via Getty Images)