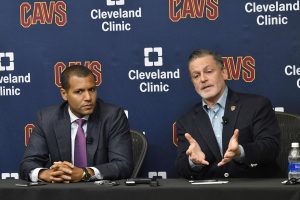 Whether they try to contend for a playoff spot or tear down their team in a complete rebuild, the Cleveland Cavaliers are in a state of transition. When the best player in the game leaves your team, that's bound to happen, and that's exactly what happened to the Cavaliers with LeBron James now a Los Angeles Laker. Besides James, Jeff Green and Jose Calderon have both left for new teams, and Kendrick Perkins was waived last week. With the return of Channing Frye, the Cavs' roster now stands at 11 players with guaranteed contracts, Okaro White and his non-guaranteed deal, and a pair of two-way contracts belonging to John Holland and Billy Preston.
This leaves somewhere between two and four roster spots that the Cavaliers will need to fill by the start of this season. They can fill just two by guaranteeing White's contract and leaving the final roster spot open, three by guaranteeing White's contract and filling the other roster spots, and four by waiving White and then signing four new players. How they will do this remains to be seen.
When looking at the Cavaliers' roster, it becomes apparent the the most glaring needs are at the forward spots. Collin Sexton is the point guard of the present and future, and George Hill and Jordan Clarkson are his likely backups. JR Smith and (possibly) Kyle Korver are returning at shooting guard, and Hill and Clarkson will likely get minutes there as well. Meanwhile, Tristan Thompson, Ante Zizic, Larry Nance Jr., Kevin Love, and Frye can all play center, but only Love, Nance, and White are really able to play power forward at this point. Even then, Nance's lack of shooting makes him a poor fit alongside Thompson and Zizic, and the jury is still out on White as an NBA player. The small forward spot is even thinner, with Cedi Osman the only true three on the roster right now. Re-signing Rodney Hood would help here, but not as much as one would think. At 6'8″, Hood has the height of a small forward, but his slight frame hinders him defensively, making him a more natural fit at shooting guard. How much Hood actually helps on the court is another concern, but a discussion for another time.
With that in mind, here are a few unrestricted free agents who are relatively young, affordable, have shown some potential at the NBA level, and fit the Cavaliers' positions of need.
With the Brooklyn Nets signing Treveon Graham, Nwaba becomes the best affordable wing on the board, and has been linked to the Cavaliers by Joe Vardon of Cleveland.com. An athletic 25 year old who runs the floor and plays hard on defense, Nwaba also shot a respectable 34.6% last season, albeit on less than one attempt per game. Undrafted out of California Polytechnic State University in 2016, Nwaba made the D-League All-Defensive and All-Rookie teams with the Los Angeles D-Fenders before signing with the Los Angeles Lakers and appearing in 20 games with them. Averaging six points and three rebounds one 58% shooting in just under 20 minutes per game with the Lakers, Nwaba caught the eye of some with his constant energy on the court. While he was waived by the Lakers, Nwaba was claimed by the Chicago Bulls, and played in 70 games for them last season, making 21 starts and averaging 23.5 minutes per game while improving both his passing and outside shooting. It seemed as though Nwaba had found a home with the Bulls until they rescinded his qualifying offer, making him an unrestricted free agent so that they could sign Jabari Parker. Nwaba still doesn't have much of a handle, and at 6'4″ he's a bit on the short side for a small forward, but his 7'0″ wingspan and high level of athleticism would allow him to be a solid backup to Osman for years to come.
A Cleveland native who played his first three years of high school basketball at St. Vincent-St. Mary before transferring to Brewster Academy in New Hampshire, a homecoming may make some sense for Sampson. The 25 year old has bounced between the NBA and G-League with various teams for the last four seasons, spending last season on a two-way contract with the Sacramento Kings. A long 6'9″, Sampson has the ideal physical profile for a small forward, if not necessarily the game of one. That isn't to say Sampson can't play, he can. Sampson has steadily improved his game over the past few seasons. Like Nwaba, Sampson does a great job of using his athleticism in transition and on defense. He's a very good rebounder for his position as well, but has absolutely no shooting or ball handling skills. Sampson is a sub 30% three point shooter for his career in both the NBA and G-League, and averaged less than an assist per game at both levels last season. That's the biggest problem in terms of Sampson fitting in with the Cavaliers. He's a small forward with the game of a rim running, defense-oriented power forward. On a team that already has Tristan Thompson and Larry Nance Jr., a wing that cannot shoot is a poor fit. Still, Sampson is young and athletic, and has at least proven that he is an NBA player.
It's hard to get excited about a player who was just waived by the New York Knicks, but Williams deserves at least another look in the NBA. Like Nwaba and Sampson, Williams is an athletic wing who uses that athleticism to make make plays on both ends of the court. Williams's three-point shooting has been inconsistent at both the NBA and G-League levels, but it has improved a bit, and at 23 years old, time is still on his side. To his credit, Williams mostly sticks to scoring on threes and shots at the rim, which certainly fits the analytics-friendly style of today's NBA. Williams is also an aggressive defender, and fits the basic template for a 3-and-D player. Now if he can just improve that handle. Williams has averaged more assists than turnovers during his professional career, and has little ability to create for himself or others. Still, he is the kind of young player a team should take a look at.
Brown isn't the kind of player who should be penciled into the rotation, but he does have enough upside that he should be considered for one of the last roster spots. A G-League All-Star in each of the past two seasons, Brown spent last season with the Minnesota Timberwolves on a two-way contract. He only played one game with the T-Wolves despite them having a need on the wing, but coach Tom Thibodeau isn't exactly known for expanding his rotation to give young guys chances. What makes the 25 year old interesting is the fact that he has shot above 40% from three in each of his last two seasons in the G-League on over five attempts per game. He's also averaged over three assists per game during this time, and at 6'7″ with a 6'11" wingspan, Brown at least fits the physical profile of a wing defender. Still, Brown was at Stanford for five years due to redshirting his junior season, meaning that he is no spring chicken by NBA standards. If soon-to-be 26 year old is going to establish himself in the NBA after playing just 762 minutes at that level over the last three years, it will have to be soon.
The lone power forward on this list, it's hard to believe Vonleh won't be 23 for another month. It seems like he's been around forever. Compared to the likes of Chris Bosh and LaMarcus Aldridge after a solid freshman season at Indiana, Vonleh hasn't come close to living up to that billing. A solid enough defender who's actually quite good on the glass, Vonleh has been a pretty poor offensive player throughout his career. He's athletic and can finish at the rim, but simply isn't very aggressive on that end. What's worse, he has just just under 30% from three for his career on exactly two attempts per 100 possessions, pretty disappointing for a player who looked like a versatile stretch big coming out of college. Still, Vonleh has the combination of youth, size, athleticism, and shooting potential to warrant a spot on a young team. The flashes are there.
Other Options
There isn't really a lot else left on the unrestricted free agent market for potential forwards. Richard Jefferson and Joe Johnson are at the end of good careers. Shabazz Muhammad is a name, but has never been able to actually help his team on the court, and seems to think of himself as a star that he clearly isn't. Corey Brewer was solid for the Thunder in the second half of last season, and had good chemistry with Love during their time together in Minnesota. That said,  Brewer has always been a bit overrated defensively, and is no spring chicken at 32 years old. Trevor Booker isn't nearly the shooter (or player) that some make him out to be, and would seem a bit redundant in Cleveland, although the team has shown interest. Luke Babbitt, another rumored Cavs target, is a good outside shooter, but brings absolutely nothing else to the game.
On the trade front, there are a few useful, if not intriguing, players that could be available. Kent Bazemore is a bit small for a three, but is still a solid (if overpaid) player. Would the Hawks be willing to take on JR Smith's semi-expiring deal for Bazemore's longer one? The Nets have a glut of average-ish wings. Would they be willing to trade one of DeMarre Carroll or Allen Crabbe for Smith's contract and a highly protected second round pick? Would the Hornets be willing to take Smith's shorter contract and better shooting for Michael Kidd-Gilchrist, despite MKG's youth and superior defense? With the addition of Kawhi Leonard and a playoff showdown with the Celtics looming, would the Raptors want to trade Norman Powell and CJ Miles for Tristan Thompson, a Toronto native and noted Horford stopper? Would the Heat attach Justise Winslow to get off Tyler Johnson's contract for George Hill's expiring? While none of these players are stars—and some of these trades are stretches, to say the least—they all could combine with Osman to make a solid, if unspectacular, duo at small forward, and in the cases of Winslow and MKG, it could be much more than that.
With up to four open roster spots, there's no doubt that the Cleveland Cavaliers will be making several moves before training camp. However, with a team in transition, a somewhat imbalanced roster, and a lack of high-end free agent options, it's impossible to know what those moves will be. Still, if they play their cards right, the Cavaliers can add some players who could have a real impact both next season and beyond.