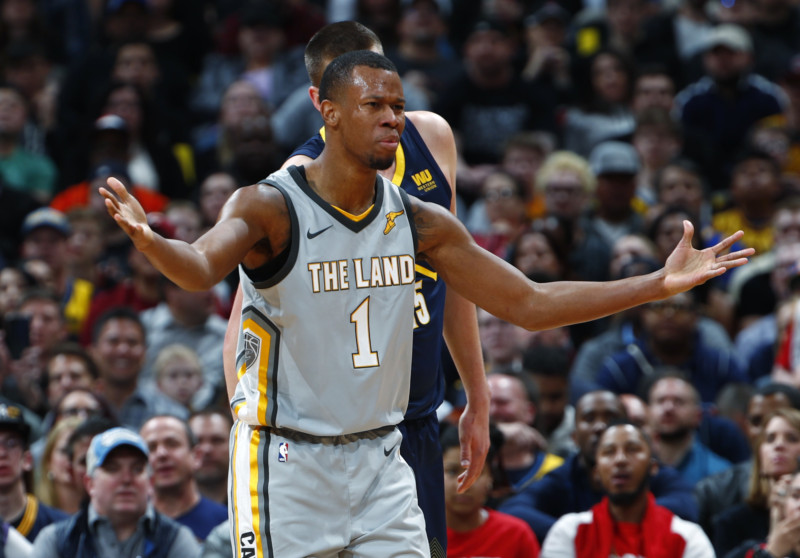 On February 8th, 2018 in the final hours before the 2017-18 NBA Trade Deadline, the Cavaliers front office, namely rookie GM Koby Altman, took part in a series of trades that rocked the Cavaliers' universe in what was initially a fresh and exciting fashion. In a combination of three separate trades, Altman rid Cleveland of Dwyane Wade, Isaiah Thomas, Derrick Rose, Jae Crowder, and unfortunately, Channing Frye. In return the team received George Hill, Rodney Hood, Larry Nance, Jr., and Jordan Clarkson. In what amounted to a period of about two hours of time, the Cavaliers announced essentially a whole new roster with which to surround LeBron James.
Much of the NBA world and nearly all Cleveland fans lost their collective minds. Seriously, go back and look at the "Podcap" CtB had posted for the previous night's OT win against the Timberwolves. The thread reached almost 900 comments and that's just what we had here in our own private beach side community. Twitter was losing its digital feathers over the trades as well. And while there was some disagreements around the NBA world about whether or not the trades were enough, or even good, most of us were just glad to have shipped out the rotten detritus that had attached itself to the roster (excluding the now returned Channing Frye), and replaced them with guys who were younger and more athletic. Unfortunately, Cleveland watched their hopes and dreams slowly stream through the cracks of their fingers as one of the major acquisitions, Rodney Hood, began to show everyone east of the Mississippi why Utah was so willing to trade the lengthy wing.
The Case For Rodney Hood:
Because I'm feeling a bit generous, let's start out with Rodney Hood's positives. After all, I like to give most people the benefit of the doubt. While it may have been difficult to see in the final months of the regular season and, in particular, the playoffs, Hood does have some positive aspects to his game.
The main thing to focus on is Hood's shooting. Yes, yes, I know, Hood shot an unforgivably bad 4 of 24 in last year's Finals run. I haven't forgotten and I'll address it later. For right now, we'll stick with as much data as we can. For his career, Hood is a very respectable 36.9% shooter from distance and is doing it on 3.4 shots per game. For last season alone, Hood shot 38.3% from three as well as 38.8% on catch and shoot threes. Better than his percentage is his oh-so-smooth stroke. The fundamentals involved in Rodney Hood's left handed jumpers are something to be studied by aspiring shooters and are most certainly responsible for his shooting successes. Watch the video below as former Cavs coach Phil Handy works with Hood on his jumper. Hood's shot starts with a nice wide base with his dominant foot slightly forward. From there, Hood lifts the ball straight up followed by the flick of his wrist and follow through with the near-perfect "L" shape of his arm bent at the elbow.

Hood is regularly able to reproduce this shooting motion whether he's pulling up off the dribble, catching and shooting, driving and pulling up, or stepping back. The ability to replicate his shooting motion allows him to consistently shoot from most anywhere on the court. A shooter in today's NBA is one of the most valuable pieces of the basketball team puzzle. You can see him in the video below demonstrating and repeating his form. In this game from 2016 Hood goes 8-9 from three for 30 points total. And while this took place more than two years ago, you can see that his shooting motion hasn't changed when compared to the clip above. These numbers should be able to be replicated on occasion moving forward in his career. Obviously what should be and what is doesn't always correlate, more on that later.
As mentioned above, Hood is able to replicate his shooting stroke from any motion and is therefore effective at getting his own shot. The Cavaliers were hoping Hood could help ease the play-making burden tasked to LeBron James. Without James being on the team, more of that play-making duty will fall on his shoulders, so it's good to know that he, at the very least, possesses the technical skills to do so.
Along with his technical skills, Rodney Hood has proven he can be effective in the pick and roll as the main ball handler, something that LeBron hardly ever allowed in his time in Cleveland. With James as the primary ball-handler in nearly every set, the Cavs never developed an offense that could subsist without the superstar on the court. However, per Synergy Sports Technology, Rodney Hood ranks in the 80th percentile of pick and roll ball handlers in regards to offensive efficiency.
He's also proven to be effective in transition, as Synergy Basketball also references an eFG% of 67% and 62% on spot up jumpers. With a team that is attempting to play faster this season, effective transition games are a must. Getting Hood out in the lane on a fast break is a recipe for success and should pair really well with the addition of Collin Sexton bringing the ball up the court.
Finally, Hood is only turning 26 this year and just entering his prime. Yes, most of his advancements in skill should have occurred by now, but there is still room and time for him to grow as a player. After all, if he puts in the work, there is no reason why his game can't progress every year he plays considering his play style isn't necessarily dependent on the hyper athleticism many wings exhibit.
The Case Against Rodney Hood:
Now, those shooting numbers almost make you forget how completely irrelevant they were when the playoffs rolled around. When the pressure was on and LeBron was busy dragging 14 other players through the playoffs to another Finals appearance, Hood was busy bricking three after three after three. He shot only 4 for 24 from distance and largely completely disappeared when the Cavaliers needed him most. Possibly the biggest factor working against Hood is his seeming inability to produce in these high pressure situations.
We all remember  when Hood refused to enter the game during garbage time at the end of Game 4 against the Toronto Raptors. And while it eventually came out that his decision to refuse to enter the game was more out of dissatisfaction with himself rather than the team, his mental fortitude is clearly an issue. I don't know if it is a result of anxiety issues like those Kevin Love has been outspoken about recently, if he was just mentally and physically exhausted from being a new father to twins (this would wreck any of us), or if he just lost all confidence in his game, but the result was a playoff performance that was extremely wanting.
Rodney Hood refused to enter the game when summoned in the fourth quarter Monday, angering a number of teammates, according to multiple sources. It was the only blemish on an otherwise impressive series sweep for the Cavs. Final Thoughts from the Qhttps://t.co/wcMQ8q0L58

— Jason Lloyd (@JasonLloydNBA) May 8, 2018
Rodney Hood looks the part of an NBA player, his jumper is so smooth he puts soft-serve ice cream to shame, but for whatever reason, Hood plays with no oomph. He has the tools to be successful but can't get himself to that next level. It shows clearly on the defensive end. Unfortunately, Hood's wingspan is only about 6'8″ and a bit lacking as far as the NBA is concerned. Instead of making up for that in defensive instinct or effort, Hood seems content to just exist on the defensive end of the court. In the 2017-18 season he averaged just under a steal per game with 0.8 and only 0.2 blocks per game. Seriously, someone of his size can average 0.2 blocks per game by just putting his hands up and playing tight defense. With just the smallest bit of defensive instincts or effort, one would hope a serviceable wing could average at least half a block a game. By comparison, Mario Chalmers averaged more blocks per game than Hood. And while we're at it, Chalmers averaged more steals as well. He finished the 2017-18 season with a Defensive Rating of 108.6 and was worse once traded to Cleveland as he finished here with a 111.3 rating. He also finished the season ranked 246th in defensive win shares with only 0.02. That's three spots below Swaggy P…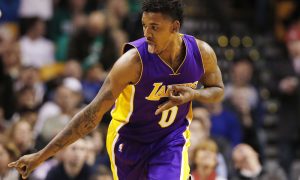 His less than stellar performances extend beyond defense however, as he doesn't rebound (he averaged 2.8 last season) and doesn't generate that many assists, averaging 1.6 per game last season. So while his shot is stellar, he's mediocre or below in almost every other facet of the game. That includes the mental aspect. Sports journalists, and especially ex-players, love to talk about a player's "killer instinct". The Cult of Kobe often cites this intangible aspect of Bryant's game when trying to leverage his prowess against LeBron's. We hear about it rather frequently but there isn't really a way to measure it. Luckily, we don't need any measuring tools to figure out that Hood doesn't really have that "killer instinct". He looks downright passive on the court. Even when he is incredibly effective on the court, his game just doesn't scream domination and I don't think it ever will, regardless of what team he's on.
Final Judgement:
Despite what looks like a strong case against Hood, I'm actually for keeping him… for now. Let me explain. I don't get too excited when I think about the possibility of actively tanking. I know my fellow writer Nate Smith loathes it. I also hate the idea of losing our pick next season to Atlanta just to get knocked out in the first round of the playoffs or miss them all together. Where I'm going with this is that Hood gives Cleveland empty stats and in this circumstance, that's a good thing. The Cavs should keep Hood on his qualifying offer, assuming nobody swoops in with a bigger one in the meantime, and hope Hood improves with this new King-less environment. Koby Altman needs to allow him to show off on the offensive end and earn back some of his value then trade him at the deadline for all he's worth. In this case, we get to watch guys try hard on the court all season while ultimately netting the Cavaliers very few wins. This is the ideal situation for those of us who are opposed to tanking. And hey, maybe Hood surprises us all and finally takes the next step this season.