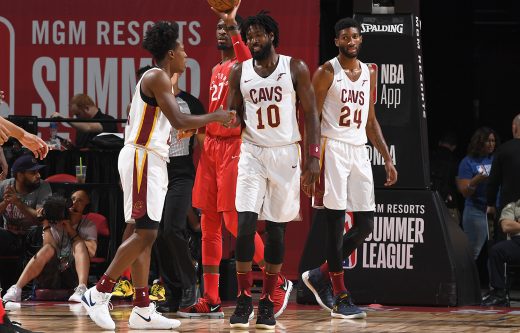 Thanks again to CLF for today's recap. I've added a note on Colin Sexton.
After a close first half, the Cavs put on a dominant defensive performance in the third quarter to notch their fourth straight win, 82-68.  The Cavs struggled a little with their shooting, but made up for it with fantastic hustle and competitiveness.  The Cavs turned the game on its head with a 21-4 beatdown in the third quarter to essentially put the game away.  The only real flaw in this game was the Cavs inability to consistently break a full court press by Toronto in the fourthquarter… my guess is Coach James Posey has found a coaching point for future reference.  The Cavs dominated the glass (45-39), held the Raptors to very poor shooting (31%), and turned in 10 blocks as a team for the game.  There's no question that part of the reason for the shooting struggles were due to the back-to-back games the Cavs have played.  What's most impressive about the  victory is that the Cavs are proving how to win in different ways. Some days it's defense, some days it's offense. Here's your player report:
Player of the game: John Holland
John Holland has struggled this summer to say the least.  I'd argue his low point was last game, where he chucked up the worst shot I've seen all summer, an extremely poorly thought-out three pointer in transition. But Holland decided to make up for his poor performances with a sorely needed 23 points (8-12 FGs, 4-7 3pt FGs), along with his omnipresent feisty defense. His energy and shotmaking were clutch.  He kept the Cavs from falling too far behind in the first half, and his hustle set the tone for the whole team in the second half. Kudos to him for bouncing back, keeping his confidence, and playing some great ball.
Bounceback performance: Collin Sexton
Sexton had a nice bounceback game today, with 18 points (6-14 FGs), six assists, three rebounds, and only three turnovers. He was more controlled in his aggression, and made some good passes today.  A couple that stood out were a fantastic dump off to Lee for a slam dunk early in the first half and a fantastic touch pass to Vlad Brodziansky in the second half. He also hit Holland and Billy Preston for open jumpers.  The next step in Sexton's evolution I want to see is using his elite speed and above average wingspan to create turnovers on the defensive end. A guy with his length and speed should have a steal every game.
Nate's Note: Sexton looked mentally fatigued at the end of this game, and made some bad decisions. Most notably, going isolation. Colin is not a good iso player in the half court. His "get by" move is basically using his straight line speed. While he has a decent first step, Colin's lack of shimmy or ability to get his defender off balance with his average handle (for a point guard) makes it tough for him to do anything but back up and go straight line by his guy or drive the defender back and shoot a pull-up or a floater (which he does too often). He doesn't even use a spin move either. Because defenders don't respect his three ball, they can give him the space on the perimeter to negate his first step. Colin's ability to finish from either side does ensure that defenders don't overplay either hand, but he's got to work on his get-by move.
Like a slightly better Ramon Sessions https://t.co/eZBz8Mh2UQ

— STILL THROWIN SOUP AT CHA (@WayneEmbrysKids) July 15, 2018
Also, he's getting himself trapped on drives. As Ben has noted, Sexton needs to work on "Nashing" the ball around the baseline and sneaking it up quickly, or leaving himself a pass to a cutter or shooter. Sexton overpenetraded and got stuck putting up a bad shot or turnover several times Sunday and it led to bad possessions for the Cavs. Against better teams, he'll get eaten alive by giving up his dribble too early. Sexton also struggled against the press, and Scoochie Smith looked far more comfortable dribbing against it. Sexton has to work on his handle against pressure and realize his speed can't get him out of every situation. When he did get to the cup, he finished nicely and with strength, but he still goes glass-less too much for my taste. He also jumps to pass far too often.
Bench report: Billy Preston and Scoochie Smith
Preston turned in a solid bench performance with 10 points (3-8 FGs) and nine rebounds.  His activity cleaning glass was fantastic today, building off of last game's performance. His midrange jumper looked nice today.  One thing that will have to improve for Preston is his ability to finish around the rim. He doesn't use his length and strength to finish through or around contact.  It makes Preston appear to play much smaller than he actually is. He also appears to be incapable of finishing with off-hand (left). Maybe he needs to get stronger, or he just needs to get comfortable.  Whatever the case, a guy with his length and athleticism, and natural talent for offensive basketball should be a better finisher around the rim.
Scoochie Smith turned in a solid bench performance as well, with 10 points (3-7 FGs, 2-4 3pt FGs), 4 rebounds, 2 assists, 2 blocks, and 1 steal.  Coach James Posey rewarded Smith for his play with a lot more minutes than usual. Smith rewarded Posey's trust with a solid performance, especially on the defensive end. Smith also helped steady the offense against the press late.
Game-winning hustle performances: Okari White and Jamel Artis
White (10 rebounds, +19 plus/minus) and Artis  (8 rebounds, +22 plus/minus) really did a good job with their defensive activity and ability to clean glass.  I always have a soft spot for hustle and defense, these guys brought in spades. Artis also was a part of the "play of the game," a press-breaker out of a timeout where he hit Sexton cutting from the right corner for a double clutch hoop and the harm.
The Cavs have now set up an anticipated matchup with the top seeded and undefeated L.A. Lakers' summer squad.  There's a chance that LeBron James will be courtside for this contest. Check it out tonight at 8:30 on ESPN2.