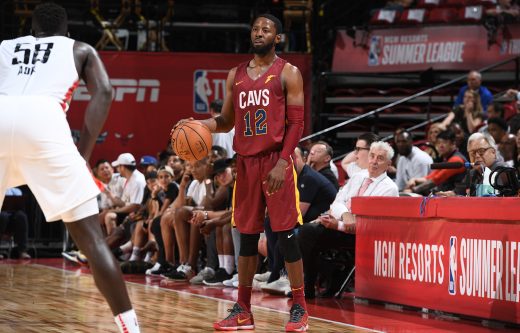 Thanks to CLF who provides today's Summer League Recap!
The Cavs advanced today in the NBA Summer League tournament by defeating the undefeated Rockets 92-87. The game was competitive and hard-fought, with neither team being able to dominate the other.  I've watched a bit of Houston play, and I have to say, this was an impressive win for the Cavs this summer.
Player of the game: Scoochie Smith
A four year player for the Dayton Flyers, Smith turned in his best performance of the summer at the most opportune time, with 17 points (6-12 FGs, 3-5 3pt FGs), three assists, and a game high +9 in only 18 minutes. What was particularly impressive with Smith's performance was the "clutch-ness" of his timing.  The Cavs' starters were struggling through the 3rd quarter, especially with turnovers. Smith came in and settled the game for the Cavs, and Coach James Posey smartly rode Smith in the 4th quarter and Smith delivered clutch buckets and a clutch pass to Jamel Artis to seal the game. Smith has steadily improved from game to game, and his last two games have been impressive as a backup to Collin Sexton.
I don't know what Smith's ultimate NBA fate is, but this is what I've seen from him this summer: he's got a wickedly smooth jumper off the dribble that extends to 3-point range, which he's used to great effect the past two games. He's turned in some of the most impressive assists this summer outside of Cedi Osman, including an incredible behind the back pass to Billy Preston in transition and a super-clutch, on-target skip pass to Jamel Artis for a dagger 3.  Smith also knows how to feed the hot hand, getting Dakota Mathias two open jumpers in a row for a heat check.
Scoochie not the most athletic guy and at six-foot-two, he's basically the same size as Sexton, but he's showed a savvy hesitation move to get to the rim against mismatches, and his handle is tight as anyone I've seen in Vegas. Scoochie started his pro career for the Cairns Taipans in Australia last year. He followed that up with eight games for the Canton Charge, where he put up some impressive numbers (14.3 pts., 8.1 assists, 4.3 rebounds, and an astounding 67 TS%). This guy is fun to root for, and might be a name you'll see somewhere in the future. Check out the highlights below: first Scoochie uses that behind-the-back dribble to put Isaiah Hartenstein on roller skates for a clutch jumper in isolation, then he ices the game when he controls the shot clock before finding a wide open Jamel Artis, who cans the triple to put the game away.
Clutch bench performances: Dakota Mathias and Billy Preston
Today was the most impressive summer performance from Dakota Mathias, with 10 points (3-4 FGs, 2-3 3pt FGs) 2 assists, 2 rebounds, and a +5 plus/minus.  It's clear he's a smart player. It's clear his jumper is sweet. It's clear he must absolutely work on is his on-ball defense.  His foot speed is lacking for the NBA level.  If he can shore up the defensive part of his game, he'll be a guy who can be a microwave shooter somewhere. He was outstanding off the bench with Smith and Preston.
Billy Preston turned in one of his better performances, with 12 points (4-14 FGs), 6 rebounds, 1 assist, no turnovers and a +4 plus/minus.  What was most impressive was Preston's rebounding… he really crashed the boards today. He started off hot from the field, but cooled off… in my opinion, he took a couple of shots because he had to as the primary offensive option so the inefficient shooting stats are a bit skewed.  One thing he does have to work on is his post moves.  He falls in love with the fadeaway to his left.  He needs a countermove to the fadeaway because the defense started keying in on the fadeaway. But he looks like he's gaining in rhythm, and that's a good thing.
Another impressive improvement for Preston is passing out of the double team in the post.  The Rockets were clearly scheming to double Preston in the post. Preston was unselfish and passed the ball out without much hesitation.  This is a crucial improvement in Preston's game that will serve him well in the future. As it was mentioned, Preston had no turnovers and his passing out of the post was a key reason why.
Most uneven performance: Collin Sexton
Sexton had an up and down day, with 17 points (5-17 FGs), six rebounds, three assists, two steals, and five turnovers.  Collin did have a few highlight drives, showing off hesitation moves, his elite speed, and his ability to finish over size and through contact. He followed Ben's advice and tried to get all the way to the rim on his finishes. The best thing about today was Sexton had one of his worst games, and he still tied for the team lead in points and had a +5 plus/minus… so he's a positive force even when his game is off.
Sexton started off the game poorly, with poor decisions.  The shot selection wasn't smart, some of the drives were out of control. But one positive thing really stood out, which was his ability to be a floor general in the 4th quarter. He recognized Scoochie Smith was playing well, moved off-ball, and smartly deferred to Smith in crunch time, even pointing to Smith to take the pick and roll at the top of the arch to initiate offense.  I think it says something good that Sexton wasn't forcing it when his game wasn't there. I'm excited to see how Sexton responds in the next game… I have a hunch he will respond well.
Taking advantage of opportunity: Marcus Lee and Jamel Artis
Marcus Lee continues to do good things in Zizic's place, with eight points (4-6 FGs) and six rebounds, including three offensive rebounds. Lee showed off a sweet spin move to hook shot in the second half. He showed off his athleticism with an insane one-handed dunk in transition off an alley-oop pass from John Holland that was too high and too far behind for most players. Marcus flashed defensive smarts drawing a charge early in the game and showed off his hustle with a nice offensive rebound and dunk.  He makes positive plays and very few negative ones… he's one of my favorite players on this squad. Wouldn't be surprised at all to see him get a camp invite, and will fight Scoochie and John Holland for a two-way contract.
Jamel Artis continued to show something positive, with 13 points (5-8 FGs, 2-4 3pt FGs), 9 rebounds, and a +7 plus/minus. Artis made a clutch dagger 3 at the end of the shot clock to put the game out of reach (see above). He also a nice ability to use his size to bully for some rebounds. He made up for a bonehead turnover early in the game with a sweet outlet pass to Sexton for a transition basket.  I'm intrigued by Artis, mainly because he's shot very well from 3 this summer if my memory serves me. At six-foot-seven, he's got width and length to be physical, and Pittsburgh players are notorious for their toughness and defense. In today's "switch everything." He could be a nice developmental 3 and D player in the future.
Houston's similarly framed dude, Danuel House lit it up for 30 on 20 shots, going 5-11 from downtown, and added six rebounds, three steals, and three dimes in 29 minutes. De'Anthony Melton struggled offensively with 16 points on 17 shots and five turnovers from the point guard spot, but added 10 rebounds, four steals and a block. House capped a strong summer league by scoring from all over the court: on the ball, off the ball, from deep, off the cut, off the rebound, and pretty much gave Houston points whenever they needed them. He looked like a chesty, rangy "Three Guard" – as he called himself in post-game interviews – that fits the new positionless NBA. House will get a shot with someone.
The Cavs have a chance to play last year's Summer League champs, the Los Angeles Lakers (if the Cavs beat the Raptors and the Lakers beat the Pistons) That would be one of the more anticipated Summer League matchups in a while, given Las Vegas' close proximity to L.A., and a rumored appearance by LeBron at a Lakers' Summer League game. The Summer Cavs play the Raps at 6:00 Sunday night on ESPN2.