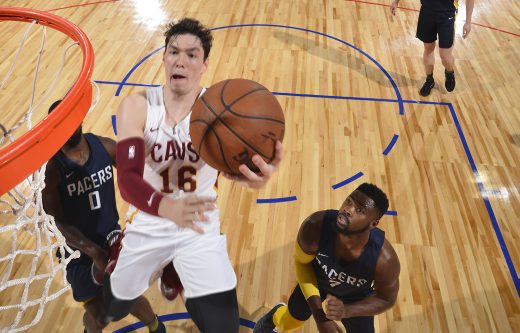 The force is strong with this one! Cedi Osman returned to action for the Cavs' Summer Leaguers Monday afternoon and looked like a Jedi master. Won't Ante Zizic out for rest, Cedi scored 25 on 18 shots and added six dimes and six boards in 31 minutes, plus a block and a steal. He looked, dare-I-say LeBron-esque the the way he controlled the game down the stretch: isolating on big men and shooting over them, or backing down smaller guys on switches and going to the hole… oh, and the spin moves. He combined with Marcus Lee (six points, six boards, and +10 in 21 minutes) and Collin Sexton to stop Aaron Holiday (12 points on 4-14 shooting), guard Edmon Sumner (14), and Center TJ Leaf (20 points on 21 shots).
Sexton had another solid game with 21 points on 9-17 shooting, four assists, and four turnovers. He attacked in transition and off the dribble, and no one on Indy seemed to have a shot at guarding him off the bounce. He still drives me nuts when he doesn't use the backboard to finish, but he and Cedi are deadly together, cause no one can load up on either one of them, and Cedi, especially, looked too good for this league.
Both guys sliced up the Pacers in the pick and roll, and showed a great chemistry together as three of Sexton's dimes went to Osman. Check out the highlights below. The Cavs are off till at least Wednesday when the Summer League tourney starts up. Hopefully, the inspiring play continues.