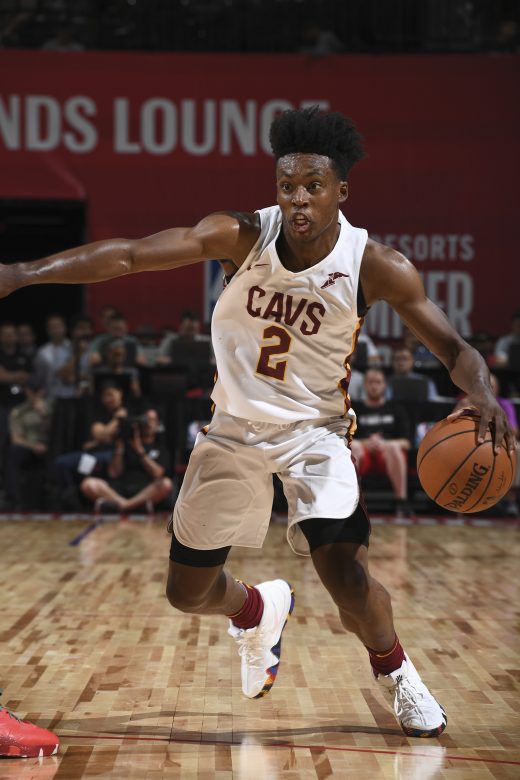 Editor's Note: Thanks for CLF for scouting this one again. I was only able to stay away for the first half. I have to "watch the film" to see what happened in the second.
The summer Cavs fell to the Bulls 86-81 in a highly competitive game. With Cedi Osman (rest) and Billy Preston (thigh contusion) receiving the night off, the Cavs were obviously at a disadvantage coming off a back-to-back along with missing two offensive weapons, while Chicago was playing in its first action of the summer. The defense wasn't as good, and while the shooting was better, it was still abysmal from 3-point range and from the free throw stripe.
Cleveland could not stop Antonio Blakeney in the first half, and trailed by as much as 15 in the second quarter. Blakeny dropped 25 on 19 shots on the night, getting to the rim and mid-range early, but Cleveland rallied in the fourth, retaking the lead briefly at the 6:58 mark. Wendell Carter Jr. retook the lead at the free throw line, and the Bulls never trailed again.
Here's the report card for the Cavs:
Player of the game: Ante Zizic
Zizic put in a dominating performance with 25 points (11-14 FGs), 11 rebounds, and two assists. He was efficient in scoring, from the post, on putbacks, dump offs, and post feeds.  Zizic was really the primary offensive weapon and the Cavs could've done a better job of feeding him in the 4th quarter. There were few negatives to his game: he was a little slow guarding the pick-and-roll and had a team-high five turnovers. At this point, the Cavs' brain trust is brain dead if Zizic doesn't see regular minutes off the bench this year, especially against any traditional big men.
Best rookie performance: Collin Sexton
Sexton turned in a decent, if a bit uneven, performance tonight, with 14 points, two rebounds, two assists, and only one turnover in 29 minutes.  Sexton had a fantastic sequence in the 3rd quarter, with a highlight assist on a fast break as well as a highlight layup on a fast break in consecutive possessions.  His burst spearheaded the comeback for the Cavs before they eventually fell short. But those two plays were the first plays that I saw from him that were "WOW" plays.
He looked a bit fatigued: he didn't move the ball as well and his free throw shooting was poor, going 2-6, although two misses came right after a slight injury to his shooting elbow. One thing he did do better was look for his shot, especially in the midrange… he hit two beautiful off the dribble midrange jumpers.  I do believe his somewhat awkward shooting mechanics is showing up on his misses from 3-point range. He's going to need to develop more upper body strength if he doesn't change his mechanics. As built as he already is up top, that could be hard to do.
Déjà vu performance: Dakota Mathias
Mathias went 1-5 from 3-point range, missing 4 shots in a row after a beautiful off the dribble three to start. He did make a beautiful assist pass to Zizic for an easy dunk, showing off his vision and anticipation.  His shot looks good, his release is very quick, and he doesn't pass up good looks… but he needs to focus and take his time when he gets his looks. One thing he does well is move off the ball well and floats to space on the perimeter.  Another good sign is that he was a +4 plus/minus and generally looks like he's not a negative when he's on the court. He was one of only two players with a positive plus/minus. I still haven't bailed the bandwagon… yet.
Best bench performance: Marcus Lee
Marcus Lee had a bad turnover and wasn't perfect from the field, going 2-4, but he contributed 6 rebounds and was a +6 plus/minus in 11 minutes.  He had a nice dunk as well off an offensive rebound. He'll at least get a camp invite if he keeps up this level of play.
Worst Starter: John Holland
Holland scored 11 on 14 shots, going 3-10 from downtown, and tying Jamel Artis for a game low -9 in the p/m department.. You'd think he'd be playing better after getting NBA fringe minutes last summer. He seems a big lackadaisical.
Obligatory CLF Duke plug: Wendell Carter, Jr.
I have to acknowledge his debut… he scored 16 points, including 2-3 from 3-point range, 9 rebounds, 5 blocks, 2 steals, and 1 assist.  He looked great on both ends of the floor… I think concerns about his lateral speed and shot-making ability were overblown. Even though Zizic was the best big in this game, Carter was a worthy adversary. At the very least, teams won't finish lazily around him. Ante tried that early and got stuffed.
Clearly, this is the year of the big man if the 2018 draft is any indication… (Ayton, Giles, Jackson, and Bagley were pretty good in their games). 2017 big man, Atlanta's John Collins had a big night too, dropping 30, including four triples. Someone hire that Atlanta shooting coach.
Another guy the Cavs should look at: Trevon Bluiett, New Orleans Pelicans
From NBA.com:
Bluiett, a non-roster rookie from Xavier, followed up his 24-point performance on Friday with 26 on Saturday. The Pelicans are 2-0, having outscored their opponents by 39 total points (despite losing Frank Jackson to an ankle injury on Friday), and Bluiett is now 12-for-18 from 3-point range over the two wins, perhaps earning himself a training camp invite with New Orleans or some other team.
The next game for the Cavs will be Monday afternoon against the Pacers, be sure to tune in because we should get to see a face-off between first rounders Collin Sexton and Aaron Holiday. Go Cavs!