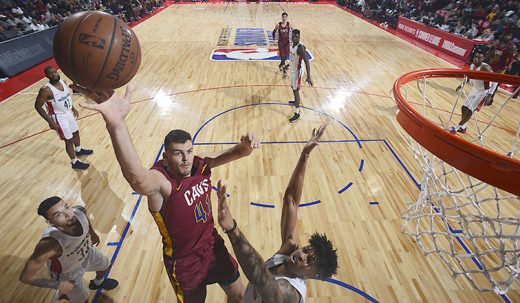 Editor's Note: Please welcome commenter, CLF who's scouting the summer league for us!
Shout-out to Nate and the CtB family for the guest spot! In the first action since the Finals, the Cavs' summer league squad dominated the game against the Wizards 72-59, and they did it with stellar defense and smart offense. Cleveland raced out to 22-10 first quarter league and led by 16 at the half before going up by over 20 in the third, mainly fueled by defense at the point of attack, energy, and poor ball security by the Wizards, before letting off the gas in a ho/hum fourth…
Here's a breakdown of the Cavs' squad:
Player of game: Ante Zizic
Zizic was stellar on the offensive end, scoring efficiently, crashing the boards, and moving the ball well on his way to a double-double with 16 points, 14 rebounds, and five assists. He was great in the post and used his size well, but his footwork getting him into his post moves was the most impressive of all. There's really no reason he shouldn't see time on the floor next season as a backup (or primary) big man. Check out this pass to the Cavs first round draft pick.
Zizic can be picked on with his perimeter defense and he'll occasionally struggle with the speed of the game, but he knows how to play.. If he can get more minutes, he'll be able to adjust to the speed of the game and take his game to another level. A way he can take his game to the next level on offense is being quicker to recognize when the defense collapses on him in the post. Also if he can get a little meaner he might convert a few more putbacks. But you can't teach size, and Zizic has that in spades, along with a savvy mind for offense.
Veteran savvy: Cedi Osman
Though Cedi didn't have his shot working from outside (1-6, and the lone make was a three-bouncer) he didn't let it stop him from dominating all other aspects of the game. He facilitated, played excellent defense, and was aggressive on offense keeping constant pressure on the defense. Being aggressive is exactly what Cedi needs to do to take his game to the next level in the NBA. Cedi turned in a nice double double along with four stellar steals. Cedi was also a stabilizing force for rookie Collin Sexton, running the offense in tandem with Sexton. Check out this dime that would've made LBJ proud.
Best rookie debut: Collin Sexton
Sexton turned in a solid debut with 15 points and seven rebounds and only two turnovers playing 29 minutes. Sexton struggled with his shooting, especially from closer range, but he did hit his only 3-point attempt off the dribble moving away from his strong hand. But he did a lot of things well.
Sexton's speed and athleticism is elite…. he can blow by anybody. His defense is solid for a rookie, and that might be an understatement. Sexton's rebounding was a revelation. Sexton played under control for the most part; there was only one bad shot and one bad turnover that I can remember for the whole game. His passing wasn't spectacular, but he showed a willingness to run offense and move the ball to the right spots. His lack of assists was due to teammates missing shots (the Cavs shot 36% for the game), not an unwillingness to pass.
What would I like to see next time? I might be completely off-base, but I'd like to see Sexton hunt for his shot a little more… he seems to have nice touch in the midrange. Also Nate made a good point in the live thread in my opinion, that Sexton seems to favor the floater a bit too much as opposed to taking it to the rim or keeping the dribble alive and hunt for the next play…. or maybe he should pull up and just shoot the elbow jumper. Whatever the case, I think we'll see better offensive efficiency moving forward for Sexton now that first game jitters are over.
Bench notes: Billy Preston, Marcus Lee, Dakota Mathias
Billy Preston started off very rough, playing out of rhythm especially in the 1st. But there were flashes of strength, speed, and touch in his game. No question he needs to play ball and play catch-up for a lost year last year. He needs a lot of work on how to play within a system, but the sky is the limit as far as his potential is concerned. He absolutely has an NBA body. He really picked it up as the game went on though, adding nine points and leading the Cavs in plus/minus at +12. Most impressive? A no-hesitation three from from the top of the key.
Best bench performance goes to former UK product Marcus Lee. Lee was a perfect 4-4 from the field, 5 rebounds, 3 steals, 4 blocks, a +11 plus/minus in only 12 minutes. He has length, athleticism, and played within himself and with a purpose. I know I'm being irrational, but I'd already take Lee as a replacement for Tristan Thompson.
Dakota Mathias was frigid in Vegas as he bricked his way to 1-5 from 3-point range as a sharp shooter. But it was encouraging to see that he didn't shy away from taking his shots; when he was open, he let it fly. He also had a nice steal and assist play and he finished with a +11 plus/minus. I'd actually like to see Mathias plugged in alongside Sexton to see if that might open up the court for Sexton, especially given Holland's rough performance.
Overall, the only real concern from this game was the abysmal shooting and the sloppy turnovers in the 2nd half. John Holland was especially bad with zero points and five turnovers in 27 minutes. The defense was tremendous and there was an appearance of an offensive system. Shout out to Coach James Posey for having these guys ready to play. The Cavs will have a quick turnaround and will play Saturday night against the Bulls on ESPN2. Go Cavs!