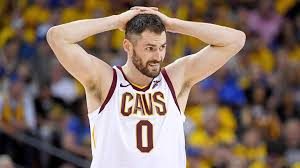 As the Cleveland Cavaliers move into their second Post-LeBron Era, there are a lot of questions swirling around the team. How good can Collin Sexton be? Will Cedi Osman take a larger role next season? Can (and will) the Cavs move off of the contracts of Tristan Thompson and JR Smith? The most common discussion taking place is whether or not the Cavaliers should tear down the roster for a full rebuild or try to continue to make the Eastern Conference playoffs. The answer to that, and really most of the important questions surrounding the franchise basically comes down to the most important question of all, what do the Cavaliers do with Kevin Love?
Most people who follow/cover the NBA seem to think that the obvious answer is for the Cavs to trade Love for draft picks and/or young players and rebuild from scratch. There are several reasons that this is a popular take. First off, what kind of team can the Cavaliers really build around Love? Likely one that plays roughly .500 basketball and is either the seventh or eighth seed in the Eastern Conference, and that may be the best-case scenario. Sure, the Cavs would make the playoffs, but would they really be relevant? This isn't baseball, upsets rarely happen in the NBA playoffs, and barely making it to the postseason only to get rolled by the Boston Celtics or Philadelphia 76ers seems pretty pointless.
Then, there's the matter of the Cavaliers' 2019 first-round pick. The Cavaliers sent this pick to the Atlanta Hawks in 2017 for Kyle Korver, but it is top-10 protected. This means that the Cavaliers keep the pick if it falls among the top 10 picks in next summer's draft. The pick is also top-10 protected in 2020, and then becomes two second-round picks if it has not conveyed by then. Since it's highly unlikely that the Cavaliers will be title contenders during the next two seasons, it makes some sense to make sure they finish with one of the ten worst records in the NBA, and trading Love would certainly help them do that. This doesn't mean that we need a repeat of the dumpster fire that was the 2010-2011 season, just that the Cavaliers should focus more on keep their pick than winning games.
There's also the matter of the Cavaliers getting their books in order. The Cavs have been over the salary cap and paying the luxury tax for so many years that they have been penalized by the dreaded repeater tax. Basically, they've had to deal with even harsher financial penalties because they've been paying the tax for so many years. In fact, Cavaliers owner Dan Gilbert has paid $130 million in luxury taxes alone over the past four seasons, just $1 million less than the 29 other teams in the NBA combined. While the Cavaliers are currently under next season's tax line, the only way to make sure they are not hit with repeater penalties the next time they are in the luxury tax is to stay below the tax for two seasons in a row. That means that it is in the Cavs' best interests not to add much salary over the next two seasons, which are also the two seasons in which they should be focused on keeping their pick. Trading Love would free up even more salary space, and the Cavaliers could have as much as $60 million in cap room next summer.
Then there is the issues of Love himself. There's no doubt that Love is a terrific player, he's a five time All-Star who can both rebound and space the floor at a high level. He's an efficient scorer, underrated passer, and his teams always play better with him on the floor. He also turns 30 this September, has an extensive injury history, and will be a free agent next summer. During the epic roundtable that took place on 92.3 The Fan last week, Jason Lloyd stated several times that he was sure that Love would opt out and leave as a free agent next summer if he was still with the Cavaliers. Joe Vardon and Dave McMenamin pushed back on this a bit, there definitely wasn't a strong belief that Love would stay. If that's the case, the Cavaliers need to move him now while he is healthy, playing at a high level, and has a year left on his contract. This is undoubtedly the best time to get real value back in a Love trade.
Despite all of those facts, there is a strong case for keeping Love for both next season and beyond. Love really is a terrific player. In fact, the odds that the Cavaliers draft or trade for someone as good as Love are incredibly thin. Don't believe me? Love is one of 32 All-Stars drafted since 2008. That's just under three All-Stars per draft. Even if you were to add in likely future All-Stars Ben Simmons, Rudy Gobert, and Donovan Mitchell, that number goes to just over three All-Stars per draft. Even if one put Love near the bottom of that list (He isn't. Love has undoubtedly had a better career than fellow All-Stars Brook Lopez, Roy Hibbert, Goran Dragic, Jrue Holiday, Jeff Teague, and Andre Drummond.), he would rate as the equivalent of the third-best player in any draft. Considering what a crapshoot the draft is, it's unlikely the Cavaliers ever truly get equal value in a Love trade. Love is also a player who's game is based more on skill than athleticism, and even as he enters the declining stages of his career, he will likely remain a highly effective player.
Another reason that trading Love may be difficult is that there are few natural trade partners for the big man. The Oklahoma City Thunder make some sense. Love is close with Russell Westbrook, and the Thunder could use his shooting. But for a trade to work, the Cavs would likely have to take on Carmelo Anthony's contract and then buy Anthony out so that he could join a contender. Given that Anthony could very well join James in Los Angeles after a buyout, would the Cavaliers be willing to do this unless they received some high-level assets in return? Probably not, and it's hard to see what the Thunder could offer the Cavaliers that would really interest them outside of a lightly protected first-round pick. Considering that Paul George and Westbrook will probably be with the Thunder for several more seasons, that pick would be unlikely to have much value anyways.
The Utah Jazz, Phoenix Suns, and Portland Trailblazers have all been mentioned as possible suitors for Love, but none of those teams seem to be natural matches in terms of either assets or matching salaries. A Love-Andrew Wiggins swap would make some sense for the Minnesota Timberwolves, but Wiggins simply hasn't shown the progess to justify the max contract extension is about to begin for him. Taking on a bad contract just because the player is well-known would be a total disaster. If there isn't a good trade for Love out there, then the Cavaliers shouldn't trade him. He's too good of a player to let go for nothing.
While Lloyd believes that Love is likely to leave after this season, there is one big reason to believe the Cavaliers can keep Love for several seasons to come… money. As the focal point of a team in the weakened Eastern Conference, there is a great chance that Love will put up excellent numbers and make his sixth All-Star appearance next season. When free agency begins next summer, he may not be the first choice for a lot of teams, but some team that misses out on the top tier free agents will likely throw big money at Love. Still, he'll be 31 at the beginning of the 2019-2020 season, and the Cavaliers will have the ability to pay him more money than any other team. Given his injury history, it's a solid bet that Love would at least consider re-signing with the Cavs to ensure his best financial future.
There's also no guaranteed that a full-scale rebuild would work out for the Cavaliers. Multiple high draft picks don't necessarily equal future success. For every Philadelphia 76ers or Oklahoma City Thunder, there are teams like the Sacramento Kings, Orlando Magic, Phoenix Suns, and (until recently) Minnesota Timberwolves who have gone six or more seasons without making the playoffs despite making a plethora of high draft picks. The Cavaliers looked like they were on that path before the return of LeBron James, and all of the losing during those years may be one of the reasons Gilbert is hesitant to go through a full rebuild again.
Meanwhile, teams like the Houston Rockets, Indiana Pacers, and Utah Jazz have been able to rebuild quickly on multiple occasions while never fully tearing down their teams. None of these teams play in glamour markets, proving that there is more than one way to rebuild a roster. A smart front office, great scouting and coaching, and organizational stability still matter more than anything outside of having a superstar when it comes to building a team. Whether the Cavaliers have all of those things is certainly up for debate.
Finally, there is the simple reality of running an entertainment business. Dan Gilbert wants to sell as many tickets to Cavalier games as possible. The better the team is, the easier that is to do. We can debate the pros and cons of tanking on this blog until the cows come home, but it doesn't really matter to the casual fan. They want to see good basketball and watch their team win. They couldn't care less about team rebuilds and five-year plans. Plus, the Cavs being a solid team without LeBron makes for a good story. Love would be the focal point of that team.
This isn't just about the attendance at Quicken Loans Arena either. Gilbert also owns the JACK Casino downtown, and hopes that good business for Cavalier games will be good business for his casino as well. At the end of the day, the Cavs are a business with a goal of making money. The better the team, the more money they will make.
Despite many strong opinions, there is no black and white answer as to whether the Cleveland Cavaliers should try to be competitive next season or tear the team down and rebuild for the future. While logic seems to dictate a full-scale rebuild, there are plenty of equally valid points favoring building a competitive team for the immediate future. It seems that the Dan Gilbert, Koby Altman, and the rest of the Cavaliers' front office are currently (at least in public) favoring the latter route, which likely means holding onto Kevin Love. Still, if the last four years have taught us anything, it's that we never know what the future may hold.