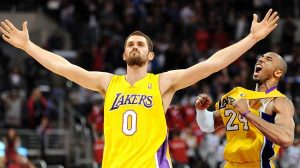 four point play….
1. When one makes bold predictions, one will occasionally be required to down some tasty crow. Last week, I whiffed badly on two substantial predictions: LeBron would stay, and PG13 would be a Laker.
Oops.
It happens. I know I'm not alone with those particular stances. As more information comes out post Decision 3.0, it's easy to retroactively see all the "writing on the wall." It's also rather disingenuous. There was plenty of writing on the other wall that could have been cited had the outcome been reversed.
It doesn't matter now. The Cleveland Cavaliers no longer employ LeBron James. The King will try to change his style with the Lakers.
2. Out in L.A., they are already talking about playing with pace. I'll believe it when I see it. LeBron teams have never been particularly fast by league standard. His (mostly) good tendency to surgically dissect defenses doesn't lend itself to breakneck speed. Even at his Miami peak, most of their faster paced teams took advantage of steals that lead to break opportunities more than by consistently pushing early offense off misses.
To be fair, Rajon Rondo was also a career slow walker until this past season with the Pelicans. The Pels played obscenely fast, especially post Cousins injury. If Rajon can stop walking the ball up, anyone can (still have my doubts about Kyrie).
The Lakers' additions, while mostly being ridiculed for their lack of three point shooting, are more useful come playoff time than people are giving them credit.
I've always been a sucker for Lance Stephenson. Yes, he has maddening moments of over-exuberance, but that very passion is something that transforms games. If Walton and Bron can harness his incredible talent, he is a player that can compete with the Warriors. It's a big ask, but most guys don't even have the physical ability to hang with the Dubs. Lance does. And you need his fire to balance Draymond Green.
JaVale McGee is what he is. An occasionally great rim running monster that loses focus. Nothing new there. He's perfectly acceptable for that contract considering his skill-set.
I fully expect the Lakers to compete next season in LeBron's first year. The roster is not done being constructed. There is even word that Kevin Love could be dealt there.
Regardless, we can't have it both ways. Either we believe LeBron is still the best player in the world and can dominate in the playoffs, or we don't.
I think the regular season will be a struggle for the Lakers like they almost always are with LeBron, but that doesn't mean he won't dominate the early rounds in the West like he has in the East.
It's been easy to write off the East as being weak during LeBron's reign. I think that has been exaggerated over time. The larger factor has always been LeBron. The Raptors weren't worse than any other team other than the Rockets and Warriors. They only looked awful because LeBron was that good.
Only the Warriors employ enough smart defenders to defend full strength LeBron. He will mow through a host of Western teams in the playoffs. If he plays the Rockets or Warriors in an early round, he will be in trouble. If not, the King will likely be in the Conference Finals with a shot to advance.
3. Wait, did you say Love might be a Laker a few paragraphs back?
A fun, if very unlikely deal with the Lakers would net the Cavs Brandon Ingram and Luol Deng's absurd contract for Love and Kyle Korver.
Now to be clear, I think this is pie in the sky silliness. I can't imagine that the Lakers are itching to trade Brandon Ingram for anyone other than Kawhi Leonard. That being said, getting off of Deng's contract is absolutely imperative for the Lakeshow. It's not going to be easy to find a team that is willing to take back that deal.
While I don't see this happening in the off-season, things might change as the season goes on. Many Cavs fans are excited to see what Love can do as the primary guy in the offense.
If Love can play at a very high level in the early months of the season, and Ingram struggles to provide enough next to LeBron, maybe the Lakers (and LeBron) try to put the band back together. It wouldn't be the first time LeBron brought along old friends.
Love, Kyle, Bron, Richard Jefferson, Channing Frye, and Luke Walton. If the Lakers somehow end up with all those guys, do you become a Lakers fan. At least a little?
I think Channing and RJ are locks. RJ has always talked about finishing his career in LA and he is great friends with Luke. Channing is already there. Toss in some Allie Clifton and this could get a little complicated.
Would the Cavs do that deal? I think they would in a heartbeat. They would then be forced to find a way to dump Deng via stretch or trade, but Ingram would absolutely be worth it.
He is still skinny, but Ingram had a burst of development over the latter half of last season. He plays with grit that his strength can't quite handle. Another year in the weight room, and look out. Of course, that's why I don't see the Lakers trading him. The kid is about to be very good.
4. As this is Cavs: the Blog, enough about Lakers. The Cavs summer league kicks off tonight in Vegas. I'm very excited to see Cedi Osman and Ante Zizic, ya know, play. It's been awhile.
More or less, I have an idea of how those guys will play. What arouses my curiosity even more is the play of Billy Preston. I, like many of us here, am very intrigued by his talent. Between Preston, Collin Sexton, and our poor jilted friends, Cedi and Ante, there are plenty of reasons to tune in.
Another point of interest is James Posey. The gritty wing defender from years gone by has been a Cavs assistant coach since 2013. After two seasons with Damon Jones at the helm, Posey will get a chance to lead the summer fun.
I'm curious to see what kind of actions a post LeBron offense will attempt to run. I realize things will be different come fall, but summer league often gives a taste of what's to come.
Posey has always been a "tell it how it is" type of guy. Even in summer league, it would be nice to see the Cavs compete on the defensive end.
Now that LeBron is gone, there is no more cheat code. Can this coaching staff evolve into something more than a deferential machine? We will get our first peak tonight.