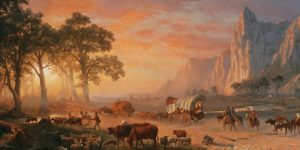 From CtB, Happy Fourth of July. For today's article, Excl and James Michael Kenney-Prentiss team up to bring you the following meditation on LeBron's move west, to the city of angels.
The West – majestic, mysterious, beckoning – beckoning all would-be adventurers with promises of gold, of glory, of the indefinable, yet desirable. The allure has captured many an imagination, and has spurred some of the greatest triumphs and saddest tragedies in our collective human story. Christopher Columbus sailed West to find a shorter route to China, ushering in one of the most seismic clashes between two great peoples, all leading to the creation of our America. With the promise of the new world – of El Dorado, of the Fountain of Youth, of untold riches beyond the deep blue sea, many traveled and many perished. For every Columbus, there must have been a thousand others whose names are lost to history, and their squalid and unremarkable search for fortune led them only to obscurity – and death.
As Americans, we went West, past the Appalachians, past the Mississippi, always reaching out, toiling, sweating, working, with every last fiber of our beings, to grasp fortune, glory, adventure, and even utopia itself. Our own ancestors were beset by the whispers promising greater things, so they came to the Ohio territory and founded the Greatest State in the Union. Others kept going, for the gold rush, to escape the dust bowl, or simply to start anew. The West became a refuge for those cast away by society in the East, the 49ers, the hippies, the outlaws. Even now, the West beckons many – with its promises of Hollywood fame, of Silicon Valley riches, of simply starting again.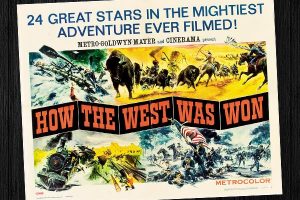 To venture West is to be idealistic, optimistic, even naive in the face of the men and women who went and failed. Many died. Many starved. Many found it difficult to simply scrape by. The gold they rushed towards turned to pyrite in their hands. Hollywood fame becomes just a dream, that after countless auditions, just still finding oneself waiting tables, still waiting for the big break that will never come. Much in the West is masked with a veil of authenticity, covering the visage of Dorian Grey himself.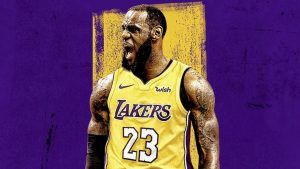 And yet, many still go. LeBron has gone. He may go with the that same promise and allure that has hooked many, some into great riches, most into nothingness beneath the great city of Oz. They go, Gatsby-like; they see the orgastic future that year by year recedes before us. It eluded us then, but that's no matter — tomorrow we will run faster, stretch out our arms farther . . . and one fine morning ——
Part I: Chasing the Ghost
JMKP: LeBron James is chasing the ghost of Michael Jordan. He seemingly wants to compete for titles, yet trails Jordan in NBA Championships 3-6. LeBron trails Jordan in MVP titles 5-6, and total points 31,038-32-292. Winning titles led LeBron to go to Miami. LeBron returned to Cleveland when the Cavs had a roster that could compete (Irving, and eventually Love).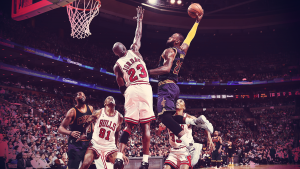 The question now is: will the Lakers allow LeBron to compete for titles every year?
My guess is no. The West is loaded, with the Spurs, Warriors, and Rockets (and an emerging Nuggets team) well poised to take the Western Conference title every year for the next several years.
Also, the Lakers are not built for a Finals run right now. Their team is young, inexperienced. We saw with Philadelphia last year that talent alone isn't enough to make it to the Finals – and Philadelphia had much better young talent on their roster. Plus, even if Kawhi joined the Lake Show, we see time and time again that a SuperTeam doesn't automatically mean success. Look at OKC or the Nets from a few years ago – big named stars don't win you games if your stars are injured (Boggie) or don't mesh on the court (Melo). LeBron, having joined the Lakers, finds himself away from the conference that could have almost guaranteed a Finals appearance, to the brutal West.
The West, with its brutality, on a Lakers team far behind where they will be to compete – it looks as though LeBron's chances of ever catching the ghost of Michael Jordan will be yet another failed dream thrown astray on the unforgiving wilderness of the West.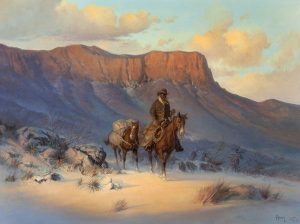 Excl: The expectation that LeBron James will simply make it to the Finals every year seems unrealistic. Playing in LA means more regular season games against the likes of Golden State, Houston, San Antonio, Utah, New Orleans, etc — and that's even before we get to the playoffs. Then, when the playoffs roll around, LeBron is looking at three solid rounds of those same tough teams, just to get to the Finals. If he thought he was getting grief before about losing in several consecutive Finals, what will he hear now if he can't even get out of the first or second round?
Gone too are the days of coasting through the regular season, with LeBron saving his body for the playoffs, where he could then red-line his body, put everything on the line, and come out looking like a legend. Previously in the East, even in his Miami days, he could put up about 50% effort through the winter, let his teams work through issues and drama, and still wind up with a four-seed or better. Trying to run on cruise control in the West could see him missing the Playoffs altogether with the number of teams there that are capable of reaching the post-season.
I said before July 1st thatmoving to the Lakers would be a horrible decision from a personnel standpoint, even if James managed to forge a super-team. To get two superstars on the roster, they would of had to release/renounce just about everybody on the team, outside a small handful of their young guys, to fit both under the cap. Then if they wanted a third superstar, like Kawhi, the Lakers were looking at trading pretty much whoever was left over to make the deal worthwhile for the other team. At that point, they would be left with a mid-level exception and vet minimums to try and fill out their team.
Paul George spurned Los Angeles, and it may of actually helped a bit, as they no longer needed to renounce everyone. But even now, they are looking at a team that's not a whole lot better than what the Cavs offered him. The Lakers may have more young pieces that could be attractive in a trade, but they also still play in the West and they have a bunch of head cases who can't shoot. If Magic wants to go the free agent route again next year, they are back to the reality of needing to release their entire roster to make room.
Even when LeBron took his talents to South Beach and formed his first super-team, they struggled to find chemistry in their first year and ultimately lost to Dallas, a team that was a far cry from the war-machine Golden State fields today. That Miami team also played in a weaker Eastern Conference and featured a LeBron James in his mid-twenties instead of his mid-thirties. If he went to LA thinking he could build a super-team that could topple Golden State and continue to build his legacy, he really didn't think that one through.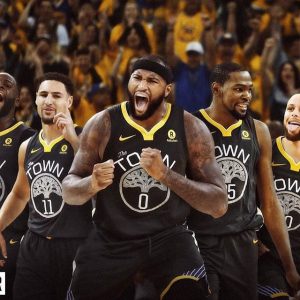 Part II: Expectations, Legacy, and Los Angeles
JMKP: I've already spoken about how LeBron presence on the Cavaliers gave him a greater glory than  he could achieve with any other team, and how winning for Cleveland will echo across generations. In that light, going to Los Angeles might have the worst effect on LeBron's long term legacy.
The Los Angeles Lakers already have a rich, championship riddled history, filled with their heroes of past glory. Kareem, Shaq, Kobe, Magic, Wilt-the-Stilt, the Logo, and Lonzo Ball (kidding!).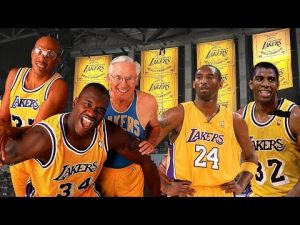 One extreme of the LeBron-as-Laker future would be  LeBron winning four straight Finals. Granted, they also have a pretty significant Championship-draught (since 2010), so winning in 2019 will be cathartic for a city with little else to cheer for (#sarcasm). It will be good for LeBron, he will have topped Jordan's record, and he will be remembered as one of the all-time greats. And yet, in thirty years, Laker fans won't remember "LeBron" as the pinnacle of Laker history. Rather, the name "LeBron" will be tossed into the same historic bin as the rest of the celebrated Laker cast. It might be good to win in that historic tradition, but if he does, LeBron's name will be one of many instead of the singular hero for an entire people.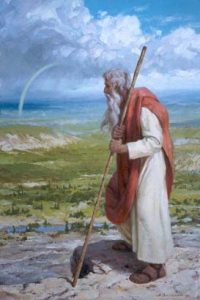 The other extreme: LeBron doesn't win four straight Final. Let's say the West is too tough and LeBron doesn't even make it to the Finals once. It was tough for LeBron this year to get past Indiana and Boston in the East. With Kevin Love and and some guys whose gravity at least spreads the floor. How far do you think LeBron will get with Rajon Rondo and Lance Stephenson? How quickly will Laker fans turn on him? How quickly will the Kobe-fans say "well, if Kobe was here instead of LeBron…" LeBron might fall into the same trap that lured many to the West before it crushed their souls once they reached a discarnate and disquieting "promised land".
Excl: For the most part, LeBron is expected to reach the NBA Finals no matter where he plays. Here in Cleveland, we all want another Championship banner in the rafters. But generally, I think fans are appreciative of the one we did get. We understand that LeBron and a team of misfit toys can't get past an offensive juggernaut that signed a top-three player in the league (and now a 5th All-Star).
In Cleveland, there may be disappointment, but there is at least acceptance of our fate and appreciation for what we have achieved. With the Lakers, that is all out the window. Anything less than multiple championships will be considered a failure. This is a team that has won 16 Championships, with many of them coming either back to back or within a few years of each other. The Lakers and their fans want a dynasty, not a one-year, plucky success story.
In Cleveland, LeBron is a prodigal son whose mistakes are forgiven. In LA, he's a blood mercenary that has to play in the shadows of those 16 championship banners. And the weight of those shadows will increase with each playoff loss.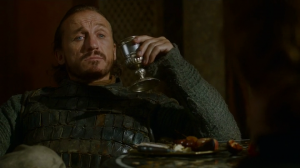 Lakers fans will never truly embrace him. Let's face it, LeBron has no ties to Los Angeles, no real roots in California, and frankly, has been considered public enemy #1 for years to fans who feel that Kobe was always the far superior player. Why would this fan base suddenly take him in and treat them as one of their own? Yes, the Lakers will suddenly be relevant again, they will win more games, and Hollywood celebrities will pull their jerseys out of boxes filled with mothballs and start learning players' names once more, but will LeBron ever encounter the same thrills he did when he hit a game-winner in Cleveland? Would he have the same experience of a defining crowd roar as he stood on the scorer's table or stretched his arms out to the fans, soaking in the adulation that would only be bestowed upon the favored son of a proud people?
Admit it, in LA he's merely a soldier of fortune. They'll cheer, but it won't really be for him. It would be as if Steph Curry or Draymond Green decided to opt out and join the Cavs. Yeah, we would pull for them, but I don't think they would truly ever be "one of us". If they ever started approaching Mark Price's shooting records or Zydrunas Ilgauskas' rebounding records, some of us would probably secretly hope it never happened. In the same way, the biggest "legacy moment" left for LeBron could be breaking Kareem's all-time point total. You think Laker fans are going to be really excited for him to surpass that Laker legend?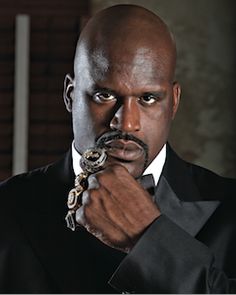 In all likelihood, Lakers fans will turn on him. In the same way that they will never really accept him, they will also likely be quick to blame him if those extraordinary expectations are never reached. These are the same fans that, for years, would come up with every excuse imaginable to marginalize LeBron's amazing accomplishments, all while propping up Kobe's own value. Eventually, as the empirical evidence all but disappeared, they would simply fall back on Shaq's favorite go-to excuse: "Ringz!" Now that the expectation is nothing less than "more Ringz", he will either have to meet that lofty goal, or become the prime reason why they weren't able to achieve it.
James is now the built-in, scapegoat excuse for every Laker fan out there. If they don't win, it's because LeBron wasn't clutch, LeBron couldn't carry the team the same way Kobe could, or LeBron just didn't have that ice-water in his veins that other Laker legends had. Laker fans have used these same excuses for years, and they will fall back on them again if they need to explain why they couldn't win a Championship with a super-team. Why? Because LeBron isn't really one of "them".
LeBron is already a legend in the minds of most people who follow basketball. He could announce his retirement tomorrow, and most people would probably still pencil him as one of the two best players to ever play. If he were to sign with the Cavs or even a number of other teams, where a championship wasn't completely expected, he could quietly rack up career records, bow-out expectantly somewhere in the playoffs, and still be considered among the greats. It would look similar to Jordan's final years in Washington, where people just appreciated his amazing skills but never docked him greatness points for exiting the post-season early. Playing for the Lakers on a super-team means he has to deliver or his legacy takes a hit. Dragging a group of average Joes and a Roomba to the NBA Finals is worthy of an SNL sketch and only adds to his mystique. Losing in the second round with a super-team that you colluded to build is not the stuff of legend. Locally too, LeBron has all but set himself up as the greatest athlete in Cleveland history. After another five years and few broken NBA records, Cleveland could all but guarantee him a Rocky-esque statue on the top of the Terminal Tower. A few years in LA might warrant him a small plaque on the wall at Staples Center denoting, "Yeah, LeBron once played here."
Part III: The Pay Cut
JMKP: LeBron could have made roughly $50M more dollars with Cleveland than with the Lakers. He's already a transcendent star with multiple homes, so I'm not really sure how moving to LA would increase his potential lifetime earnings. The basketball season is brutal with its constant traveling and occasional team practices (coach-dependent), so he still wouldn't be able to film his Space Jam Cinematic Universe regardless of where he lived.
For this point, I really sympathize with LeBron. I have passed up many opportunities that offered a much higher salary, yet didn't align with what I ultimately wanted out of life. There are more important things in life than money, and if LeBron found that in LA, then more power to him.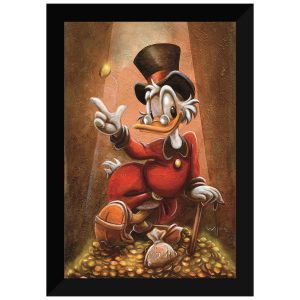 Excl: This really represents the first 50 million or so reasons LeBron picking LA over Cleveland didn't make a lot financial sense. Okay, sure, Nike is his true employer with a billion dollar lifetime deal, but $50M+ is still $50M+. Passing up a deal with Cleveland meant passing on his only chance at signing a super-max 5-year ~$205 million dollar dear. Signing anywhere else means he could only max out at ~$152 million across only 4 years. As somebody who will be pushing 38 when the fourth year expires, he may of wanted to consider having that 5th year of guaranteed money at a maximum salary. Outside of basketball salary though, he's still the most recognized man in the sport.  I don't see how moving to LA suddenly makes him any more visible or marketable than he was before.
State taxes also seem to be a huge selling point whenever writers talk about players wanting to go play in places such as Texas or Florida. "They have no income tax so that 50 million dollar deal is actually 50 million!" But why is this never mentioned when talking about the opposite end of the scale? California has some of the highest taxes in the nation, while Ohio is still fairly moderate by comparison. Income taxes for big earners in the Golden State approach 13.3% while sales tax amounts to another 7.35%. In Ohio, well-paid basketball players would be looking at a 5% income tax and a 5.75% sales tax. LeBron would have saved far more in yearly taxes choosing Ohio over California than he would have choosing an income tax-free state like Texas over Ohio.
Part IV: The LA Experience
JMKP: Full disclosure, I have never lived in Los Angeles or its surrounding suburbs. I do, however, have many friends, family, and professional relationships with people who have lived in the City of Angels, so I might not be completely off-base here. Up to y'all to decide.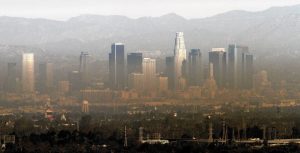 Quite frankly, from everything I hear, LA really seems like a terrible place to live. On top of being the most polluted city in the United States, and having the worst traffic in the United States, the culture in Los Angeles always appears shallow, superficial, vapid. Fake body parts. Fake personalities. Constant name dropping. A deafening echo chamber of unoriginal, chasing-the-trend opinions. An entire city in a rat race of rat races, where the very many seekers of fame, wealth, and notoriety swarm at the pittance from the very few. I lived in New York City for three years, and the comparisons between the two cities – two rat races on two different coasts, each going for something different, soured any curiosity I would have in living in such a place.
In Ohio, people are nice. We don't generally care how much money someone makes, or how famous someone is. All we care about is if that person is a good person. We value family, long-term meaningful friendships, and a life well lived. We aren't as slow or as closed off as some of the rural south, nor are we trapped in a break-neck speed, cutthroat game where our success means always means another's failure. Our currency is sarcasm, and we generally stand as moderates to the more extreme wings in the country. And Los Angeles seems the opposite of all of that, in every possible way.
Los Angeles is also the place where someone came up with this scene for a movie . . .
And LeBron is now in Los Angeles. Will he miss the Midwest? I would think so.
LeBron is now surrounded by the distractions of the rich and famous. Everyone I know who has ever met LeBron always tell me that he was a very humble guy, down to earth, and always gracious. He has always seemed like one of us – like an Ohioan. Yet, I can see him getting swarmed wherever he goes in LA. The hangers-on. The salespeople. Everyone seeing him of a means to their own ends, to their own big breaks.
Those in LA won't embrace LeBron like we did in Cleveland. Laker fans might turn on him. They might leave games early, since those in LA have their beaches, the nice weather, the celebrities to go see. Remember how much we made fun of Miami fans when they left games early? In Cleveland, LeBron was King. In Los Angeles, LeBron is just one person of many to cheer for and appreciate. Until he won't be. And Los Angeles will move on to whomever is the next flavor of the week, flitting from trend to trend, always being sure to exude their superiority to the morons in flyover country.
This might hurt LeBron's charity work as well. As an Ohioan, he is still one of us. He understand what it's like to be a kid growing up in NEO. Just by living in Ohio, the mere exposure to other Ohioans has a general moderating effect on peoples' opinions.
Now, welcome to the LA echo chamber. I've spoken about culture before, but I think we can all agree that Los Angeles elite culture exists, and exists far outside the bounds of where most Americans find themselves. Importantly, this isn't a political point, disparaging one political party over another. Rather, this is an extreme echo chamber point. Whenever you are in a place like LA, there exists a powerful social pressure towards a homogeneity of opinion, purity of thought, and the demonizing and intolerance of deviance. In addition, the trend towards purity of thought leads to a constant one-upmanship of purity. We see this on both the far left and far right. I'm not only eco friendly, but I compost! And I not only compost, but I compost all of my own waste! No running water for this eco-bro!
Or, on the right, we sometimes see smaller towns falling victim to the extremity of a single religious dogma – Not only are we Christians, but we take everything in the Bible word-for-word literally! As literally as we can make it!  This one-upmanship, mixed with an ideological echo-chamber, leads certain parts and cultures of this country to extremities of thought. College campuses have their victimhood culture, where they shut down speech, violently threaten speakers, and preach the harmful doctrine of microagressions and safe spaces. On the far left, we see people thinking that vaccines cause autism (they don't), that GMOs are dangerous (they aren't), and that America is the worst country ever (it isn't). On the far right, we see people thinking that the Earth is less than 6,000 years old (it isn't), that evolution through natural selection is a hoax (it isn't), and that anthropogenic climate change is a lie (it isn't).
LeBron now joins the LA echo chamber. Even if he keeps his sanity in the midst of the emotional torrent of purity tests and vapid opinion homogeneity, the LA-branded LeBron will be easier to dismiss, ignore, and cast aside because he's just another Hollywood elite. And if he loses himself and drowns in the depths of the LA borg-mind, clutching his healing crystals next to Gwyneth Paltrow, then he will be relegated to the long list of celebrities-turned-running-jokes.
One last note about raising a family. I'm raising a family now, and I was lucky enough to be raised in Northeast Ohio. In my younger years, I lived across the United States, and even spent time living in Japan, China, and Austria. But now, confronted with the question of where to raise a family, I can unequivocally say the following: my family needs to be in Ohio; Ohio is the only place I find suitable enough, culturally, to raise my family. Too many stories are abound with the children of celebrities who lose their minds in the shadows of wealth, fame, and excess. Too many people grow up in the culture of a rat race, of fake people, of a culture that priorities material wealth over the contents of one's character. I do hope that LeBron has a solid family culture. Establishing a family culture is hugely important. Living in a place that promotes that culture is even more so.
Excl: Full disclosure, While I don't live in what is typically considered a suburb of LA, I am still in an area that can be considered a part of the Greater LA Area.  I'm surrounded by LA fans, LA sports talk radio, and terrible, traffic-causing LA drivers. Most of what James says is true. My wife and I unaffectionately call the place Hell-A, and rue the days we have to head up that way and drive through the parking lots they call the LA Freeway system.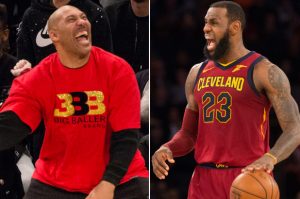 Looking away from basketball itself, it's already been established that Nike is LeBron's true employer, as they can pay him a lot more than the CBA will allow a professional team to compensate him. The big problem for Nike with LeBron in LA, is that unless Lonzo Ball is traded out (and frankly, who would want that Lonzo/Lavar package deal?), LeBron is going to inadvertently boost the publicity of the Big Baller Brand. A super-team in LA means the national media attention will be focused hotter than it's ever been on that Laker team. You just know Lavar Ball is going to fly straight into that spotlight faster than a fat Texas mosquito into a purple bug zapper. Unless LeBron just straight freezes-out Lonzo or his knee doesn't heal, the young-point guard's stats will likely see quite an improvement in his sophomore year. You don't think Lavar will parley that into more promotional advertising for his fledgling brand? Does Nike really want to give a leg up to a new brand looking for whatever foot-in-the door they can get to steal market share? Could this start a major war-of-words between LeBron and Lavar (and other NBA players) who treat shoe deals like street-gang turf battles? Is this really the type of distraction LeBron needs when trying to cement the last years of his legacy?
LA will be a distraction. Back in 2015, a trade was made to acquire one Iman Shumpert. As penance for making the deal, the Cavs were asked to take on the salary of JR Smith, who had not lived up to his hefty contract in New York. But then a funny thing happened. JR suddenly became focused and a legitimate starter for the Cavs, who would eventually win a Championship with JR as a major contributor. What happened? JR himself said that being out of the New York limelight allowed him to focus more on basketball. The distractions and temptations were gone, and thus he was able to just play basketball again. Los Angeles offers the same distractions as New York. Yes, LeBron is much less likely to be bemused by shiny objects, but Los Angeles is going to provide a number of temptations for him that could pull him away from concentrating on basketball. Is he going to want to make more movies? Is he going to want to hang out with more celebrities? Will any of this pull him away from focusing solely on winning championships? Does he even care at this point?
And yet, despite all of this, LeBron ended up going West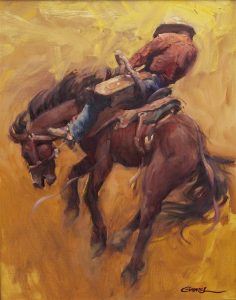 LeBron made his decision. He's a grown man with a family and responsibilities. He has a burgeoning movie career and might have started thinking about a life post-basketball.
LeBron won a championship for us in 2016. Even in this last year, he played 82 games, killed himself in the Finals, and put up with Jordan Clarkson, Rodney Hood, thrown soup, IT, D-Rose being on the team, D-Rose being absent from the team, and Ty Lue.
LeBron has gone West.
West – LeBron has been lured by the promises of the frontier, a Magic-al place with the hint of future NBA glory under the shadows of past NBA giants. LeBron the basketball player. LeBron the movie star. LeBron the activist.
LeBron, Gatsby-like, finds himself in a place far beyond the Ohio, with its interminable inquisitions which spares only the children and the very old, filled with a distorted quality masquerading as genuine human experience, fleeting, evanescent — yet he chases! He chases the green light, the orgastic future . . .
—— so he beats on, boat against the current. Borne back ceaselessly into the West.