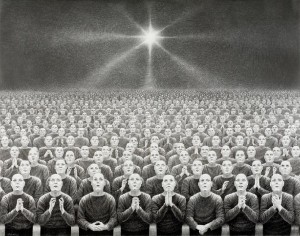 Donald Sterling is unconcerned that the Clippers effectively traded away the rights to Kyrie Irving this past February. He thinks the cap space he cleared by unloading Baron Davis's contract will be used to sign Dwight Howard or Chris Paul to a max deal next summer. He thinks a young core of Blake Griffin, Eric Gordon, and Big Name Free Agent X will rapidly cohere, and L.A.'s other team will vault into championship contention. Sterling's aspirations are characteristically quixotic. Last summer, he was positive the Clippers could effectively court LeBron James. The rest of the league politely chuckled.
Sterling's delusion—paired with the fact that he's, like, an awful human being—is one of the key reasons the Clippers have been one of the least successful franchises in NBA history. He has heckled his own players, brought women into his team's locker room to ogle his players' "beautiful black bodies," and stated that he does not like to rent his properties to African-Americans because they "smell and attract vermin." How he believes that anyone with a conscience—let alone a black superstar—would want to play for his organization is a riddle only a syphilitic mind can solve.
Cavaliers fans are not burdened with an owner of horrendous moral fiber, but Dan Gilbert's volatility has the potential to be destructive. The construction of a championship contender is a lot like building a fire—one cannot set ablaze an entire woodpile by throwing matches at it. It's a slow process, the type of activity best enjoyed with a glass of Scotch and someone to chat with while the smoke thickens. It can also be boring to the wrong type of person. The 2011-12 season is when the embers stir, and Cavs fans should be able to envision what might be. There will be no playoff push this season, but there should be a palpable future.
It is imperative for Dan Gilbert to understand this. He was justifiably elated when the Cavaliers snagged the number one pick in the NBA Lottery, but one worries he might allow that elation to consume him, skipping past the "new beginning" of which he spoke and forcing roster moves that favor minor, short-term successes. This week, Memphis rejected a trade proposal in which the Cavs offered the number four selection in the 2011 draft and a Rudy Gay-sized chunk of their trade exception in exchange for the Grizzlies' injured star. Andre Iguodala's name keeps floating around in unsubstantiated trade rumors; presumably the Cavs would offer or have already offered Philadelphia the same type of deal. These whispers sketch an unsettling picture: I sense Gilbert's giddy tentacles creeping into the frame and meddling with the Cavaliers' future.
The prevalence of 27 year-old Andre Iguodala's name in trade rumors over the past couple seasons is the Sixers' implicit admission that the Iguodala and Brand Era was a mistake. If the Cavaliers were to add him to their squad, their starting lineup would look something like this: Varejao-Hickson-Iguodala-Gibson-Irving/Davis. The last Iggy-centic team was the 2009-10 Sixers. That squad juggled their starting lineup quite a bit, but the most heavily employed one consisted of Samuel Dalembert, Elton Brand, Thad Young, Iguodala, and Lou Williams. The '09-'10 Sixers won only 27 games. Iguodala played 39 minutes per game in all 82 games, averaging 6.5 rebounds, 5.8 assists, 2.7 turnovers, and 17.1 points per game with a true shooting percentage of 53.5%. Iguodala made $12 million that year, and he is scheduled to earn another $44 million over the next three seasons. If Oklahoma City has established a viable blueprint for rebuilding in a smaller market—acquire players at or below value, stockpile assets, embrace youth, and don't be afraid to lose for a few seasons—then Iggy is the opposite of a building block.
The Rudy Gay trade—which we can speak about in hypothetical terms because, by all accounts, it's not happening—would have presented similar problems. Gay is a better, younger player, but he has four years and roughly $67 million left on his current contract. He is a borderline all-star with the salary of a savior. I want the Cavaliers front office to remain as active as possible. By all means, field all phone calls and consider all offers. Maybe Sam Presti will get drunk while watching tapes of the OKC-Memphis series and offer Westbrook for J.J. Hickson and a first-rounder. But the Iguodala and Gay trade rumors are the fever dreams of a team attempting to accelerate an inaccelerable process.
I wrote earlier this year about how desire is essential to fanhood. This is true, but when desire becomes the driving force behind front office decision-making, it's poisonous. Dan Gilbert sometimes employs a fan's desire in areas more suited for an executive's restraint. Gilbert, like all Cavs fans, is correct in being optimistic about this upcoming season, but that optimism can easily transform to disillusionment if he views this team through the wrong prism. Last year, the Cavaliers were a bad team. This year's incarnation is going to be younger, better, but probably still bad. Their ceiling is an eight seed and a swift first-round exit. It makes no sense to pay Rudy Gay $14.3 million for the privilege of finishing seventh. There is no player for which the Cavs can trade that will change their fate considerably.
Here's where we—joyous, friend-hugging optimists on Lottery night—must unhinge ourselves from our delusions. Wanting to win now and being able to win in the future are mutually exclusive if the former dominates the latter. So, I implore you: enjoy the flashes of brilliance, enjoy the sporadic wins, enjoy the weirdness of watching young players get their sea legs. Adjust your appetite, and enjoy the process. The victories will come, perhaps precipitously in the coming seasons, but this offseason is about assessing reality and bending its path in our favor. This offseason is about the tedious first steps of firebuilding. We must do this because the margin for error in the Cavaliers' rebuilding process is slim. In the future, when we desperately need it, we may have only one match to throw, and it would be a shame to waste it this summer.