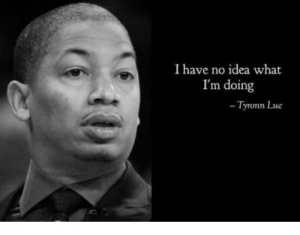 Ladies and Gentlemen of our CtB jury, JMKP and JMay bring you the following case against our oft-maligned head coach. This dynamic duo shall lay out their case with a series of one-two punches. The charges presented shall be harsh. Yet, Lady Justice shall stand omnipresent in this proceeding — and it shall be up to you, our CtB jury, to judge accordingly. 
The Cavs need to relieve Tyronn Lue of his coaching duties. Prudence may suggest that a coach who helped the Cavaliers win a championship, on top of three straight Finals appearances, deserves the benefit of the doubt; or at least protections against removal for light and transient causes. But, when a long train of coaching failures and abuses are coupled with squandering opportunities for the greatest player of all time, it becomes necessary for Cleveland team to throw off the shackles of mediocrity and find a coach worthy of our moment in history. To prove this, let facts be submitted to a candid world.
Charge 1: Incapable Leadership and Incompetent Execution

JMKP: As a preliminary matter, it's important to point out that I have no special insight into the machinations of what goes on behind closed doors with the Cavaliers. Maybe without Lue's presence, LeBron would be pedestrian, JR Smith would never make a shot, and Jordan Clarkson would crap his pants on national television.
But I'm a betting man, and I also trust my own eyes. With them, I see that Tyronn Lue has done more to stymie the Cavaliers than anyone else in Cleveland. On top of simple things, like failing to call a time out while J.R. Smith is guarded by Kevin Durant at the end of Game 1 of the Finals, his issues run much deeper. Mainly, he just appears to be incapable of being a high-quality coach in the NBA.
The following comparison is illustrative. Remember when LeBron James was asked what happened in Game 1 of the Eastern Conference Finals against the Celtics? LeBron recited a play-by-play of what happened to let the Celtics back into the game and was hailed as having a photographic memory (something that doesn't actually exist, btw).
Tyronn Lue is regularly asked about what happened during games that, presumably, he was paying attention to while coaching. His reply is often, "gotta watch the tape." After Game 3 of the Finals in 2017, Tyronn Lue was asked what happened after the Cavaliers were up 113-107 with three minutes to go; his response, "I got to look at it. I don't know. I can't remember." Or, after Game 6 of the Cavaliers vs. Pacers playoff series, Ty Lue was asked what happened in the third quarter when the Pacers lead went from 10 to 20; Lue answered Jason Lloyd with this gem, "I don't even remember Jason, I really don't. It happened so quick, I gotta look at it, I really don't remember."
this "I don't remember" answer is getting reallyyyyyy old, and I like Ty Lue personally https://t.co/1YHzhuX1Y3

— Rick Noland MG/CT (@RickNoland) April 28, 2018
Next, let's take a look at the three following coaches: Gregg Popovich, Mike D'Antoni, and Ty Lue. Ask yourself, what is the identity of the team under each coach? For Popovich, it's "The Spurs Way." D'Antoni has his three point shooting and fast pace. For Lue? Can you name an identity besides "LeBron mumble mumble?" What about the idea about surrounding LeBron with 3-and-D guys and a second ball handler? Sure, but ask yourself what Lue has done differently than previous iterations of LeBron-led teams?
And it's not like Lue hasn't had the time to implement an offense or create a team identity. Remember when Lue took over for David Blatt, fighter pilot extraordinaire, and wanted to run a running, up-tempo offense? Or, when Lue installed four new sets into the offense at the beginning of this season, in order to emphasize constant motion and better spacing? Have any of these changes happened in two and a half seasons? Deciding not to practice that much this season certainly didn't help. If a coach has a plan to do something (or a "secret plan") that never seems to materialize, that coach is incompetent.
Finally, on this topic, a coach needs to be a leader of men. All successful management and leadership styles stress the importance of face-to-face interactions and leveling with people. So what in the blazes happened with Lue benching J.R. Smith earlier this year over text messaging? Also, remember that incident where Lue didn't tell his players about Kevin Love's illness after the game, and Wade had to challenge his own coach to tell the players what happened with their all star starter? Just from what we know in the media, Tyronn Lue handled this season with the communication skills of teenage Groot. Is Lue that afraid of face-to-face communication?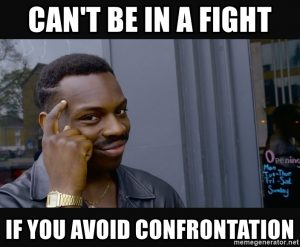 I feel for Lue, I really do. He's been through a lot and deals with a lot of pressure. But, this is a professional league. Lue just can't hack it. And if he's going to be anything like his teacher Doc Rivers (i.e. the flaming dumpster fire that is the current L.A. Clippers), the Cavs need to send Lue to that wonderful farm upstate so he can frolic around with Jeff Van Gundy and Isiah Thomas.
JMay: Well, when asked to add my two cents to this article, I about leapt out of my desk chair to respond to the email in the affirmative. After all, I have steadfastly been one of CtB's staunchest supporters of the "Fire Lue" movement. In fact, I was so much in support of this that I often said to the other fine writers here at CtB that I felt Lue should be fired regardless of the outcome of the 2018 Finals. That includes winning a championship. This was met with several "Are you crazy?" responses. Why, do you ask, would I want to fire a championship winning coach? After all, had he actually pulled that basketball shaped rabbit out of his hat a few weeks ago, he would have had two championships in four years.
Well, let me tell you why. As this first charge states against Lue, he is completely and utterly incompetent. It should be pretty clear to everyone that this is the case. I present you with my first piece of evidence that was so wonderfully pointed out above, Lue's interviews. Every time Lue was placed in front of the camera fielding questions from the media his go to response was "Gotta watch the tape." JMKP pointed this out already and I'd like to build upon that argument. Lue made this same statement so many times that we could all predict his response before games even started. My question to the defendant is, "WHY DO YOU ALWAYS NEED TO WATCH THE TAPE?"
What does Lue tell his players during the game when something isn't working for them, either on offense or defense? Does he sit in the huddle and just say to everyone, "Well, guys. I don't really know what to do for the rest of this game, I don't have any tape in front of me." Competent coaches are able to read the game as it's happening and can then inform his or her players about what he sees as an outside observer, thus allowing his players to make adjustments. Instead, Lue stands on the sideline, slack-jawed, gazing off to eternity and, I presume, repeating his mantra "Gotta watch the tape," ad infinitum until the final buzzer sounds. Color me unimpressed. I know a few 6-year-olds who can handle that responsibility.
Charge 2: Rotating Ineptitude
JMKP: Where to start. Shumpert over Delly. Hood and Clarkson over Cedi. Playing Jeff Green at center over Larry Nance Jr. Playing Isaiah Thomas and D-Rose at all.
Here's a tribute to Cleveland Cavaliers legend Isaiah Thomas… pic.twitter.com/Tx8XBJYI0V

— Sports Illustrated (@SInow) February 8, 2018
Not only does Tyronn Lue play awful rotations, but also he has destroyed the confidence of many of his players. Rodney Hood, Jordan Clarkson, Larry Nance, and George Hill seem like they have no idea what's going on or what's expected of them, and they seem like shells of what they could be.
And speaking of player confidence and development, I have a simple question. Who on this team seems better having been coached by Lue? If Utah and Boston can get something out of Jae Crowder, why did he look completely lost and out of place every single minute he was in a Cavaliers uniform?
Over the last several seasons, it really feels like Lue is trying to get fired by using some of his rotations. To start the second quarter in Game freaking SEVEN in the FINALS against the Warriors in 2016, he put in (the NBA player formally known as) Mo Williams and (offensive black hole) Iman Shumpert, seemingly on a whim. In the playoffs this year (including the Finals), he gave significant minutes to Jordan Clarkson, the player who posted the literal worst win share in the history of the NBA Playoffs.
lebron: maybe i can rely on my teammates in the nba finals

lebron's teammates: pic.twitter.com/8TlW8tuE8p

— Jordan Heck (@JordanHeckFF) May 31, 2018
It isn't just choosing one player over another. Tyronn Lue seems to play coach like I play NBA 2k17 — plugging and playing with different lineups on a whim. Who cares if my virtual team of Hill/Cedi/Smith/LeBron/Nance only played 2.6 minutes during the regular season? I like the idea and want to see what happens! However, the problem with Lue doing it is that basketball players are Real Human Beings™, and Real Human Beings™ need things like chemistry, familiarity, and playing time in order to be successful together. Video Game Lue™ doesn't seem to understand this very basic coaching concept. He regularly jerks people in and out of the lineup, and did so all the way into the NBA Finals. No wonder Rodney Hood didn't seem to know what he was doing — how could he play team defense with a group of guys he hadn't played with for weeks?
And Cedi. Poor Cedi. Well, to Lue's credit, it's not like rookies in the NBA ever meaningfully contribute in the playoffs. Oh wait…
JMay: For the love of all that is holy on a basketball court, Lue cannot manage rotations. Seriously, he's incapable. It's just not the way his brain works. I mean, the man was quoted saying that he could not fit Korver into the first quarter of Game 5 of the Eastern Conference Finals because the Celtics "threw [him] for a loop" by not playing Semi Ojeleye. SEMI OJELEYE! Can you believe that? Our rotations for the entire game were dictated by one choice made by Brad Stevens. I'm sure President Stevens woke up that morning to a jolt of brilliance given to him by the basketball gods showing him the way by not putting Semi Ojeleye in during the first quarter.
Brad Stevens: *doesn't play Ojeleye*

Ty Lue: pic.twitter.com/DQBBb9swhN

— /r/NBA (@NBA_Reddit) May 24, 2018
If every basketball coach in the NBA could stump her or his opponent by just sitting someone unexpectedly and forcing the other team into bad rotations, coming away with a win, we'd regularly watch random guys getting benched at the 5:00 minute mark of the first quarter… The prosecution rests.
Charge 3: Mismanaging LeBron James
JMKP: Suppose you have several of the most transcendent basketball players in a generation. And suppose you know your team will make it to the playoffs for another consecutive year. You have several young players on your roster, and your best basketball players are getting a little long in the tooth; not that they are suffering from "diminishing skills," but you know an older body can't take the kind of beating it was used to in its 20's.
What do you do?
If you're Gregg Popovich, you purposefully restrict the minutes of Tim Duncan, Manu Ginobili, and Tony Parker, year after year, knowing that they will be healthy and productive each playoff season, well into the twilights of their respective careers. You also take the minutes available when sitting these great players to develop younger ones, like Danny Green, Patty Mills, Corey Joseph, Tiago Splitter, Kawhi Leonard, and Dejounte Murray. Sure, most of those players aren't going to be All Stars, but developing them into solid role players gives your whole team their best shot at playing winning basketball.
If you're Tyronn Lue, you have the ultimate cheat code with LeBron James. So you, Video Game Lue™, go into Options -> Settings -> Gameplay and try to set Stamina at 100. Then, you take your 15-year NBA veteran, cheat code, and GOAT and you run him into the ground, maxing out his minutes during the regular season. Come playoff time, your "secret plan" is to play your ultimate cheat code 48 straight minutes, night in and night out. Every time your cheat code is on the floor, you either point the joystick straight into the paint and try a siiiick layup; or when you see your GOAT is tired you try to master that siiiick shot stick for an almost-half-court-three. Who cares if you lose if your GOAT's stat sheet is also siiiick. Oh, and you bury your rookies and stick by the guys "that you know" who peaked back in NBA 2k15.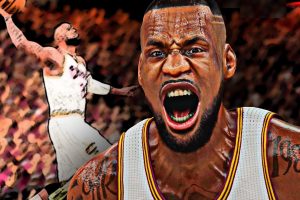 If I was LeBron James, I would care about my longevity and durability, and I would demand that Lue be relieved. As a Cleveland fan, I want solid basketball from the greatest player of all time for the next five years (or more). Maxing out his minutes, night in and night out, is a recipe for disaster. Especially by someone stuck in a video game coach mode, covered in Doritos and wing sauce, clueless as to why his cheat code strategy isn't good enough to beat his bros.
JMay: Who here doesn't actually think LeBron's minutes were mismanaged? I mean, Lue's entire coaching philosophy since taking over for Blatt has been, "Just play LeBron. 48 minutes isn't too many, right?" The result was a LeBron who could barely lift his legs or arms by the last five minutes of the fourth quarter. Seriously, it's so difficult to watch the greatest of all time get run into the ground because his coach can't manage to take him out for more than a minute in each half. Great job, Lue. I'm really impressed with this one.
Charge 4: Lack of In-Game Adjustments
JMKP: It pains me to say this. It really does. Isaiah Thomas was right about Tyronn Lue. Excuse me for a second while I throw up…
Ok, I'm back. Remember after the Cavs blew a 21-point lead to the Orlando (our team doesn't make any sense) Magic? Isaiah Thomas said, after the game, "we got to adjust throughout the game. They made adjustments, and it worked, and we just kept getting hit with the same thing, and we made no adjustments. And that's been one of our biggest problems all year, is adjusting." Of course, Tyronn Lue responded effectively, fully putting to doubt his ability to make adjustments on the fly: "that's not true."
As it turns out, Thomas was right. I feel for Thomas, going from President Stevens to I-have-no-idea-what-is-happening Tyronn Lue. I also see where Flat Earth Irving was coming from when he praised President Stevens as "an intellectual mind and an intellectual human being;" many saw that as Irving leveling a veiled criticism at Lue. Remember, this is the same Lue that didn't play one of the greatest three-point shooters in NBA history, in the Eastern Conference Finals, because the Celtics didn't play their eighth best player, Semi Ojeleye.
Ask yourself: do you ever wonder why the Cavaliers struggle so much with third quarters? And why the Cavaliers have blown so many leads over the last several seasons, sometimes against abysmally bad teams?
I'm a big fan of Occam's Razor: the simplest answer is generally the best answer. And the simple answer begins and ends with Tyronn Lue.
JMay: This I'm sure is the final charge because it is linked to all three previous charges. Tyronn Lue cannot make in-game adjustments. He can't respond to the benching of Semi Ojeleye, he can't rework rotations if LeBron is unexpectedly winded after carrying nine other players through three quarters, he can't come up with a new defensive strategy if the Cavs were getting shredded on that end. He can't figure out how to get Korver open shots if his defender is dedicated to the lock-and-trail.
He regularly waits two to three possessions too long to take time-outs. He's actually helped when he loses players to injury because it forces him to make fewer decisions. He couldn't come up with a new strategy on the nights when the Cavaliers couldn't throw a rock into the ocean from three.
Sure, he lucks into some decisions. But even blind squirrels find a nut every once in a while. Especially when those acorns are LeBron James sized.
Coda: Other Coaching Options
JMKP: The Cavaliers have had a terrible coaching carousel in Cleveland since Mike Brown left for the first time. Say what you want about Mike Brown, but he was the perfect coach for an early 2000 basketball team. I loved that team. They were gritty. They fought tooth and nail. They were five-guys-on-a-string. Sure, the offense playbook consisted of a series of pictures of LeBron James with a rocket ship attached to his back and an arrow pointing towards the hoop. But it was damn good basketball. Hands Down, Mans Down. No Regard for Human Life.
Then Byron Scott existed for a while. Mike Brown came back and we realized his coaching style didn't jive with the new NBA. David Blatt was our fearless fighter pilot of a coach. To his credit, his game planning with LeBron and Delly during those first Finals games were some of my favorite moments of the LeBron 2.0 era; it's just a shame Blatt was such a despised player-unfriendly figure. Now, the Cavs have Tyronn Lue, the protégé of basketball genius Doc Rivers (/sarcasm).
At last, the Cavs need a capable coach in Cleveland. A dream coach would be a 40-year-old Gregg Popovich. I would even try hiring President Stevens. The Cavs need a coach who understands the modern NBA and who knows how to speak to players, mano-a-mano. The Cavs need someone who develops rookies and won't kill LeBron James with 48/minutes a game.
The Cavs need Becky Hammon.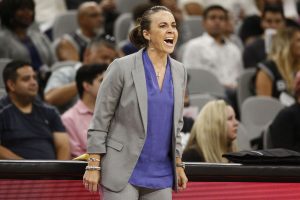 She has learned from the best — Gregg Popovich. He described her in a recent New Yorker article as "the ultimate leader. Energy, juice, vitality." Pop claims that she possesses both high basketball IQ and a great handle on the human element of the game. Ginobili describes her, "she's committed, she's passionate, she's smart, she's worldly." Hammon is steeped in "the Spurs way," a selfless style of basketball; and she saw greats like Tim Duncan, Manu Ginobili, and Tony Parker set aside their own egos for the good of the team. As a coach for the Spurs Summer League team, she won the championship.
If successful, she might be a cerebral, youthful, and player-friendly coach in the mold of Gregg Popovich who can coach the Cavaliers for the next twenty years. She might be just the candidate to develop young players and help LeBron maintain a high level for many years to come. Also, at this point, a brown paper bag would be better than Tyronn Lue, so the bar for success wouldn't be that high at first. She can learn and develop her own coaching style while bringing the experience she gained from the Spurs organization. And, if she's a walking disaster, it would be easy to switch to someone stable and (somewhat) reliable while the Cavs performed another coaching search (Larry Drew, Jason Kidd).
Fortune favors the bold. The future favors the innovative. And winning NBA basketball is realized when you have a smart and capable head coach. Becky Hammon is exactly that kind of coach.
JMay: I'm not going to say much here as I don't know too much about the other options out there. I add my vote to Becky Hammon, but heck, I'd trust my high school coach more than Tyronn Lue at this point. At least he knew when to sit me when I was exhausted.
In Closing
We, JMKP and JMay, on behalf of Cleveland Cavalier fans everywhere, swear to the above charges and declare that the bounds that hold Tyronn Lue to the Cleveland Cavaliers should be utterly dissolved.
The prosecution rests.